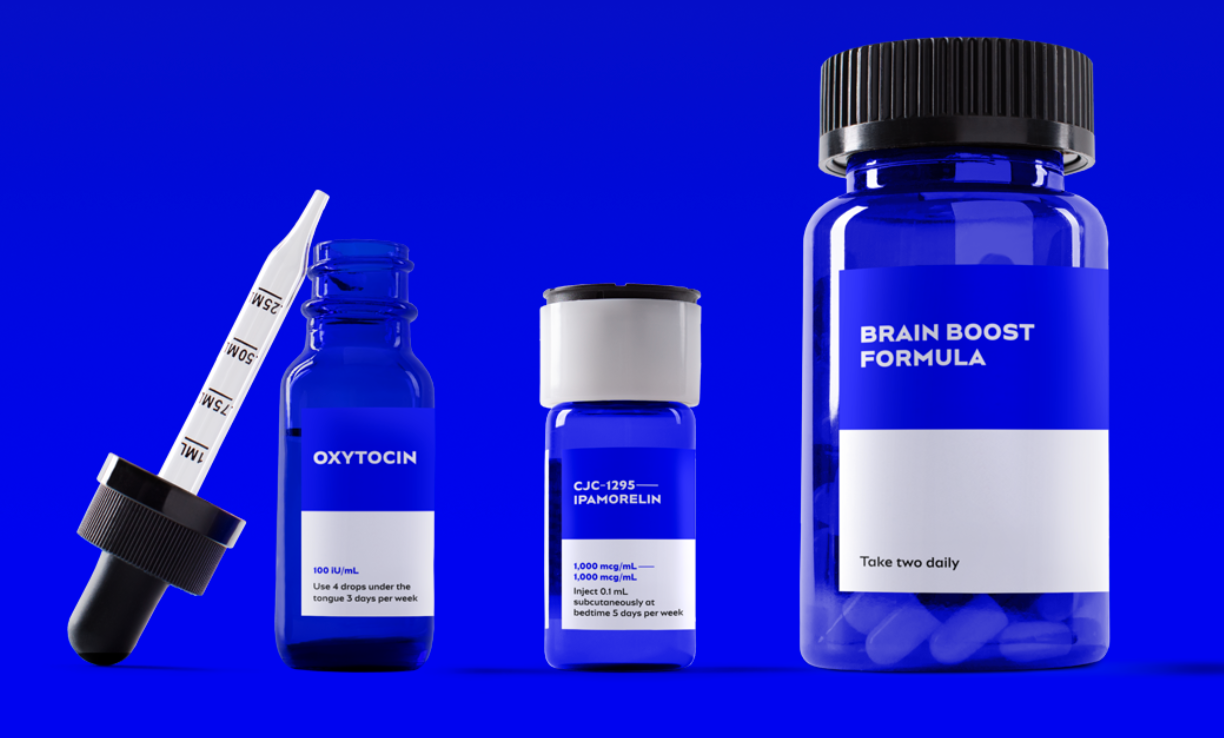 Remember when we used to wake up and get out of bed and our body didn't mysteriously hurt for no reason whatsoever? Or when we could stay energized all day long with just one cup of coffee? (#tbt) We could go on, but you get it, and probably don't need to relive it. As we get older, life gets…more rickety. But luckily, there's a solution. Multiple solutions, actually, based on your concerns.
Vault Health offers health kits that can help with energy, focus, fitness, and libido. The Brain, Body, and Sex Kits provide personalized health and wellbeing care that actually works.
The Brain Kit
If you find yourself losing focus, easily getting anxious, or forgetting simple tasks or details, the Brain Kit is designed to combat all of the above problems. It includes a vital peptide called semax (which has been shown to fight cognitive decline, dementia, and sometimes even brain injury), which increases production of BDNF (brain derived neurotrophic factor), and that amplifies brain cell production and creates a barrier to keep brain cells from dying. It also includes other natural supplements such as Ashwagandha and Schisandra will help keep stress and anxiety at bay. The Brain Kit can help with overall focus, mood, and creativity. 
Get your work done, hang with the kids, and still have brain power left at the end of the day to actually stay up (!!!) and do date night with your partner, or even get through a few chapters. Like ye olde days.
The Body Kit
It used to be that dragging our limbs to the gym was the problem. Now it's finding the energy and stamina to just get out of our office chair. With the stresses of 2020, you're not the only one who's deprioritized gym time, and maybe you're really starting to feel that difference. The Vault's Body Kit will help by providing you with science-backed growth hormone-releasing peptides CJC-1295 and Ipamorelin at-home injections. The process is super safe, physician-approved, and effective. You'll get the energy you used to have to go for a run, do weight training, and this kit will also help increase muscle mass and lose body fat.
The Sex Kit
If you're overhearing, "It's okay, it happens," we have a solution for you: The Vault's Sex Kit. The Vault's medical team created this kit to solve super common issues in the bedroom; the two treatments include oral supplements containing tadalafil and apomorphine. Tadalafil increases blood flow, and apomorphine helps the brain stimulation of erections. The second treatment is a dose of oxytocin, which is a bonding hormone. Basically, it'll get you in the mood and ready to perform and help you stay in the mood. Great success!
**If you have any of the following conditions, we don't recommend you try these supplements and treatments, or see your healthcare provider before starting**
-Diabetes
-Active cancer (i.e. cancer that has not been cured yet or is in remission)
-Congestive heart failure or poorly controlled hypertension
Some side effects include:
-With CJC-1295, some people can experience joint pains, increased intensity of dreams, numbness or tingling in extremities.
-Ipamorelin can cause headaches, nausea or aches and pains in the joints.
-Ibutamoren can cause an increase in appetite.
Scientific studies have shown the efficacy of these medications for the indications we recommend them for, however every individual is different and may not be an appropriate candidate for every treatment. That is why at Vault, we have you speak with a men's health specialist before confirming your order.
After receiving your kit, Vault clinicians are available to you with questions or concerns. If you feel the medication isn't working, your Vault provider may recommend you try them multiple times or adjust your dose or try taking them at different times.