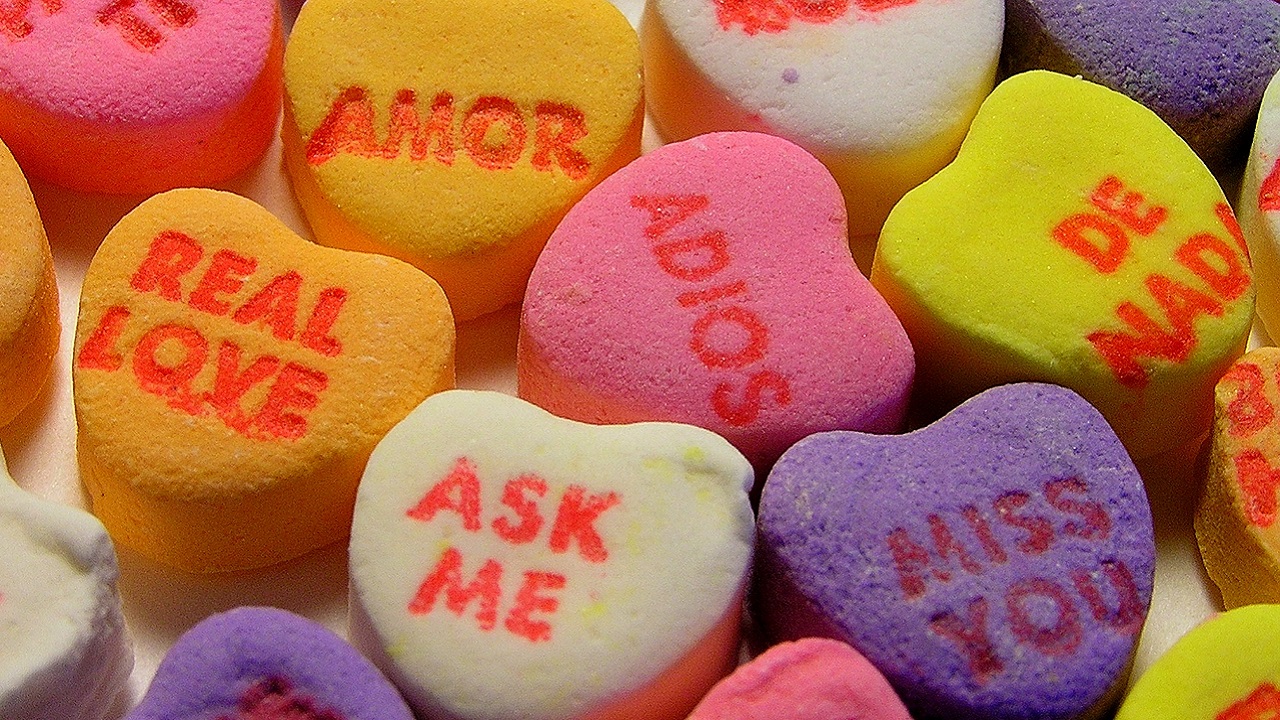 Credit: Getty Images/Marc Gutierrez
These might not get the response you want
Artificial intelligence is one of the great bogeymans. With every leap forward in technology, we seem to get closer to a reality in which computers become self-aware and robots take over. Whether it's SkyNet or The Matrix or a grocery store robot, it seems the singularity is approacching.
And then someone tries to teach a computer to write a Harry Potter novel, or to create Valentine's Day hearts, and we all breathe a sigh of relief. Because computers be TRIPPIN'!
Janelle Shane, a research scientist, showed Twitter the limits of AI with a little experiment she did in which she attempted to program a little romance into a learning algorithm known as a neural network.
On her blog, AI Weirdness, Shane's bio explains that she trains neural networks "to write unintentional humor as they struggle to imitate human datasets."
Her latest experiment involved those candy hearts that are everywhere around Valentine's Day. You know, the ones that have little love messages on them like "BE MINE" and "CALL ME." For the purposes of her experiment, Shane input all the messages she could find into a neural network and tasked it with creating some new ones. It did not go well.
There's something off about these AI-generated hearts, but at least they're earnest. pic.twitter.com/wUKGyNsWhK

— Janelle Shane (@JanelleCShane) February 9, 2018
She posted the results to her blog and shared some of them on Twitter, where they were greeted with confusion and joy as people tweeted their favorites.
https://twitter.com/jetpack/status/962311611393499138
https://twitter.com/jetpack/status/962504803535507457
Among the candy hearts written by a neural network is "STANK LOVE." CONFIRMED: Andre 3000 from Outkast is #AI. https://t.co/wTdji4GaAN

— Tommy Palladino (@palladinot) February 9, 2018
I'm "u hack"

— リリス@🔞NO MINORS (@LilithAlive) February 10, 2018
Also among the messages the network came up with? DEAR ME, MY MY, LOVE BOT, CUTE KISS, MY BEAR, LOVE BUN. Also YOU'RE ME, SWOOL MAT, BOG LOVE, I HONKER, HOW COT, BEAR WIG, FANG, and my personal favorites, U HACK, HOW U HOT, and CHERT FACE.
It's pretty safe to say that ain't nobody bout to get catfished by Siri anytime soon. Especially when you look at one of Shane's previous experiments, in which she tried to get a neural network to generate some pickup lines.
The results were surreal, to say the least.
You are so beautiful that you make me feel better to see you.
Hey baby, you're to be a key? Because I can bear your toot?
I don't know you.
I have to give you a book, because you're the only thing in your eyes.
Are you a candle? Because you're so hot of the looks with you.
I might have been a little rough on computers earlier, because I'm not gonna lie, a few of those would totally work on me.