This Bus Driver Bought a Christmas Gifts for Every Kid on His Route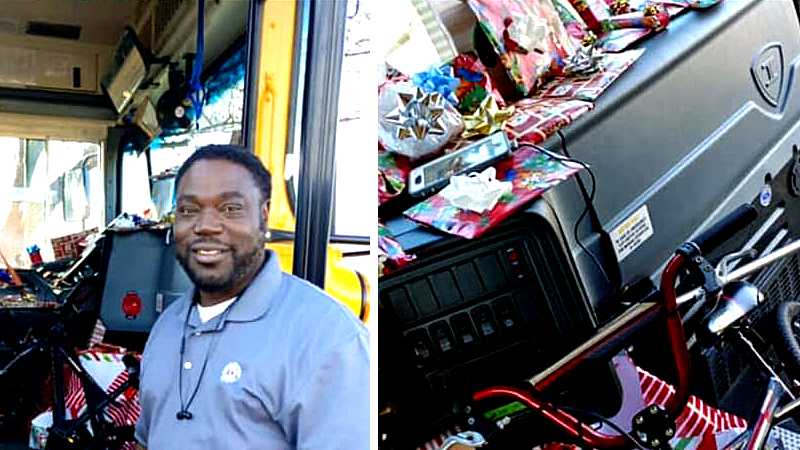 The popular version of Santa Claus, with the big white beard, the red outfit, and the jiggly belly, may not be real, but that doesn't mean that real-life Santa Clauses don't exist. They may not always look the part of the magical toy maker, but they definitely deliver for children.
One such real-life Santa Claus did exactly that, but he didn't use a reindeer-driven sleigh. He used his big yellow school bus.
Curtis Jenkins has been driving for the Richardson Independent School District in Texas for seven years, and he's long been known for giving out little tokens, like pens and pads, to the kids on his route when they get good grades or do good deeds, but in 2018, he went above and beyond. He bought and wrapped a gift for every single child on his bus – over 50 of them! – and gave them away for Christmas.
The driver actually asked every kid what they wanted, and if it was something small, he added a little something extra. Jenkins and his wife ended up buying and wrapping 70 gifts!
"It was so amazing," Jenkins told HuffPost about the experience of giving the gifts away. "Just to let them know the spirit of giving and loving is still here."
Lake Highlands Elementary shared a Facebook photo of Jenkins's bus with the gifts scattered around his cockpit, and the image quickly took off, garnering over 22,000 likes and 13,000 shares.
"This reminds us how much good there is in the world and how we should all strive to be a little more like Curtis," the school captioned the post, and Jenifer Wilcox, the PTA president, says the school plans to recognize the bus driver's generosity.
For his part, Jenkins just hopes his example sinks in with the kids.
"I've been one of those children that didn't have a lot when I was younger," he said. "If I had a person like me as a younger man, I would have made better choices in life."
It's not the first time he's been so generous. He once bought a Thanksgiving turkey for a family in need.
"Just take the time to look at yourselves and think, if you were in another position than what you are in right now, how do you want somebody to treat you," Jenkins said.