Alright, internet historians. Limber up because this one involves sport.
I'm sure you are familiar with the phrase "Deal with it." It's the ultimate three-worded slogan of dismissiveness. And it's even better in sunglasses.

We'll get into the origin of "Deal with it," but that's not what we're celebrating today. No, this is the seven-year anniversary of when internet culture merged with one of America's favorite traditions, poor sportsmanship.
The Incident
On Saturday, February 12, 2011, Ohio State University beat Wisconsin University in a basketball game. It happens, right? What occurred next was not so expected. The crowd swarmed the court. A demonstrative Wisconsin fan made his dissatisfaction known by spitting — yes, spitting — on OSU's star freshman, Jared Sullinger. Come on, dude. That's uncalled for!
To be spit on is just nasty. On top of that in my Face. Before and after the game. Smh. I just kept walking. More fuel to the fire.

— Jared Sullinger Sr. (@Jared_Sully0) February 12, 2011
But, apparently, Wisconsin team coach Bo Ryan didn't think the saliva rocket was such a faux pas. In a press conference following the game, Ryan dismissed the incident, saying "All I know is, we won the game. Deal with it."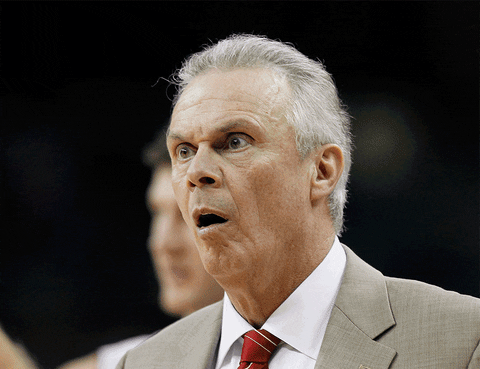 You probably guessed that that wasn't the end of it. Good job, detective! On March 7th, 2011, #DealWithIt became a trending topic on Twitter when Ohio State University fans flipped the script on Wisconsin's home turf. The OSU student section displayed support for their basketball team with over 1,000 red embroidered towels that read "DEAL WITH IT."
That day, Ohio State crushed Wisconsin, 93-65. In your face, Bo Ryan!
A Brief History of "Deal With It"
With the sports connection behind us, let's explore the history of the phrase. In 2005, Matt Furie, creator of Feels Good Man, posted this gross webcomic.
I don't know if it's worse to get spat on by a rival fan or farted at mid-meditation by a furry bipedal creature. You be the judge. (Side note: Matt Furie is the same artist who created Pepe the Frog, but he later killed the character off when he became synonymous with the alt-right.)
Not long after the comic was published, the "smug dog" animated GIF was posted on SomethingAwful, and the meme took life.
As the years passed, creative people posted many iterations of the meme, usually in GIF form.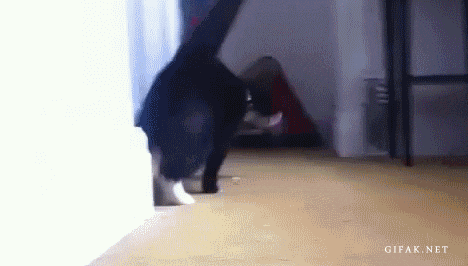 High School Musical's Corbin Bleu made a conspicuously sunglasses-less music video. I do not recommend it.
And the most iconic version of the "Deal with it" meme? This dude casually cascading across a Slip 'N Slide (with sunglasses added digitally in post). This one gets me every single time.
And there you go! I hope you learned a little something about sportsmanship, pop culture history, and silly GIFs today. Oh, you didn't learn anything? Tough break, pal!