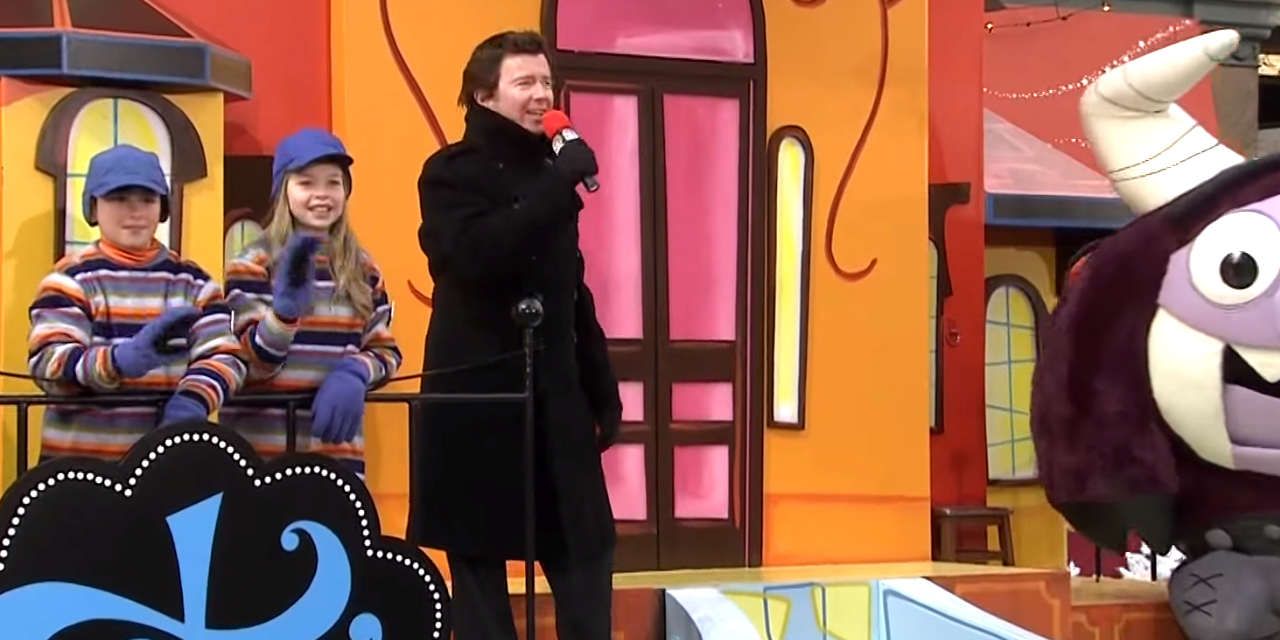 Credit: YouTube/brianstk
Greetings, internet historians! You may remember a trend from the previous decade called "Rickrolling." That's right, I said "decade." Yes, it seems like only yesterday that I attempted to open a video called Bert & Ernie Exclusive Kissing Footage, only to be cruelly redirected to footage of Rick Astley shimmying in front of a microphone. Alas, it was not yesterday. It was 10 ago that Rickrolling reached its apogee.
The Main Event
On November 27, 2008, the man himself, Rick Astley, took the entire Macy's Thanksgiving Day Parade by surprise when he suddenly appeared on the Foster's Home for Imaginary Friends float, singing "Never Gonna Give You Up." For one brief, wondrous moment, it was like the entire country had been duped into clicking a prank link.
If you listen closely, you can hear a monster yelling, "I like Rickrolling!" at the end of the video. Well, bud, that makes one of us.
A Brief History of Rickrolling
On July 27, 1987, Rick Astley blessed the world with a sorta-soulful-mostly-cheesy, VERY catchy pop song called "'Never Gonna Give You Up". It was the debut song from his debut album. Well, folks, it was a hit. The song raced up the charts and hit number one in 25 countries, including the United States and Astley's native United Kingdom.
30 years ago today I said I was Never Gonna Give You Up. I am a man of my word – Rick x pic.twitter.com/VmbMQA6tQB

— Rick Astley (@rickastley) July 27, 2017
Unfortunately (or fortunately, depending on your musical tastes), it was Astley's only smash hit.
After the 80s, the song largely disappeared — until 2007. That's when some prankster at 4chan got ahold of it, attached it to a misleading link that redirected to the music video, and the Rickroll was born.
If you haven't gotten it yet, Rickrolling means that someone sends you a link for something that you'd be interested in seeing. The link has a disguised URL, so you can't tell that it's not actually the video you thought you were going to see. When you click it, you're taken to the Rick Astley video. Burn!
Yes, it's stupid. Yes, it's valueless. What do you want me to say? It's the internet, dude.
It didn't take long for Rickrolling to gain steam online. By April Fool's Day, 2008, it was part of the mainstream. Quite a few media companies Rickrolled themselves that day, including YouTube, which Rickrolled ALL of its featured videos (remember featured videos?!). Furthering the phenomenon, a website named ComedyCalls provided a way for people to Rickroll their friends' phones.
Only a few weeks later, it was reported by the BBC that about 13 million people had been Rickrolled. In an interview with the Los Angeles Times, Astley said, "I think it's just one of those odd things where something gets picked up and people run with it. But that's what's brilliant about the internet."
Proving he was a good sport about the whole thing, Astley leaned right into the unexpected resurgence of the song, and the meme, by pranking us all with the legendary Thanksgiving Day Rickroll.
At current count, "Never Gonna Give You Up" has 374,352,518 views on YouTube. We estimate 374,350,000 of those were Rickrolls.
Get Rickrolled
For your viewing pleasure, here are some of the best Rickrolls of all time. Feel free to use these links to trick your friends. They've probably forgotten all about this meme by now, so it's the perfect time to pull one over on those unsuspecting idiots.
Chemistry class gets Rickrolled
The Foo Fighters Rickroll Westborough Baptist Church
Family Guy gets in on the action, as usual
Rick & Morty, too
Former Speaker Nancy Pelosi pranks us with cats
Ted Cruz Rickrolls Trump
And my personal favorite, the R2D2 Rickroll
Happy 10-year anniversary to the Thanksgiving Rickroll of 2008!