TikTok Dad Has a Genius Method to Stop his Daughter From Crying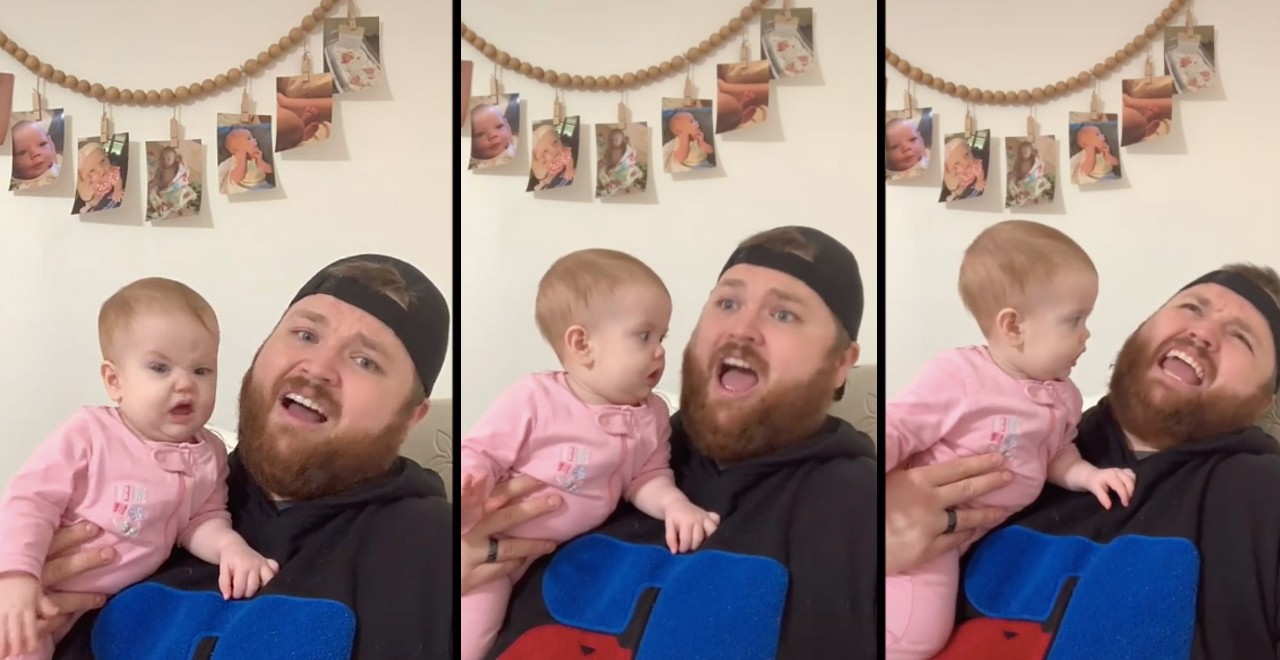 Babies are truly baffling. There's not a whole lot that can be wrong when you're a baby – I mean, sure, you can be hungry or tired or gassy. But it's not like you're stressed about bills or feeling insecure about your chonky little arms that look like newly-freed tubes of Pillsbury biscuit dough. Sometimes, babies seem to cry simply because they don't have anything else going on. This can be frustrating to say the least, trying to calm a baby whose only complaint is that they're a little bored. How do you stop a baby from crying when nothing is actually wrong? Well, TikTok dad Austin Geter has the answer.
In a recent video that's been viewed over 13 million times in just a week, Austin shares his unexpected parenting hack – and people are absolutely losing it. Austin has built up an impressive TikTok following by sharing videos of himself and his adorable daughter, Charlie. But in his massively viral video, Charlie is absolutely not having it.
It's no secret that babies tend to be calmer when they're being rocked, but for exhausted parents, sometimes five minutes of sitting still means the difference between the calm-ish fulfillment of parenting duties and complete insanity. Austin demonstrates that Charlie is one of those babies that does not appreciate her dad's need for the occasional sit-down. Austin sits, and almost on command, Charlie lets out a shrill warning cry. We've all been there.
Austin, however, has discovered perhaps the most genius parenting hack that stops Charlie's crying before it even starts. And, bonus, it's hilarious.
"So here's what I found out," Austin explains. "If I cry before she does, all is well."
It sounds so simple, and yet so absurd at the same time.
"Awhhhhh, I hate sitting in this chair," Austin whines.
Charlie stares open-mouthed at her dad, seeming to say "dude, you ok?" with her wide-open eyes. Incredibly, she momentarily forgets that she was the one who was about to cry. For several seconds, Charlie is baffled enough to sit calmly with her brilliant dad. But eventually, her brow furrows and she clearly remembers her mission. Before she lets out a single sound though, Austin is on the job.
"Ughhhhh, this chair sucks so bad I just don't want to sit in this chair anymore," he wails.
Again, Charlie stares in stunned silence. The pattern continues – Charlie prepares to cry, Austin gets there first. The exchange is hilarious, but more importantly, it works. Like buying a bigger grill than your rival dad across the street, crying louder and more readily than your baby is a way to assert dominance. Ok, so maybe it's just a way to distract and confuse them long enough to rest your legs for a minute. Either way, we can't wait to try it out.