Toddler Adorably Renames Star Wars Characters, Mark Hamill Approves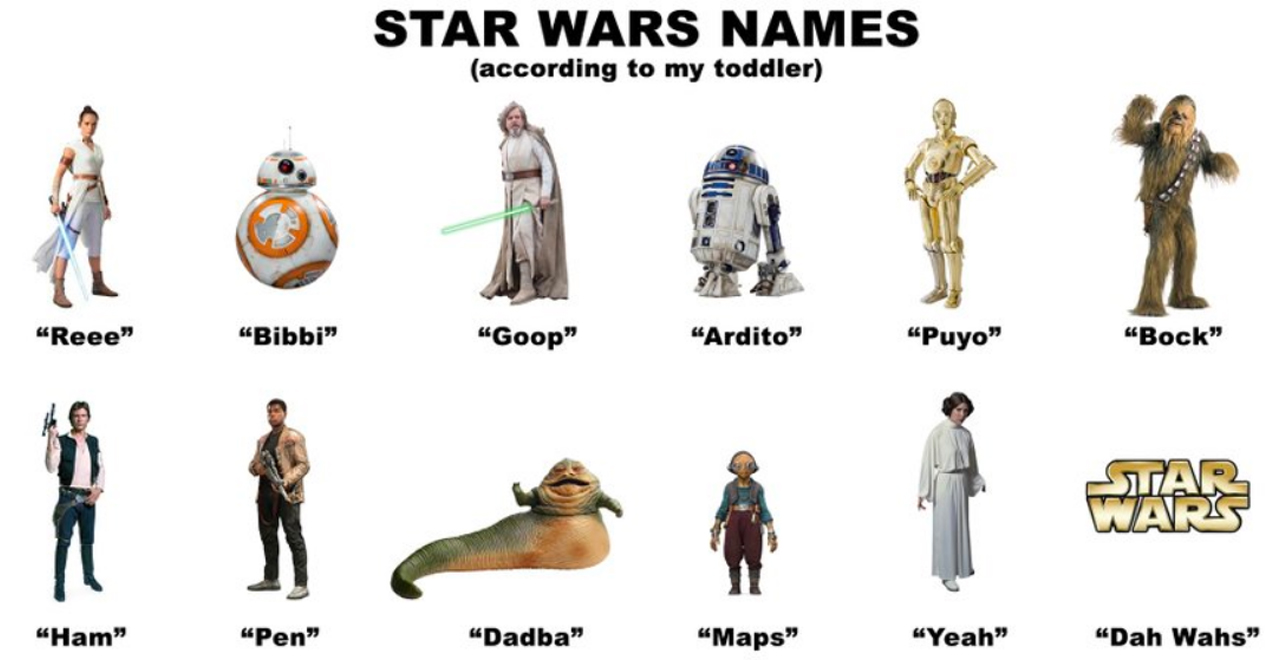 Kids say the darndest things, especially before they can really talk.
Every parent has a story or two of the hilarious mispronunciations their kids make as they learn new words. My son has been accidentally calling cupcakes, "cupcapes" for years. In fact, he's 9 now and we have yet to correct him because we love it so much.
One dad knows exactly how I feel. He recently introduced his toddler to Star Wars, which is full of complicated character names, locations, and words that even some adults struggle to remember, let alone correctly pronounce. That hasn't stopped his 20-month-old from giving it a shot, though, and her dad, IGN host, and producer Brian Altano compiled a list of her hilarious versions of them.
He posted the list to Twitter, with a helpful visual guide, where it received 46,000 likes. For good reason. These new names are so great, I might start using them for real!
My 20-month-old daughter is really into Star Wars children's books and toys right now (which is awesome!) but the way she's been saying the names of everything is my favorite part: pic.twitter.com/0IYnAZpsxA

— Brian Altano (@agentbizzle) February 7, 2020
Some of these new "Dah Wahs" names are just straight-up improvements. Bibbi is solid. Bock is simply bad-ass. Yeah for Leia? Trust your feelings. Even Chewbacca wants to be called Bock instead of Chewy! Although his friend Ham may disagree.
Try to tell me "Use the force, Goop" doesn't sound better. Even Goop himself agrees, responding to Altano's tweet.
You're never too young to be a Dah Wahs fan. Please hug your 20-month-old daughter for me!
Love always, Goop https://t.co/8XvZghRTbF

— Mark Hamill (@HamillHimself) February 7, 2020
Altano was thrilled at prolific Twitter and all-around great guy Mark Hamill's response and even framed it for his daughter's room.
And because the universe can be a wonderful place sometimes, @HamillHimself (aka Goop Skywalker himself!) tweeted about my kid saying Star Wars names – which I promptly got framed and put up in her room. Thank you, Mark. This made our entire family incredibly happy ❤️ pic.twitter.com/nKwWWsY2ym

— Brian Altano (@agentbizzle) February 8, 2020
That 20-month old is now bound to be a Dah Wahs fan for life. If there's any justice, she'll preside over a reboot featuring all of her original names.
At the very least let her name Baby Yoda, you cowards!