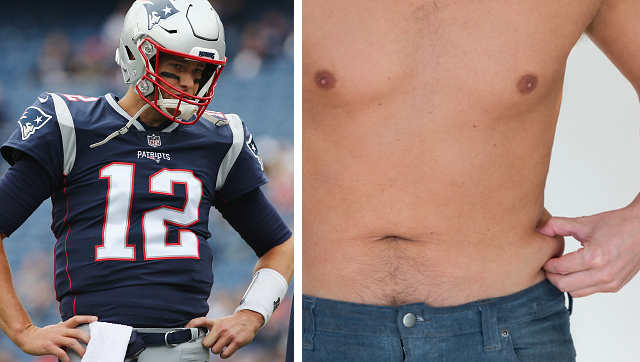 Credit: Getty/Jim Rogash/SolStock
I've got good news and I've got bad news.
The good news is, Tom Brady has a dad bod. The bad news is you're still not Tom Brady.
A bit of "controversy" flared up back in July when images of the man some consider to be the greatest quarterback of all time surfaced. (No, not Dan Marino; sorry for the confusion.)
The photos of New England Patriot and once-rightfully-suspended quarterback Tom Brady were taken while Brady was on vacation with his supermodel wife (please refer back to the bad news above). In the photos, the so-called G.O.A.T. is walking alongside his wife in some tropical vacation locale, and he's not wearing a shirt.
Tom Brady looking goofy as hell! pic.twitter.com/gD9eNrvHVU

— Chris Black (@donetodeath) July 17, 2018
And not only is he not wearing a shirt, he's also not wearing abs. Or any particular muscle definition at all.
The world was aghast at the sight of a world-class athlete with a leisure-class body. After all, this is one of the preeminent athletes of our time, perhaps of all time, and while he's also a 40-year-old man, he remains among the elite at his position. Sure, that position is quarterback, and Brady is not exactly one to scramble – he's content to dominate the barely ambulatory quarterback sneak – it was still a shock to many that his physique puts the emphasis on "eek!"
It's like finding out Lebron James isn't actually a king!
Of course, the TB12 brand wasn't having it, firing back with a tweet that makes clear what Tom's priorities are:
When it's more important to get six rings than to get a six pack…

The TB12 Method is not about making you the MVP of the gym. It's about living with vitality, being mentally strong, and enabling you to sustain your peak performance, so you can be MVP when it counts. https://t.co/FI1s5Vqutr

— TB12 (@TB12sports) July 20, 2018
Can't really argue with that. Besides, maybe it's better for everyone that Brady has a dad bod. Suddenly winning 6 Super Bowl rings with a beer belly and a staunch refusal to exercise may actually be possible! Maybe landing a supermodel without any pecs is something that can actually be done.
And given Brady threw 3 TDs and the Patriots beat the Texans – his dad bod wasn't holding him back.
Maybe someone besides the Patriots will win the AFC East this year, i.e., but I wouldn't count on it.