Tony Hawk Cheers on Daughter as She Tackles Her First Skate Ramp [WATCH]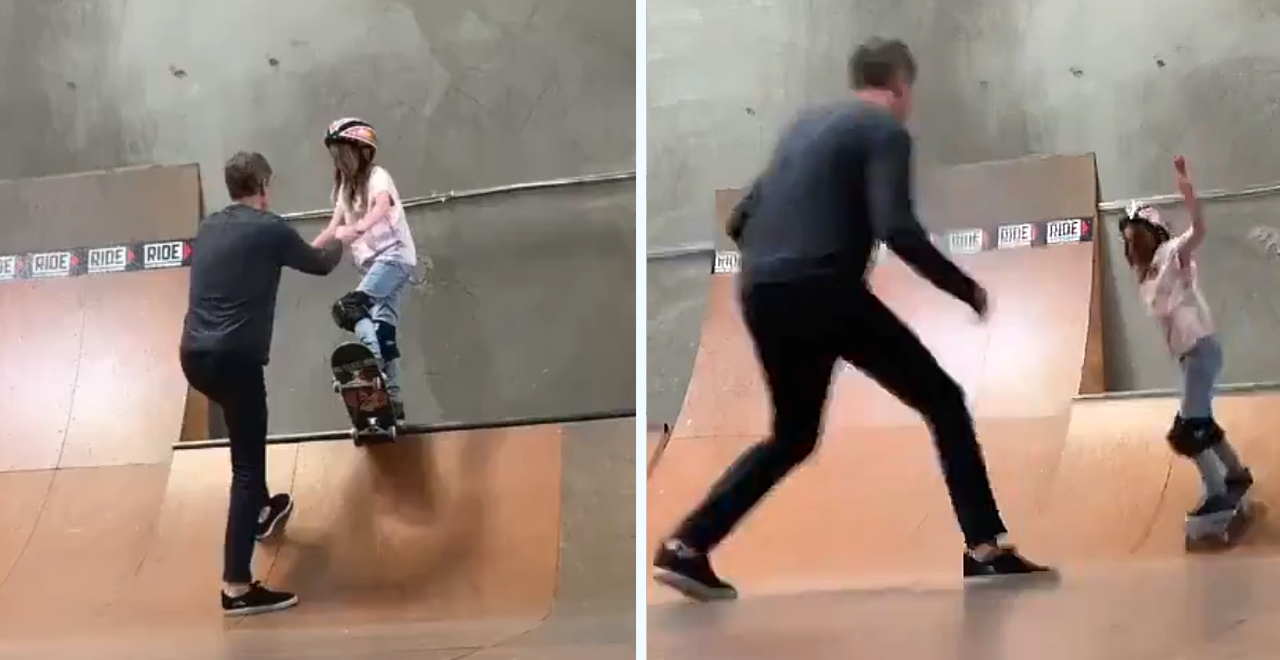 Instilling confidence in our kids is one of the most essential tasks parents are faced with. We all want our children to believe in themselves, to trust that they can do anything to set their minds to and to know that we're right behind them to catch them if they fall.
I frequently remind my son that courage isn't a lack of fear, it's persevering in the face of it. Unfortunately, teaching your kids to take risks and push past their comfort zones is tricky when you're a bit of a cautious guy yourself. But I have some good news for you: even someone as extreme and fearless as skateboarding legend Tony Hawk struggles to walk the tightrope between pushing and protecting.
On Saturday, the legendary X-Gamer and skateboarding pioneer tweeted out a video of his daughter on the half-pipe. Kadence is ten years old, and only just starting to follow in her father's footsteps. The video shows Kadence, like any novice skater and most little kids, facing trepidation as she prepares to launch herself down the ramp. She stands at the top with the board perched over the edge, but she hesitates to mount it, presumably considering the inevitability of falling as her dad instructs and encourages her.
Perhaps surprisingly for a guy who took 10 years, multiple injuries, and 12 attempts to land skateboarding's first-ever 900 (two-and-a-half aerial spins) but totally unsurprisingly to anyone who has kids, Hawk himself admitted to his own nervousness in the tweet: "I might have been more nervous than she was."
My daughter overcoming her fear in real time (wait for it). I might have been more nervous than she was.
????????????⬇️ pic.twitter.com/IG6awFIHA3

— Tony Hawk (@tonyhawk) February 23, 2019
Kadence's dad is something of a big deal, which helps explain why the video has been viewed more than 13 million times on Twitter, with 820,000 likes and 120,000 retweets. But in the video, Tony Hawk isn't a skateboarding legend or X-Games hero or video game star, he's just a dad, helping his kid face her fears and pushing her past them to do something he knows she can do.
Listen to scream he lets out at the end of the video. Something tells me he was just as proud of her for successfully sliding down the ramp as he was of himself when he landed his 900 without breaking his pelvis (again).