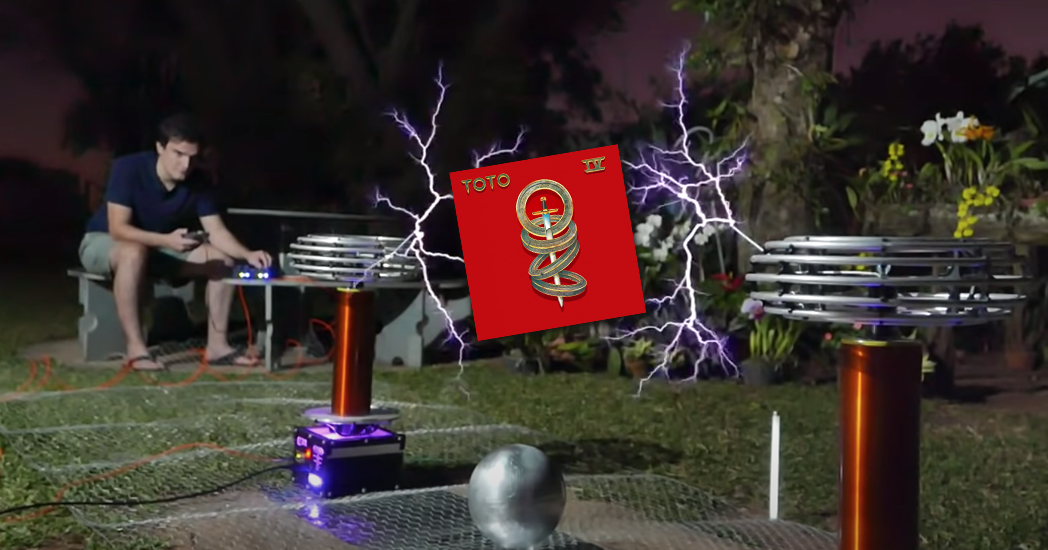 Credit: YouTube / Franzoli Electronics / Columbia Records
"Africa" may very well be the rare Perfect Song. From its infectious melody to its layered harmonies to that one part that goes DO-DO DAH-DO DAH-DO DAH-DO DO DO, Toto's 1981 banger has always transcended both generation and border. It's a masterpiece by every definition of the term.
As such, folks always go above and beyond when covering it. We've heard Perpetuum Jazzile, a vocal group from Slovenia, whip up this astounding version complete with manmade thunderstorm sound effects.
We've heard it interpreted by metalheads.
We've even heard Weezer and Weird Al team up to give it a go.
Well, all those covers can step aside, because the Franzoli Electronics YouTube channel has released what may very well be the crown jewel of "Africa" covers. What makes this one stand out from the rest? This one's getting played on a set of Tesla coils.
And how, pray tell, does one play music on a Tesla coil? Here's an explanation offered in the YouTube video description:
"The main loud music really comes from the tesla coil sparks. They are literally playing the music due to the programmed phase, pulse width and firing frequency! So, there are no speakers, no audio / video special effects. It looks even better in person and sounds almost the same, just without the beat / percussion backing track."
Sound too gnarly to be true? Watch for yourself!
Insanely cool. Click here to check out Franzoli Electronics' other covers, including a rendition of "Bohemian Rhapsody" that'll certainly make you question if this is in fact real life.