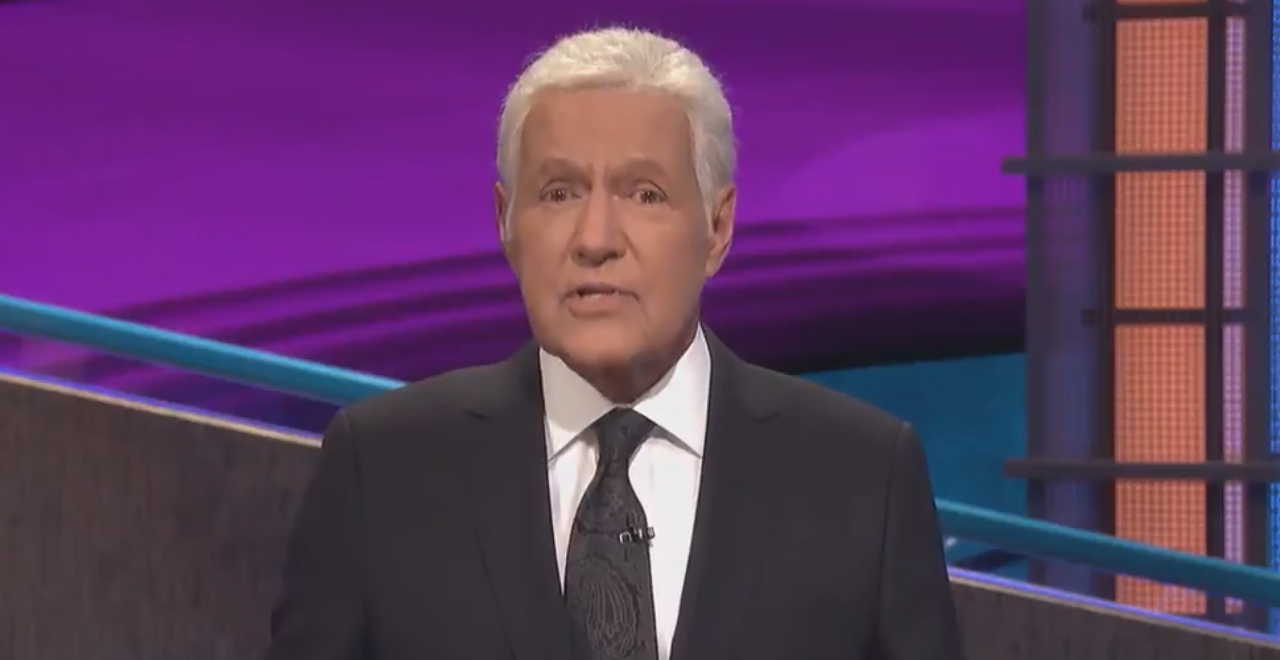 Credit: Twitter/Jeopardy
Everybody loves Alex Trebek.
As the host of Jeopardy, he's been a mainstay on television sets for 30 years. He's charming and he can pronounce foreign words. He's a friendly, comforting, entertaining presence, and when he announced his cancer last year fans were stunned, and supportive.
There was even a viral moment with a contestant who offered support on behalf of all of Alex's many fans. He even got the unflappable host to break down for a moment, which only endeared him to us even more.
People love the dude. Hopefully we'll have him to love for longer.
The host took to Twitter to provide an update on his pancreatic cancer, and he was characteristically stoic and open, about his struggles over the past year.
A one-year update from Alex: pic.twitter.com/W9101suZeZ

— Jeopardy! (@Jeopardy) March 4, 2020
Twitter was impressed with his composure and honesty in detailing his bouts with depression as he battles the disease.'
This is class and courage. Being open about the pain and depression and looking at the prospect of death in the face with optimism is a great example and inspiration. https://t.co/N4iert4TIp

— Barrett the Bald (ish) (@barrettbuss) March 4, 2020
I can only hope that if I ever have the misfortune to deal with something like this, I can handle it with half of the grace and stregth Alex has. What a legend https://t.co/oPYxBS2Fxu

— Mike Hilliard (@MHILLDAWG) March 4, 2020
Being that honest about your health, particularly your mental health, isn't easy for anyone, particularly men, even more so for men in the public eye. Kudos to Alex for his vulnerability, yet another impressive trait to add to the list.
Recently, news broke that even in the midst of his own struggles, the game show host – a title that seems reductive, he's not exactly Wink Martindale – was thinking of others, donating $100,000 to a homeless organization.
Hopefully, Alex comes through this all okay, and we can get back to laughing at his brutal take-downs of contestants who fumble questions only he knows the answers too.