Tweet Round-Up: 10 Funny Tweets To Share This Mother's Day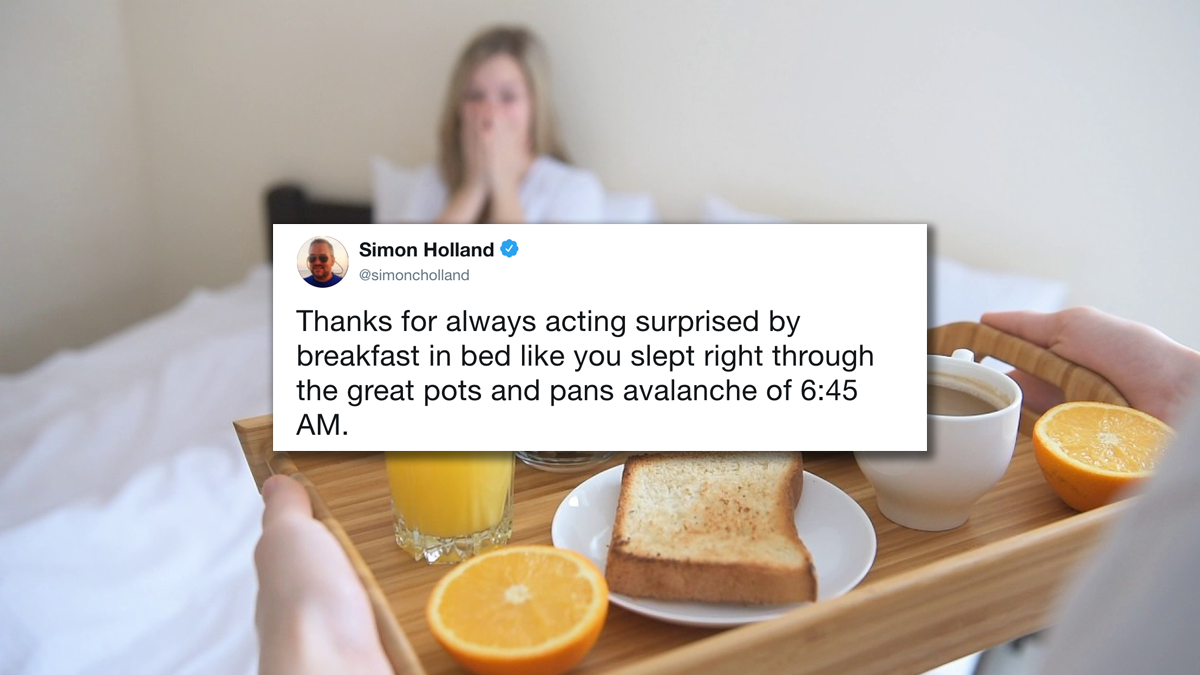 Ah, Mother's Day. The flowers. The breakfast in bed. The horde of panicked, forgetful men staring helplessly at the Walgreens card rack. This weekend, celebrate the woman who brought you into this world with these hilarious Mother's Day tweets we found.
For full effect, use really inconsistent capitalization.
This Mother's Day, get back at her by writing "I love you!" in all caps right on her Facebook wall where all her friends can see it.

— Alex Baze (@bazecraze) May 8, 2016
Nothing says "I love you" like twenty minutes of uninterrupted clanging.
Thanks for always acting surprised by breakfast in bed like you slept right through the great pots and pans avalanche of 6:45 AM.

— Simon Holland (@simoncholland) May 10, 2015
The good news: all of your fifth-cousins are doing great.
just got off the phone with my mom from last mother's day

— jhon rules (@dearjhonletter) May 9, 2016
[finishes listening to voicemail from mom] Oh cool, 7% battery left.
I hope the Mother's Day flowers I sent my Mom last at least as long this voicemail she's leaving after I declined her call.

— Bryan Donaldson (@TheNardvark) May 11, 2013
The appropriate way to end a mom phone call.
Mom: Thanks for calling.
Me: Thanks for giving me life. One upped your weak-ass compliment. Happy Mother's Day.

— Logan (@PlagueLovers) May 9, 2016
Do not, repeat, do not just leave her on the curb like your neighbors do.
[boxes up mom and puts her in the attic beside the christmas decorations until next mother's day]

— Don Nichols (@TheDairylandDon) May 15, 2017
This is roughly the equivalent of fifty bouquets of flowers.
A peaceful poop.

My mother's day wish.

— Marl (@Marlebean) May 11, 2014
Pitch this million dollar idea to Hallmark ASAP.
The best Mother's Day card would have a little schmutz on it that needed to be wiped off with a lil mom spit™

— Aparna Nancherla (@aparnapkin) May 10, 2015
Genius save.
Rite Aid was out of Mother's Day cards pic.twitter.com/oL5YOoWboO

— Aaron Chewning (@AaronChewning) May 10, 2015
In retrospect, we all made pretty terrible first impressions.
Happy Mother's day to a special lady who still loves me even though I pooped my pants for over a year after we first met.

— Mike Primavera (@primawesome) May 10, 2015