Tweet Roundup: The 10 Funniest Tweets About Driving Your Kids' Carpool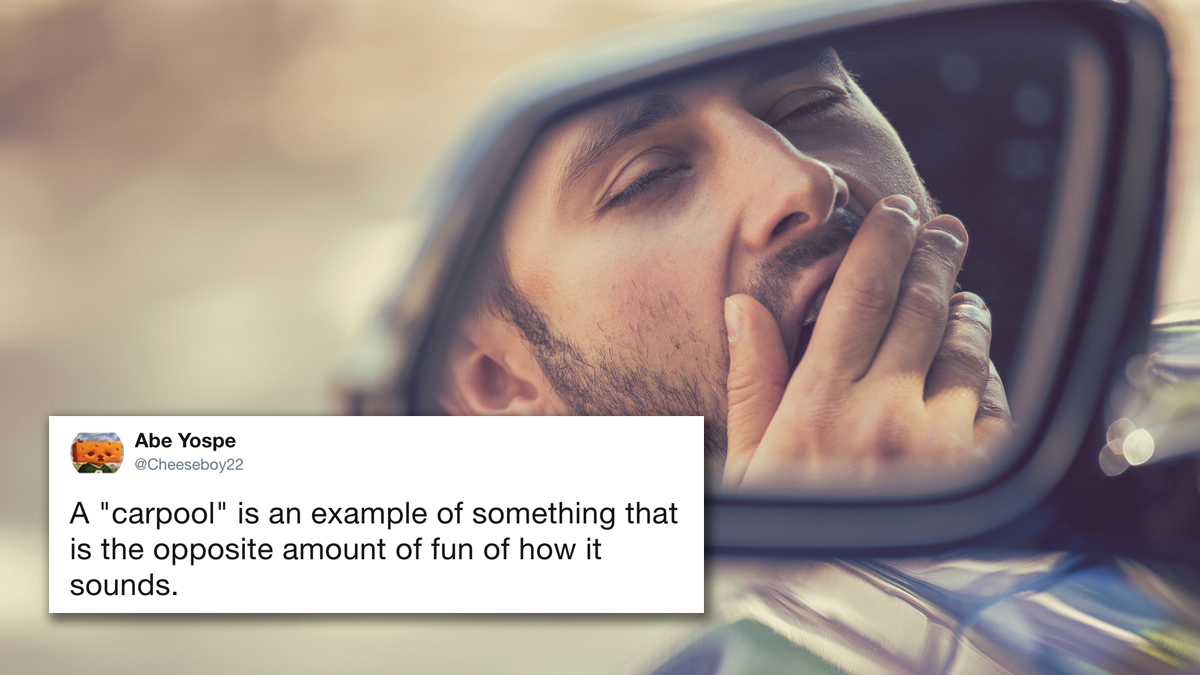 Do you enjoy helping out in your community? Being environmentally conscious? Listening to the Trolls soundtrack ad nauseum and wondering why the backseat is so sticky? Driving the neighborhood carpool might be for you! Here are 10 of the funniest tweets about your least favorite week of the month.
First, make sure you understand what you're signing up for.
A "carpool" is an example of something that is the opposite amount of fun of how it sounds.

— Abe Yospe (@Cheeseboy22) November 12, 2015
Because it's nowhere near as fun as it sounds.
My first day in the car pool & everyone is making fun of me, saying I take things too literally. Also my Speedo & swim cap.

— Andy H. (@AndyAsAdjective) September 6, 2017
If possible, look for any way to get out of it.
Teaching my 4 year old how to use the Uber app so I don't have to put up with the crazy carpool at her pre-school.

— Simon Holland (@simoncholland) August 14, 2015
Any way.
Carpool avoidance technique #27

"I haven't had an episode and passed out while driving in over 6 months, I'll be happy to drive your kid."

— Sara Says Stop (@PetrickSara) September 27, 2017
Failing that, get ready to transport some kids.
"You carpool your way and I'll carpool my way. Okay, Karen?"

*Continues strapping kids down to the roof using a bungee cord*

— MyQuestionableLife (@2questionable) February 5, 2018
Be sure to carefully assess your carpool playlists.
You don't realize exactly how much of your favorite music is about sex until you notice the shocked faces on the kids in your carpool.

— Kim Bongiorno (@LetMeStart) February 18, 2016
Keep an eye out for opportunities to educate.
Kid in my carpool thinks crank dat by soulja boy is a classic and a much better song than gin and juice. I have no respect for him

— Brandon Schonhoff (@randyschonhoff) December 7, 2012
Never pass up an opportunity to style on the other parents.
Walk of shame but it's me in my underwear and slippers getting out of my car to drop my kid at school when the carpool attendant isn't there

— Mischievous​ Mike (@mstern68) April 7, 2016
Prepare to make a few enemies along the way.
If you want to hold up the carpool line by chatting it up with other parents, I cannot be held responsible for my actions.

— Sarcastic Mommy (@sarcasticmommy4) October 5, 2016
Sound miserable? There is one sure-fire way to get out of it.
I taught all the kids in my carpool how to swear. Now I don't have to drive them anymore. I win!

— KStrykerGreenbauer (@HannahAntics) March 12, 2011