Tweet Roundup: The 10 Funniest Tweets About Marriage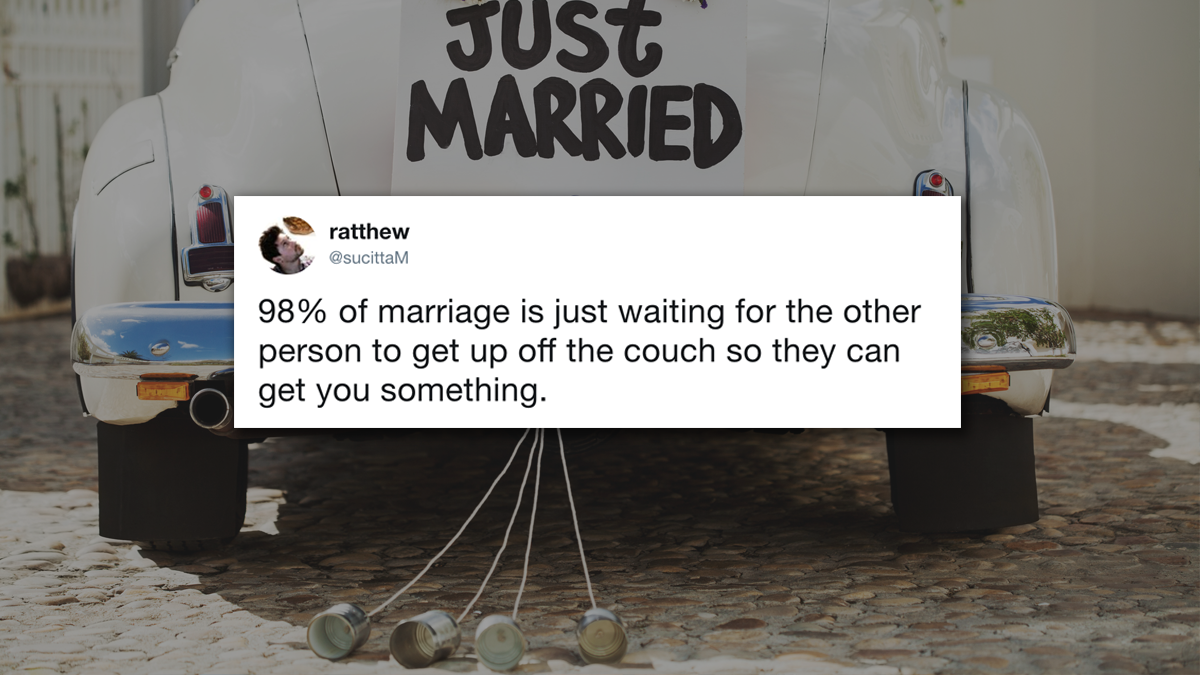 Are you married? Thinking about tying the knot? Woefully single? Whatever filing status you check on those taxes, there's one thing we can all agree on: having a separate line for drink tickets at your wedding should automatically annul your marriage.
Here are the 10 funniest tweets about being hitched.
Before getting married, make sure it's right for you.
If you like pausing in the middle of a movie to have a serious talk about where all the Tupperware went, marriage is for you.

— Paige Kellerman (@PaigeKellerman) June 26, 2018
It's going to be an uphill battle.
Reasons marriage is terrifying:
1. You have to hold in 50 years of farts
2. If they knock you can't pretend nobody's home THEY HAVE A KEY
3. You have to stay together in sickness and health and if they call coleslaw cold slaw
4. If they die you have to fill out lots of paperwork

— Tinker Elle (@elle91) August 14, 2018
Communication is key.
80% of marriage is pointedly yelling an irritated "WHAT?!" to make your spouse understand that there's no chance in hell you can hear what s/he's saying from five rooms away, around three corners, down two hallways, and over the cacophonous screams of hyper children.

— Dad and Buried (@DadandBuried) August 23, 2018
So sharpen those active listening skills.
A main part of marriage is heavy sighing to let your spouse know you are upset then saying, "nothing" when they ask what's wrong.

— Simon Holland (@simoncholland) August 13, 2018
Just be sure to pick your battles.
A fun part of marriage is arguing over who deserves to use the charger in the car. PROVE IT, SHOW ME YOUR PERCENTAGE

— Ally (@TragicAllyHere) October 28, 2017
And learn to say "I'm sorry."
Marriage Tip: never go to bed angry.
Go to bed planning your opening rebuttal for the next morning.

— TheAlexNevil (@TheAlexNevil) July 16, 2018
You'll learn some tricks along the way.
98% of marriage is just waiting for the other person to get up off the couch so they can get you something.

— ratthew (@sucittaM) January 11, 2017
You'll develop skills only couples possess.
Being married grants you one superpower and that's the ability to tell what couples just had a fight in the car right before a party

— Mark Agee (@MarkAgee) August 26, 2018
And you'll have lots of fun with them.
Arguably the best part of marriage is being able to wordlessly make fun of the same thing or person with a discreet elbow nudge.

— jordan (@jordan_stratton) January 28, 2018
But at the end of the day, you have to remember what marriage is all about.
Marriage is being privy to someone else's bowel movements forever. Love is genuinely hoping they go smoothly.

— Luke O'Neil (@lukeoneil47) December 26, 2017