Tweet Roundup: The 10 Funniest Tweets About Sharks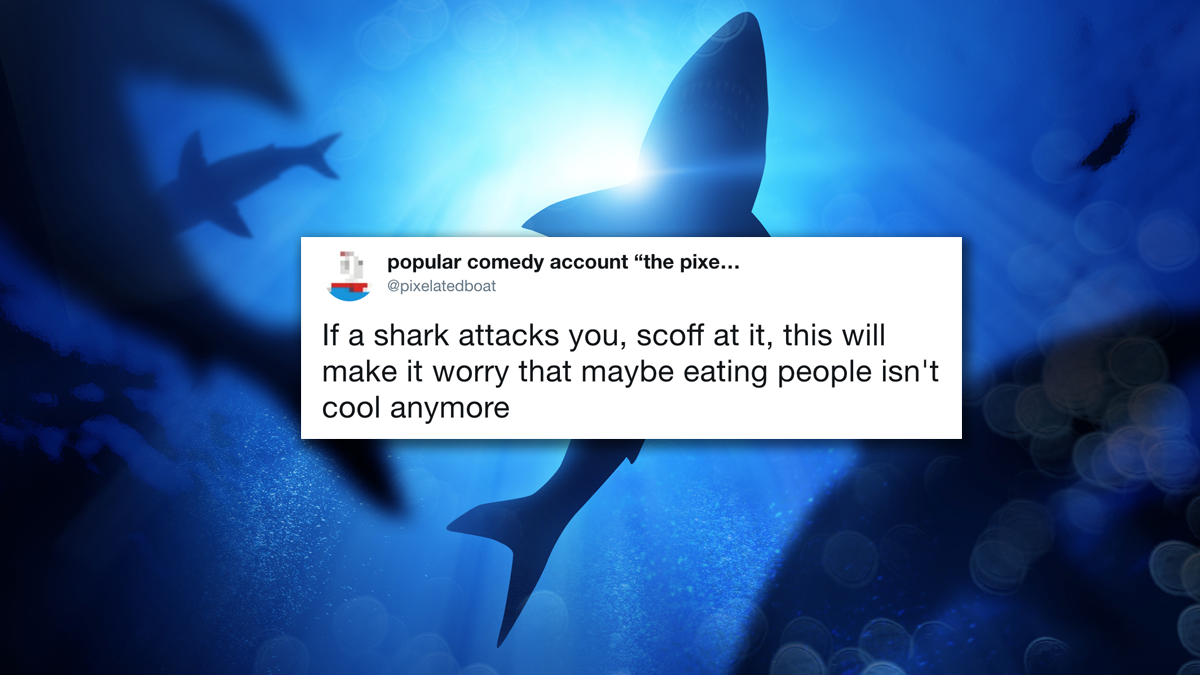 Well folks, it looks like another Shark Week has come and gone. But before you take down your shark decorations and head to the store for great day-after deals on sharks, check out these 10 hilarious tweets about sharks. Sharks.
It's important to remember why we have Shark Week to begin with.
Reminder that Shark Week is just a scam cooked up by Big Shark to sell more sharks

— Patrick Monahan (@pattymo) June 27, 2016
We hope you've gained some useful knowledge over the past week.
[walking around still disappointed 6 hours after visiting an aquarium]
wife: what did you think a tiger shark was, brent

— brent (@murrman5) November 24, 2014
And more importantly, grown empathetically.
I don't blame the sharks. If some dude in a Speedo invaded my house, I would attack like they do.

— Abby Heugel (@AbbyHasIssues) July 7, 2015
We sure learned a lot.
Shark heaven and scuba diver hell are the same place

— Jeff Wysaski (@pleatedjeans) March 6, 2015
And frankly, we've decided we're not cut out for the aquatic life.
Considering how much I already worry about getting eaten by sharks, I would make a terrible tuna.

— Alex Baze (@bazecraze) February 24, 2012
I mean, sharks are just plain terrifying.
We're gonna be so fucked when sharks figure out they need to swim a little bit lower to be completely hidden

— Bob Vulfov (@bobvulfov) September 25, 2015
And adequately defending yourself from one is unlikely.
If a shark attacks you, scoff at it, this will make it worry that maybe eating people isn't cool anymore

— popular comedy account "the pixelated boat" (@pixelatedboat) October 3, 2015
Sure, having a shark bite story is pretty cool…
I wish a shark would bite me but like a tiny little bite so I could be like "I was bitten by a shark" and get a shitload of attention

— Tamara Yajia (@DancesWithTamis) July 20, 2018
…but ultimately, the chances of it happening are fairly low.
The odds of being killed by a shark are 1 in 3,748,067. So if you know 3,748,066 people who haven't been killed by a shark: avoid the ocean.

— ????????Frank Whitehouse ???????? (@WheelTod) January 15, 2016
Finally, if you didn't get your fix this week, remember: there are plenty of shows about sharks that air year-round.
[shark tank]
me: ridiculously wide sunglasses
shark 1: i'm out
shark 2: i'm out
hammerhead shark: i'm listening

— andrew (@AndrewChamings) September 1, 2017