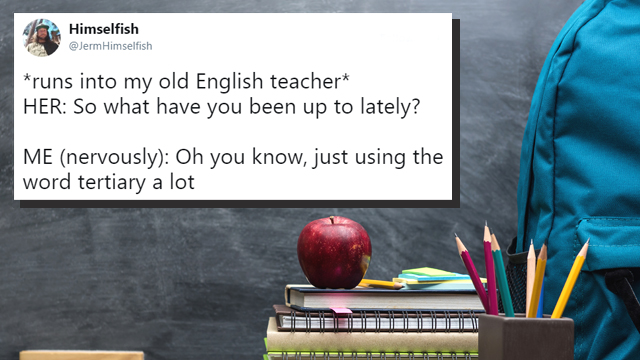 Credit: Getty/Kritchanut
Did you get eight uninterrupted hours of peace and quiet away from your screaming children today? If so, thank a teacher! It's World Teacher Day and we've got 10 funny tweets about the educators we cherish so dearly.
To our math teachers…
Teacher: Can anyone tell me what this symbol is? π
Me: A wobbly table
Teacher: It's Pi
Me: HOW CAN ANYONE EAT PIE ON THAT BROKEN TABLE?

— /人◕ ‿‿ ◕人\ (@AnOrangeSNES) June 30, 2016
thanks for all the number jokes.
If you're a math teacher, a good joke would be to call the store 7-11 "Negative 4". Then, when nobody laughs, cry in your Kia Sorrento.

— Hey, It's Opus! (@heyitsopus) September 14, 2016
To the English teachers…
Person: "I want a tattoo."

English teacher: "It's 'I want a tatalso.'"

— Lindsay (@Rollinintheseat) February 16, 2018
thanks for keeping our vocabularies sharp.
*runs into my old English teacher*
HER: So what have you been up to lately?

ME (nervously): Oh you know, just using the word tertiary a lot

— Himselfish (@JermHimselfish) January 12, 2017
To our gym teachers…
When gym teachers get home after a long day at work, they change into formal dress slacks to relax.

— pat tobin (@tastefactory) January 29, 2015
you do a thankless job and we love you for it.
Saw my old junior high gym teacher at the grocery store. It started getting weird when he patted my head to see if it was wet and asked me if I had showered.

— Abe Yospe (@Cheeseboy22) July 29, 2018
To all the science teachers…
me: miss, i have a question
science teacher: of course
me: about Pokémon
science teacher: i warned you

— Cat Damon (@CornOnTheGoblin) March 10, 2017
thanks for keeping us involved.
[sits son down after he didn't win science fair] son, tomorrow some will call me "hero" others will call me "guy who fought a teacher"

— brent (@murrman5) May 18, 2015
And thanks to the social studies teachers, for all you taught us…
Like many Americans, I remember exactly where I was when I heard JFK was shot. It was history class. And my teacher just kinda mentioned it.

— jordan (@jordan_stratton) January 22, 2015
and all that you could have but didn't.
If I were a history teacher I'd sprinkle in fake "facts"…

"Christopher Columbus often ate bees to help with his erectile dysfunction."

— Aimee Helene (@AimeeHelene1) January 2, 2016