Tweet Roundup: The 10 Funniest Tweets About Yard Sales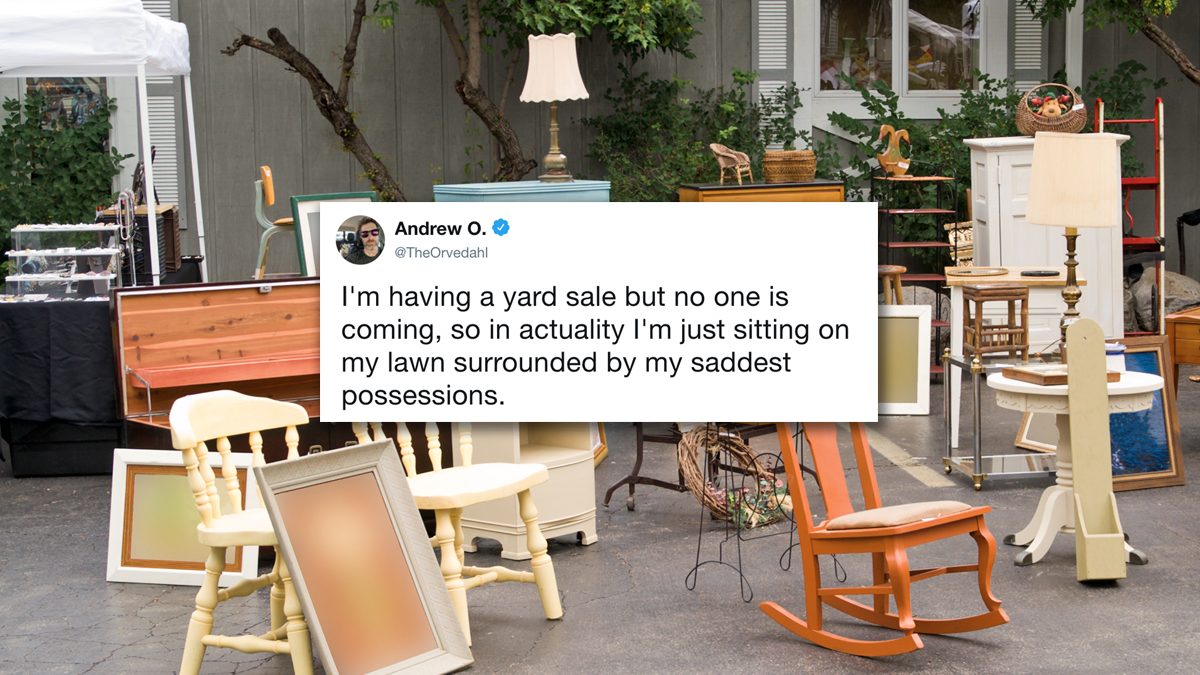 Aren't yard sales the best? There's nothing quite like going from neighborhood to neighborhood, haggling over the prices of ceramic cookie jars and copies of Jungle 2 Jungle on VHS tape. Break out the fishing chairs and neon poster boards, here are the 10 funniest about yard sales!
You can make a yard sale happen anywhere.
A fun thing to do is to put Yard Sale signs in front of random houses

— Pauly Casillas (@PaulyPeligroso) April 9, 2015
Yes, anywhere.
I tripped and dropped the groceries on the way home, I had to pretend I was having a yard sale to save face. I sold like half of them, sorry

— Mike F (@mikefossey) June 30, 2014
Just make sure you clarify what you mean by "yard sale."
ME: It's exquisite. I must have it. Price is no object. *starts ripping up sod*
GUY RUNNING YARD SALE: What the hell are you doing?!

— Ray (@SirEviscerate) May 23, 2015
And always remember to take that sign down.
If they don't take down their yard sale signs you can still go to their house and haggle.

— jess (@jessokfine) October 11, 2014
Sometimes it doesn't pan out like you planned.
I'm having a yard sale but no one is coming, so in actuality I'm just sitting on my lawn surrounded by my saddest possessions.

— Andrew O. (@TheOrvedahl) June 9, 2018
It's not always the cash cow you think it will be.
Having a garage sale is a great example of how with many hours of planning and preparation anybody can make $35.

— mark (@TheCatWhisprer) March 3, 2018
So make sure you have some good products to sell.
Going to Dick's to buy some exercise equipment for my garage sale this spring.

— Bryan Donaldson (@TheNardvark) January 1, 2013
And always beware of hagglers.
I'm having a yard sale today and in order to avoid hagglers I'm going to be eating something directly off a knife the entire time.

— honky tonk angel bb (@dulcetry) September 23, 2017
If you're the one buying, have some fun.
Screech up to a yard sale. Ask if they have any haunted amulets. Yell at the dog in your backseat, "I'm GETTING the spell reversed, Greg!"

— Elizabeth Hackett (@LizHackett) April 30, 2015
And never settle for a subpar yard sale.
Any yard sale that doesn't include an old woman warning me about a cursed toaster is just a waste of time.

— TheAlexNevil: Likes Dogs, Cake, Reuniting Families (@TheAlexNevil) January 3, 2018