Tweet Roundup: The 12 Funniest Tweets About Pumpkin Carving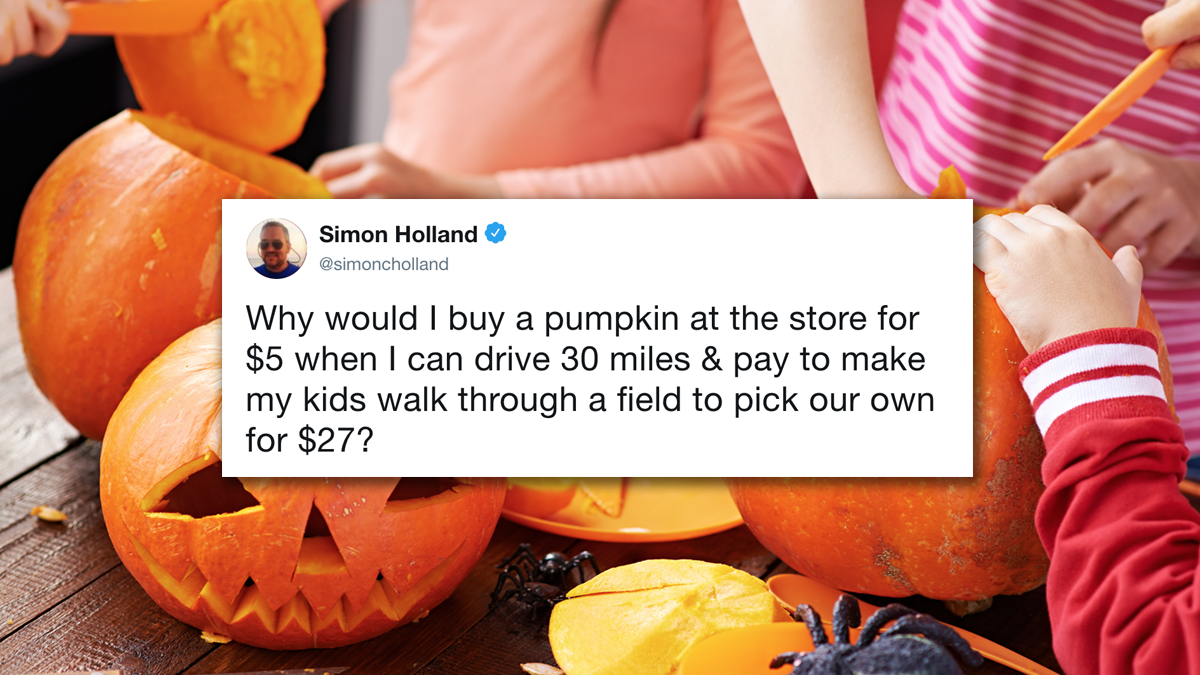 Carving pumpkins with your children is so fun and easy! Just grab a pumpkin, lay down some newspaper, explain to your kids what "newspapers" were, then break out that carving kit and let the frustration begin!
Here are 12 tweets sure to put a smile on your face as you struggle to put one on a pumpkin.
Not yet in the Halloween spirit?
Friend: "I love decorating for Halloween."

Me [thinking of lone, uncarved pumpkin on front porch]: "Me too."

— Vote November 6th (@ramblinma) October 26, 2016
Round up the kids and head to a pumpkin patch!
Why would I buy a pumpkin at the store for $5 when I can drive 30 miles & pay to make my kids walk through a field to pick our own for $27?

— Simon Holland (@simoncholland) October 8, 2018
They'll love picking out their own pumpkin.
For a kid who thinks cowboy boots and swim trunks are a good combination, my 4yo sure is meticulous about picking which pumpkin to take home

— Salty Mermaid (@Jenn_H_Scott) October 12, 2017
There are many ways to carve these pumpkins.
How to carve a pumpkin:

1. Stab it 97 times
2. Leave it on your doorstep as a warning to your enemies

— Jeff Wysaski (@pleatedjeans) October 11, 2017
But no better way than with your kids.
Me: Want to carve pumpkins?

11YO: No, it takes too long.

*later, 11YO spends 3 1/2 hours in Minecraft making a pumpkin pic.twitter.com/O6eErLgo9U

— TonyL (@creativeTypeDad) October 28, 2016
It's a great opportunity to workshop some dad jokes.
(me, hollowing out pumpkins for my kids to carve)
More like "holloween" lol

— Ken Jennings (@KenJennings) October 28, 2015
And even pull a few classic dad gags!
A good joke to play on your kids is to fill up a pumpkin with body parts, seal it up & then start pulling them out & screaming as you carve.

— Abe Yospe (@Cheeseboy22) October 15, 2013
Pumpkin carving is a team effort.
If pumpkin carving doesn't end in "That's okay — it doesn't need to have eyes," then you have not just been comforted by your 7 year old.

— TheAlexNevilSpooky (@TheAlexNevil) October 31, 2016
And a great way to determine whether or not you're raising psychos.
Kid: Mom, can pumpkins feel pain?
Mom: Aw, what a sweetheart you are! No, honey. Go ahead and carve a face in it
Kid, who despises pumpkins: No thanks

— Hi, it's Abject Terror. Yep. (@abbycohenwl) October 1, 2018
Tiny, knife-wielding psychos.
Pumpkin carving is great because it gives my kids a new thing to fight over while they're holding sharp objects.

— Amy Dillon (@amydillon) October 31, 2015
But to be frank, none of us look sane doing it.
My greatest fear is that an angry pumpkin will ask me why we don't carve watermelons, and I won't have a good answer.

— Matt Roller (@rolldiggity) October 29, 2013
So feel free to just give up. Painting one is easier anyway.
Gave up trying to carve a pumpkin and just left it on the porch with a knife stabbed into it. I wonder if we'll get any trick-or-treaters.

— Elizabeth Hackett (@LizHackett) October 15, 2013