Tweet Roundup: The 12 Funniest Tweets About Thanksgiving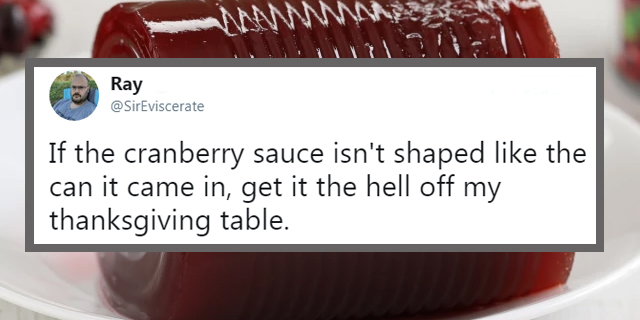 Gobble gobble! Set the table, loosen your belt, and prepare the mute button for that one scene you forgot was in Planes, Trains, and Automobile, because we've got 12 hilarious tweets for you to be thankful for.
If you're not hosting, we wish you safe travels.
Just a reminder from a dad, if you plan on traveling for Thanksgiving you should probably head to the airport today.

— Soren Bowie (@Soren_Ltd) November 10, 2017
If you are hosting, we applaud your courage.
I love Thanksgiving. Can't wait to slave for hours over a meal my kids will rudely reject in front of relatives who are judging my parenting

— Ally (@TragicAllyHere) November 16, 2016
Preparation is key.
Make sure your children leave cookies and gravy out on Thanksgiving Eve for Guy Fieri when he sneaks in your house to stuff the turkey.

— Chad Opitz (@chadopitz) November 26, 2015
Always remember the reason we celebrate.
My favorite part of Thanksgiving is when multiple families come together to argue over the pronunciation of pecan pie.

— Simon Holland (@simoncholland) November 20, 2016
Show special thanks to those who make the holiday possible.
If a turkey is being a dick to you sometime in the next couple of days, just let it slide, man.

— Bryan Donaldson (@TheNardvark) November 20, 2012
Or don't.
stand up at the Thanksgiving table and whisper to the turkey "Hey Glen, sorry but I warned you not to fuck with me…" then sit back down

— Rob Huebel (@robhuebel) November 25, 2014
There's a good chance your kids are gonna be picky.
Who's excited to watch their kid eat one roll and 8 black olives for Thanksgiving dinner?

— Valerie (@ValeeGrrl) November 20, 2017
But the apple pie doesn't fall far from the tree.
If the cranberry sauce isn't shaped like the can it came in, get it the hell off my thanksgiving table.

— Ray (@SirEviscerate) November 26, 2015
Try your best to watch what you eat.
Thanksgiving Pro Tip:
Never eat any food offered to you by an adorable toddler relative. It might look like a cookie, or piece of candy, but it's actually the flu.

— Sara Says Stop (@PetrickSara) November 22, 2017
But no pressure to keep active.
My favorite thing about Thanksgiving is watching someone else do the dishes.

— Jingle Bell Jawbreaker ???? (@sixfootcandy) November 20, 2017
So kick back in that recliner and relax with your family.
Nothing like Thanksgiving with family to remind you how great it is to watch TV alone.

— Alec Sulkin (@thesulk) November 26, 2015
You've got a big morning ahead of you.
THANKSGIVING: I'm thankful for this beautiful world we live in
BLACK FRIDAY: *beats an old lady to death with a 42″ Vizio LCD Smart TV*

— The Dogfather (@matt___nelson) November 28, 2015