Tweet Roundup: The 12 Funniest Tweets From Dads in February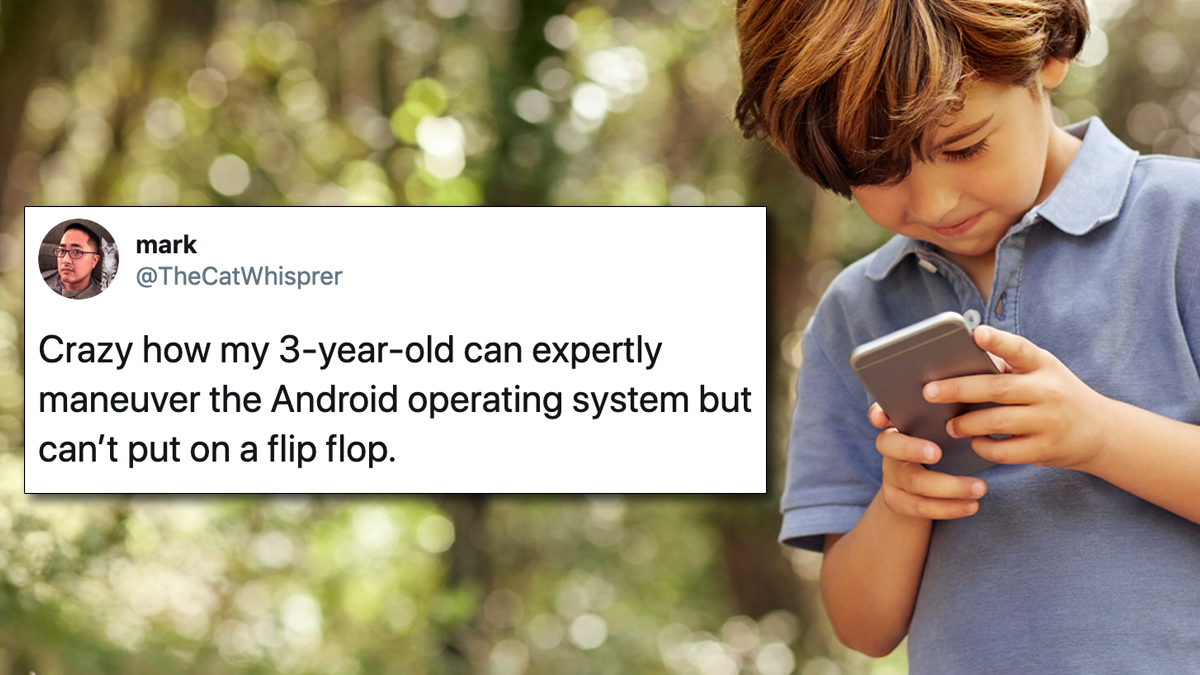 Good hustle, dads. Another week in the books. Tired? Annoyed? Are you currently pretending to use the bathroom just for a few minutes away from your family? Why not take a look at this week's 13 funniest tweets from your fellow dads.
On parenting in the age of technology.
No parenting book tells you how to get pudding out of the charging port of an iPad.

— Simon Holland (@simoncholland) February 20, 2019
On child-ing in the age of technology.
Crazy how my 3-year-old can expertly maneuver the Android operating system but can't put on a flip flop.

— mark (@TheCatWhisprer) February 18, 2019
On what makes children happy.
Kids like going bowling because they finally get rewarded for repeatedly destroying things someone else has cleaned up and organized.

— Dad and Buried (@DadandBuried) February 23, 2019
On personal growth.
Most of being a dad is just remembering to say "hustle" instead of "hurry."

— Ken Jennings (@KenJennings) February 21, 2019
On the importance of house shoes.
Being a parent is basically like
the scene in "Rocky" when he runs up the steps.

Except you're barefoot. And those steps are covered in legos.

Good luck.

— A Bearer Of Dad News (@HomeWithPeanut) February 23, 2019
On texting your spouse.
when your spouse is out with friends and won't answer your texts pic.twitter.com/5M0mFcfiUC

— Henpecked Hal (@HenpeckedHal) February 18, 2019
On discipline.
Whenever my wife tells people we're starting obedience training next month I always feel compelled to add "for the dog".

— Boyd's Backyard™ (@TheBoydP) February 22, 2019
On the magic of weekend parenting.
I was supposed to sleep in but my son woke me up to tell me that my wife said he can talk to me later

— FU I am Dad (@fu_dad) February 23, 2019
On sharing the good news.
my wife: im pregnant

me: omg thats great

my wife *embarassed*: but now people will know we had sex

— the drake gatsby ❄️ (@DrakeGatsby) February 22, 2019
On building confidence.
Parenting confession: Sometimes I say "Nice job!" to my kids when really they just did an adequate job.

— Abe Yospe (@Cheeseboy22) February 18, 2019
On communication.
On effective communication with your spouse.
wife: we can barely pay bills this month, we need to make sacrifices

me: ok, let's start tomorrow

[next day]

me: [holding severed goat head] honey i'm home

wife: OMG [holds up a 2nd goat head] JINX!

— Terry F (@daemonic3) February 20, 2019
On never losing your sense of coolness.
Yes I got out of a minivan wearing a Pantera shirt. I can still kick ass. It just has to be on the weekend at a sensible hour.

— Jeff (@dadsrpeopletoo) February 22, 2019