Tweet Roundup: The 13 Funniest Tweets About Parenting a Sick Kid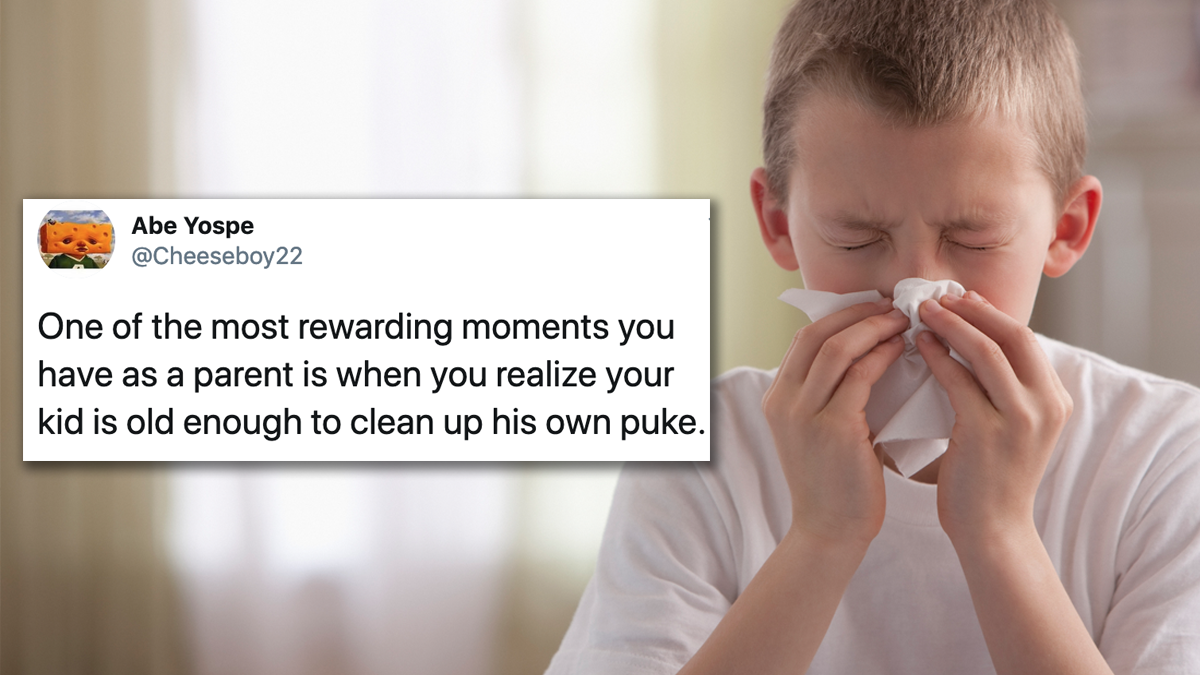 Do you love having your mouth sneezed into? Braving icy roads to buy ibuprofen? Falling victim to the deceit of a truant? By all means: become a parent. So kick back, holster that disinfectant, and enjoy these hilarious tweets about parenting sick kids.
Having an ill child is never fun.
Sometimes being a parent is so wonderful, words can't describe it. Then your kid gets the stomach flu and those feelings go away.

— John Higley (@higley) November 15, 2013
So take victories where you can.
When you say "at least the kid got most of the vomit into the toilet this time" you know you're having a really good day as a parent.

— Dan (@MilkmanDanimal) February 26, 2015
Sure, a sick kid comes in handy now and then.
A cool thing about having kids is that you can get out of doing stuff you don't wanna do by telling people your kid is sick.

— The Real American Dadass (@R_A_Dadass) February 6, 2018
But it's mostly just a lot of work.
One of the most rewarding moments you have as a parent is when you realize your kid is old enough to clean up his own puke.

— Abe Yospe (@Cheeseboy22) October 27, 2015
So before you let them stay home, make sure they're actually sick.
Questions to determine if your child is faking illness:
-does he have a test at school
-does he have an enemy at school
-does he have school

— TheAlexNevil, Expert Snorer (@TheAlexNevil) March 31, 2016
It's pretty easy to spot a faker.
My 8-year-old doesn't understand that "I feel sick." loses all credibility when preceded by "Is there school tomorrow?"

— Chris Hallbeck (@ChrisHallbeck) March 21, 2016
But they're sure to put a few past you.
When you let your kid stay home sick and then he makes a miraculous recovery 10 minutes after the bus drives by pic.twitter.com/q7vfgx1zSJ

— Lurkin' Mom (@LurkAtHomeMom) November 29, 2017
If they're truly sick, congrats. Now you are too.
No matter how difficult parenting gets, the joy of having a sick toddler cough in your face makes it all worth it.

— mark (@TheCatWhisprer) February 14, 2017
Because that kid of yours is a walking germ farm.
Congratulations on your baby. There's a chance of being sick from now until your kid is at least 24.

— heather lou* (@heatherlou_) February 7, 2018
What's that? A call from the school nurse?
Nothing is as terrifying as touching the pen in the elementary school office that parents use to check their kids out sick.

— Meredith (@PerfectPending) August 28, 2018
Go ahead and call off work for the next week, pal.
Have kids so you can forever be trapped in the never-ending cycle of "finally getting over being sick" and "just starting to get sick again."

— Dad and Buried (@DadandBuried) April 18, 2018
We don't care how hard you try to avoid it.
"My dear, sweet child. I'm so very sorry you're sick." I say, across the room wearing a surgical mask, while patting her with a 10 ft pole.

— Ash (an female) ⚪️ (@adult_mom) February 22, 2016
So why not just chug that cough syrup and get in some quality time with your new gross zombie family.
Everyone in our family has been sick so long, we've stopped using words, and have created a language based entirely on coughs and sneezes.

— Sara Says Stop (@PetrickSara) February 10, 2016