Tweet Roundup: The 13 Funniest Tweets About Valentine's Day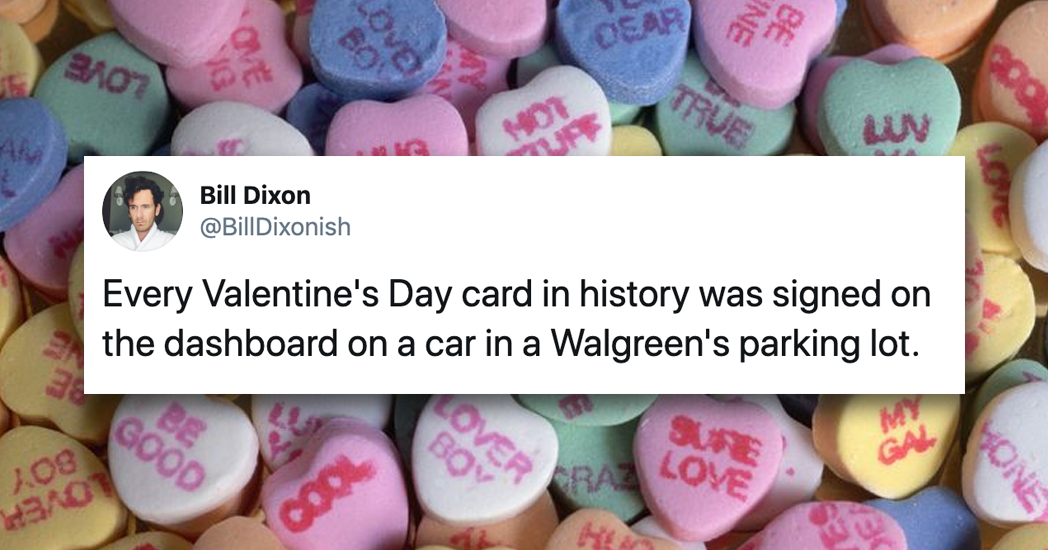 Some people hate Valentine's Day, dismissing it as a corporate scam. But that couldn't be further from the truth! No. Valentine's Day is a maliciously placed speed bump for your New Year's commitment to quitting sweets, weakening your defenses to the candy onslaught of Easter Sunday. Oh, you liked those sanely-portioned little chocolates in the heart? Well here's a WHOLE CHOCOLATE RABBIT.
Anyway, here are 13 of the funniest tweets about Valentine's Day.
It's tough being single on Valentine's Day.
Oh you don't have a valentine on valentine's day? Some people don't even have a groundhog on groundhogs day. check your privilege

— Johnny Brittner (@JohnnyBrittner) February 10, 2019
Even though it's all probably a scam.
Valentine's Day is the Comic Sans of holidays.

— Louis Virtel (@louisvirtel) February 14, 2018
It's still easy to feel alone.
Valentine's Day really separates the men from the boys, and then separates me from both of them in a third location

— Megan Amram (@meganamram) February 15, 2015
And confused.
"Do you have a date for Valentine's Day?"
Me: Yes… February 14th

— Zachary (@zacharywhyde) January 28, 2018
And angry.
If you're bored on Valentine's Day just go up to random couples in restaurants and shout "Who the fuck is she?!"

— Lauren-Jade (@laurenjadepope) February 2, 2020
Putting yourself out there is tough.
Happy Valentine's Day to the woman who– by marrying me—kept me from making an ass of myself on Tindr, Match, Bumble and Farmers Only.

— Conan O'Brien (@ConanOBrien) February 14, 2019
So be mindful of the silver linings.
the best thing about being single on valentine's day is I get to eat all 2 dozen of these roses by myself

— thomas violence (@thomas_violence) February 14, 2015
And spread what love you still can.
If I worked at a restaurant on Valentine's Day I would put a fake engagement ring in every girl's drink.

— ABDULMUTOLEEB GIUSEPPE OYELEKE  (@Oye440) February 6, 2020
Because once you're married…
Every Valentine's Day card in history was signed on the dashboard on a car in a Walgreen's parking lot.

— Bill Dixon (@BillDixonish) February 3, 2016
Hooo boy. Once you are married…
My wife and I agreed not to get each other anything for Valentine's Day so I'm pretty worried.

— Simon Holland (@simoncholland) February 6, 2019
Whole different ballgame, my friend.
This Valentine's Day, give her the gift that says "I am the gift you told him to get."

— Alex Baze (@bazecraze) February 14, 2014
So enjoy it to the best of your abilities.
Whether you're optimistic or pessimistic on Valentine's Day, there is one thing I think we can all agree on: Candy Hearts taste like balls

— Brandon Calvillo (@BJCalvillo) February 14, 2015
Because hey, it could be worse.
Let's all take a moment of silence this Valentine's Day to think about the couples who started dating end of January

— Mike Ginn (@shutupmikeginn) February 14, 2015