Tweet Roundup: The 12 Funniest Tweets From Dads Who Love Star Wars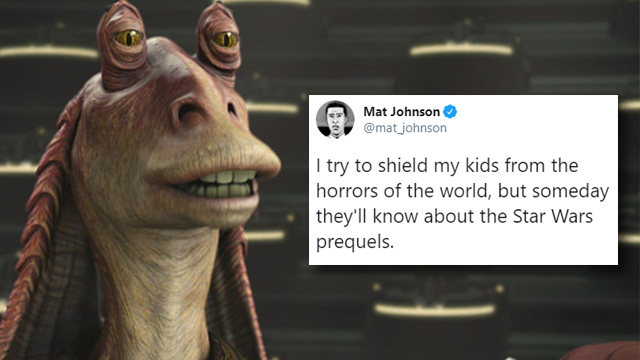 The only thing better than discovering Star Wars as a kid? Growing up, having a litter of your own, and watching their little eyes widen when they see a light saber vvvyum for the first time. In celebration of Star Wars Day, here are the funniest tweets from dads who love the saga.
It's got one of cinema's most iconic dads.
Been receiving a lot of heat for my controversial theory that Darth Vader was not the villain but just a great dad willing to destroy the universe in order to give his son a bitchin' robot hand.

— MehGyver (@AndrewNadeau0) June 17, 2018
Certainly its most evil.
Darth Vader abandoned his infant twins to focus on his murder career. Later he tracked down his son, killed his adopted father figure, chopped off his son's hand and then offered him a job in the family company…so I highly doubt I'm the worst father in history Karen.

— Oops!…I Dad It Again (@NewDadNotes) December 11, 2018
But you're a good dad! You're introducing your kid to Star Wars!
My son is 3 and a half years old and has never seen Star Wars.

I've failed as a parent, haven't I??

— Andy (@Ewan_Nates_Dad) April 26, 2015
Try not to get too excited.
Me: It's time they knew
Wife: They're so young
Me: They're ready
*turn to kids
Wife: OK. When a man and a wo..
Me: Darth Vader is Luke's dad

— ????????Frank Whitehouse ???????? (@WheelTod) November 24, 2015
There are some questions to consider.
My biggest concern about having kids is which order I should show them the Star Wars movies.

— Steve Dutzy (@SteveDutzy) October 27, 2018
Some big, important questions.
I try to shield my kids from the horrors of the world, but someday they'll know about the Star Wars prequels.

— Mat Johnson (@mat_johnson) December 7, 2014
Like, really think about this one.
My son wants to see Star Wars Episode 1 but I don't think he's old enough to handle trade taxation and senate politics.

— Chris Hallbeck (@ChrisHallbeck) December 23, 2013
Give the films room to breathe if need be.
I can't wait until my son grows up and can watch Star Wars with me and then when he asks about the ending I'll tell him that he has to wait two years just like I did

— Idle (@Mindless4Miles) December 27, 2017
Otherwise, they're sure to be hooked!
Daughter told me she prefers Star Trek to Star Wars

Said "Live Long and Prosper" to her as I dropped her off in Walmart parking lot

— kingdaddy (@kingdaddy) June 30, 2016
Just make sure they're into it for the right reasons!
Me: What's your fav Star Wars scene?
9: When Kylo Ren kills his dad. What's yours?
Me: When Vader chops off his son's hand.
9: Hmm.
Me: Hmm.

— The Dad Briefs™ (@SladeWentworth) July 24, 2017
If they like it, you're gonna want to carefully nurture this fandom.
If your standard response is "what would Yoda say?" when your kid says "I'll try" -we'd probably get along

— Seamus O'flaugherty (@seamussaid) November 24, 2014
The paternity test is conclusive.
3yo: I don't like Jar Jar.

— Paternity Fraternity (@PaternityFrat) January 18, 2018