Tweet Roundup: The 15 Funniest Tweets About Father's Day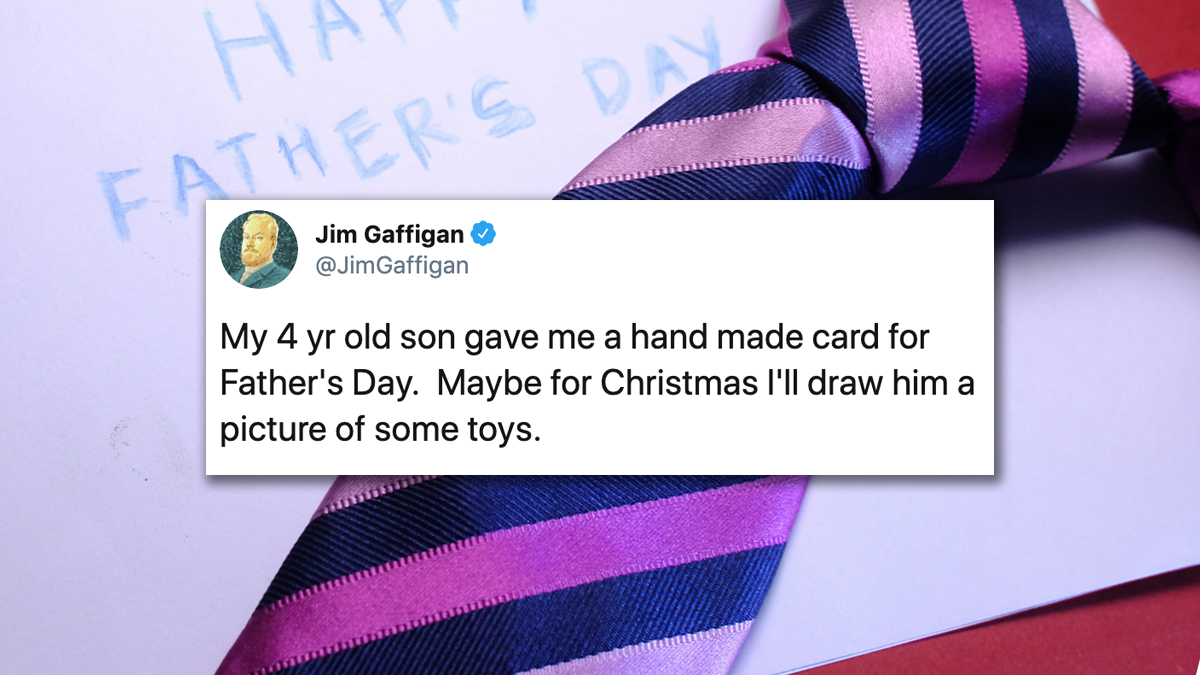 Father's Day is finally upon us, and there's no greater gift than laughter. Well, maybe one of those electric rotating tie racks. Ooh, or one of those pressure cookers. Most massage chairs, come to think of it. Okay fine, so laughter might not be the best Father's Day gift, but it's certainly the most inexpensive. Honor this annual celebration of paternity with these 15 hilarious tweets about the holiday.
First, a disclaimer:
Happy Father's Day to all the dads out there except the one in Cat's in the Cradle.

— John Lyon (@JohnLyonTweets) June 17, 2018
It's important to remember the true meaning of the day.
the apostrophe in "father's day" indicates that this day is meant to celebrate one dad only. my guess is Gene, down the street

— chuuch (@ch000ch) June 21, 2015
There are many ways to celebrate it. You could call your dad.
Called my dad to wish him a Happy Father's Day and we spent the whole time discussing back pain and ibuprofen. The circle is now complete.

— Dad and Buried (@DadandBuried) June 17, 2018
But you don't get internet points for that.
A thoughtful way to honor your dad on Father's Day is to post a picture of him on a social media site that he doesn't know how to use.

— The Volatile Mermaid (@OhNoSheTwitnt) June 21, 2015
Perhaps you can start his day with a hearty breakfast.
For Father's Day my kids spilled me breakfast in bed.

— Simon Holland (@simoncholland) June 21, 2015
Followed by a road trip to his favorite place.
Father's Day tip: forgot a gift? Drop him off at The Home Depot and let him play with all the other dads.

— luke [from online] (@internetluke) June 21, 2015
Just remember: all dads are different.
Every Father's Day at midnight the HomeDepot dads and the Lowe's dads rumble "Westside Story" style in a neutral Costcos parking lot.

— ????Ⓜ???????? (@1_swarthy_dude) August 25, 2014
This is a holiday steeped in tradition. Some good…
Every year on Father's Day Eve a dad climbs down the chimney and sets your thermostat to the perfect temperature.

— ᎽᎪᎬᏞ (@elle91) June 19, 2017
…some not so good.
Father's Day; NOUN ; an occasion to get to like 2nd and ½ base and then some kid comes in asking for an apple

— dadpression (@Dadpression) June 18, 2017
So it all comes down to the perfect gift.
For Father's Day my infant only pooped through 2 layers of clothing instead of the normal 3.

— mark (@TheCatWhisprer) June 21, 2015
Think hard on what your dad is passionate about.
Me: Dad I got you a thermostat we can all control from an app on our phones for Father's Day

Dad: *struggling to get up from his la-z-boy* YOU SON OF A BITCH

— Boog (@BoogTweets) June 11, 2018
It doesn't have to be a gift you can wrap!
Get your dad what he really wants this Father's Day by turning off the lights when you leave a room.

— Mike Primavera (@primawesome) June 18, 2015
Just make sure you send the right message.
when your father's day gift makes you question if you're still alive pic.twitter.com/OcXz17WyZN

— Grant Tanaka (@GrantTanaka) June 18, 2017
Dads never forget their Father's Day gifts.
My 4 yr old son gave me a hand made card for Father's Day. Maybe for Christmas I'll draw him a picture of some toys.

— Jim Gaffigan (@JimGaffigan) June 20, 2010
So be sure to make it a special one!
Father's Day coming up. Can't wait to be served Norovirus in bed.

— Ryan Reynolds (@VancityReynolds) June 11, 2018