Tweet Roundup: The 16 Funniest Tweets About Thanksgiving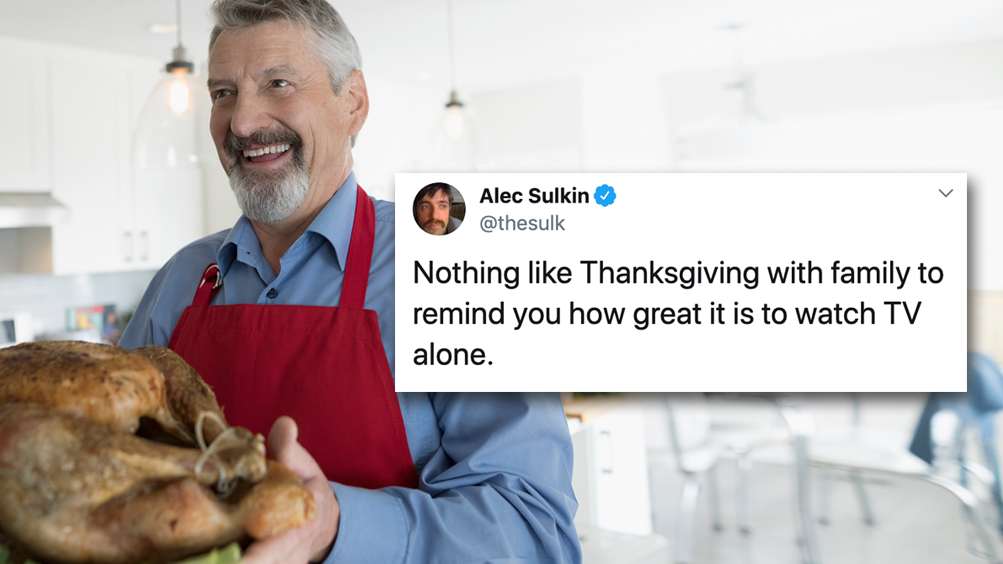 Everyone loves Thanksgiving. Stuffing. Football. Kids table gossip. Pass that gravy and undo that belt, because we've got 16 hilarious tweets to usher in the holiday season.
First, remember the reason for the season.
Thanksgiving is by far the best Holiday we have that centers around breadcrumbs in a dead turkey's asshole.

— Noah Garfinkel (@NoahGarfinkel) November 22, 2015
Make it a priority to be punctual.
Just a reminder from a dad, if you plan on traveling for Thanksgiving you should probably head to the airport today.

— Soren Bowie (@Soren_Ltd) November 10, 2017
If you can't, lie.
*shows up at Thanksgiving dinner a half hour late holding Starbucks and a Big Mac* sorry traffic

— dan mentos (@DanMentos) November 26, 2015
Thanksgiving is all about patience.
Me looking at the Mac n cheese bake on Thanksgiving pic.twitter.com/ucAJ9h3XfK

— B (@beyholl) November 13, 2018
Patience of all kinds.
I don't start my holiday shopping until after Thanksgiving when I find out which family members I am still on good terms with.

— Abbi Thanksgiving Crutchfield (@curlycomedy) November 25, 2015
But you gotta admit, it's good to be home.
Happy Thanksgiving to everyone visiting their parents. pic.twitter.com/hRxI5EyssU

— Christian Duguay (@christianduguay) November 28, 2014
Shoutout to those doing the cooking.
I love Thanksgiving. Can't wait to slave for hours over a meal my kids will rudely reject in front of relatives who are judging my parenting

— Ally (@TragicAllyHere) November 16, 2016
No matter what you're making.
Friend: What are you going to make for Thanksgiving?
Me: Probably a scene.

— Alison Leiby (@AlisonLeiby) November 15, 2016
All your hard work will ultimately go unappreciated.
Who's excited to watch their kid eat one roll and 8 black olives for Thanksgiving dinner?

— Valerie (@ValeeGrrl) November 20, 2017
So don't be afraid to put your heart into it.
The secret ingredient to my green bean casserole is taking my shirt off when I bake it

— RowdysMagicalThinking (@rowdyforsheriff) November 19, 2018
When dinner starts, establish dominance right away.
stand up at the Thanksgiving table and whisper to the turkey "Hey Glen, sorry but I warned you not to fuck with me…" then sit back down

— Rob Huebel (@robhuebel) November 25, 2014
Do a quick check for quality control.
If the cranberry sauce isn't shaped like the can it came in, get it the hell off my thanksgiving table.

— Ray (@SirEviscerate) November 26, 2015
When dinner is over, kick back.
My favorite thing about Thanksgiving is watching someone else do the dishes.

— Jawbreaker 🎄 (@sixfootcandy) November 20, 2017
Maybe check out the parade.
Nothing like Thanksgiving with family to remind you how great it is to watch TV alone.

— Alec Sulkin (@thesulk) November 26, 2015
Or go around give thanks.
[Thanksgiving dinner]
Wife: You're always on your phone and never talk to me!

Me: Oh

Wife: ok so what's everyone else thankful for?

— Jon (@ArfMeasures) November 20, 2018
And don't forget: be mindful of your food intake.
Stay in shape this Thanksgiving by running away every time you see someone you went to high school with.

— Kevin Farzad (@KevinFarzad) November 27, 2014