Tweet Roundup: The 30 Funniest Tweets From Dads in 2018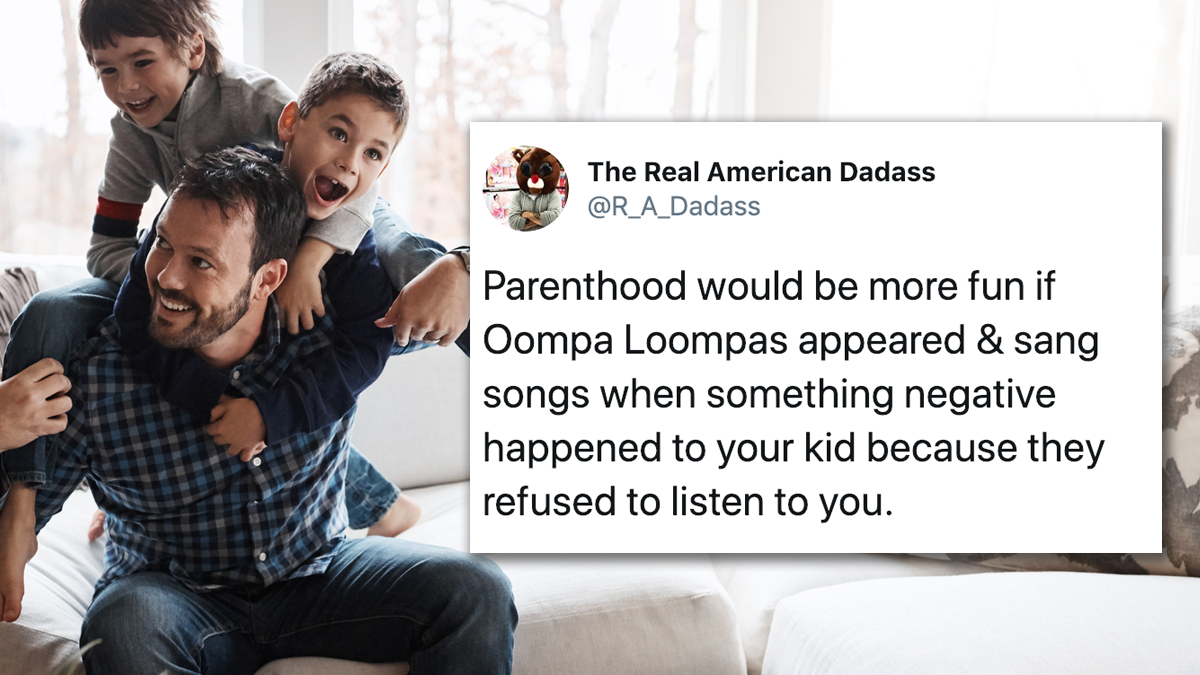 Excellent work, dads. We crushed it this year. Wind it down and reward your grueling work as a human napkin with some of the funniest tweets from dads we saw in 2018.
1.
The attention and detail required to sneak anything nutritional into my child's diet makes it feel very similar to poisoning a king.

— dadpression (@Dadpression) September 19, 2018
2.
Some think kids are selfish, but when 8 sees I'm carrying too much stuff at once, he comes over and gives me a lengthy explanation as to why Black Panther could beat Spider-Man.

— TheAlexNevil's New Year's Rockin' Eve (@TheAlexNevil) March 21, 2018
3.
Sorry I'm late, had to wait for my toddler to go through the 5 stages of grief putting on a pair of pants.

— mark (@TheCatWhisprer) June 23, 2018
4.
If only the objective of parenting was to raise really louds kids, I would be killing it.

— Jim Gaffigan (@JimGaffigan) January 3, 2018
5.
Daytime parenting: strict screen time limits. 1hr only. Child must earn it.

5am parenting (hands 4yo iPad): take this so I can sleep.

— No Idea: Daddy Blog (@byclintedwards) August 22, 2018
6.
Our landline rang today and all three of our kids got confused and went outside because they thought a fire alarm was going off.

— Abe Yospe (@Cheeseboy22) September 12, 2018
7.
My wife and and I enjoy
free-range parenting.

We are constantly trying to free ourselves from being within range of the kids.

— The Dad Briefs™ (@SladeWentworth) April 6, 2018
8.
Whichever dad has the best step ladders in the neighborhood gets to ride his lawnmower shirtless on the weekends.

— The Pale space Rider (@truegritrumble) January 5, 2018
9.
As a parent it's my job to shout "Be careful!" at my children just after they've fallen over

— Spazio (@Spaziotwat) April 8, 2018
10.
The first rule of Parenting Club is that we don't tell anyone what it's like. It would destroy our recruitment. #parenting

— Richard Dean (@dad_on_my_feet) April 7, 2018
11.
today my eight-year-old son said 'what if the tooth fairy was real and she was collecting the teeth to build an army of teeth-people'

— Saladin Ahmed (@saladinahmed) June 10, 2018
12.
DAUGHTER, AGE 6: My legs are running away from the ghosts of my feet!

ME: Ha ha, you're so silly

[later]

ME: *waking her up at 2am* Sweetie, Daddy has several questions

— Andrew Fowler (@fowlerism) April 30, 2018
13.
The 6yo figured out she can sneakily stick a note on someone's back. But she doesn't know they should say things like "kick me," so they just have space facts on them.

— Robert McNees (@mcnees) December 16, 2018
14.
My daughter wants to be really scary this Halloween so instead of a costume she is going to carry a school fundraising packet to every door.

— Simon Holland (@simoncholland) September 27, 2018
15.
Parenthood would be more fun if Oompa Loompas appeared & sang songs when something negative happened to your kid because they refused to listen to you.

— The Real American Dadass (@R_A_Dadass) September 6, 2018
16.
Today's assignment:

Go to kids' karate classes and keep screaming "FINISH HIM!"

— Jake Vig (@Jake_Vig) January 8, 2018
17.
How to ruin your kids day:

1. See their sock on the floor
2. Ask them to pick up their sock

— Josh (@iwearaonesie) September 17, 2018
18.
My daughter just walked over and pulled a potato chip from my hoodie pocket and ate it. I have so many questions.

— Oops!…I Dad It Again (@NewDadNotes) December 18, 2018
19.
I generally think of myself as an okay father but somehow I forgot to teach my two year old son what an owl was and he thought it was called a wood penguin

— Gevalt-left (@crookedroads770) June 10, 2018
20.
93% of parenthood is saying "that's great" to whatever thing your kid is showing you on YouTube.

— Jurisdoc (@jurisdoc741) March 23, 2018
21.
[Dad Club]

Dad 1: *peers through slit in door* password.

Dad 2: hi password. I'm Dad.

Dad 1: *unlocks door approvingly*

— Quilliam (@nyquills) November 11, 2018
22.
My greatest failure as a parent is that neither of my kids likes cold pizza.

— Ken Jennings (@KenJennings) June 18, 2018
23.
Saying please to a toddler is like being polite to a tornado.

— Dad and Buried (@DadandBuried) January 7, 2018
24.
i had to break it to my daughter that her tree fort's defences would barely hold up against a prolonged siege

— Bison (@McGrumpenstein) May 15, 2018
25.
I don't like calling it a "dad bod." I prefer "father figure."

— Josh Radnor (@JoshRadnor) February 28, 2018
26.
SON: dad can you ride a bike with no hands?

ME: *kneeling down and clutching him by the shoulders* listen to me, you ever see a bike with hands you run, YOU RUN

— clean slate (@PleaseBeGneiss) November 12, 2018
27.
I didn't realize there was a wrong way to mow a lawn until I asked my son to do it.

— Rodney Lacroix (@moooooog35) May 18, 2018
28.
My daughter thinks it's hilarious when I accidentally get her math questions wrong but the joke's on her because it's not an accident and she's on her own for homework for 10 more years.

— Mike Reynolds (@EverydayGirlDad) March 19, 2018
29.
It was bittersweet tearing down my kids' swing set and trampoline knowing the hours of enjoyment they got from other things while those sat unused.

— Rich Cromwell (@rcromwell4) April 6, 2018
30.
Having studied my habits and preferences, my daughter hacked my attention this morning for her political agenda pic.twitter.com/GPlS3gSj5S

— Brendan Greeley (@bhgreeley) March 21, 2018