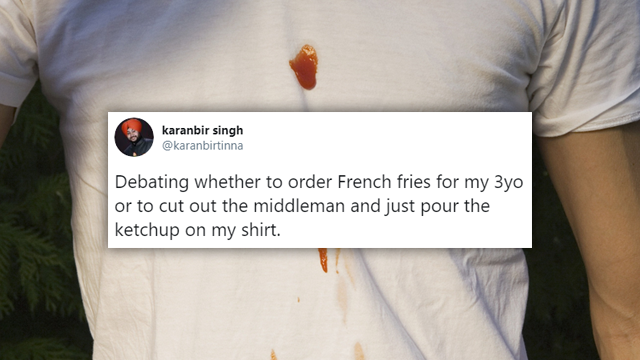 Credit: Getty/fStop Images
Whether they're mowing a lawn or taking the family on a beach trip, summertime is when a dad really gets to flourish. Here are some of the funniest musings on fatherhood we found in June.
A solid sequel pitch.
I can't wait for the Toy Story where all the toys are just a couple of iPads talking to each other.

— Abe Yospe (@Cheeseboy22) June 21, 2019
Palm sweat may vary.
Eminem Toddler
????

Vomit on his sweater already
mom's spaghetti

— The Dadvocate (@thedadvocate01) June 13, 2019
It's important to grow as a parent.
Before kids:
[Watching nature documentary]

How do some animals just abandon their young like that??

After kids:
[Watching nature documentary]

[Takes notes]

— A Bearer Of Dad News (@HomeWithPeanut) June 29, 2019
#2 all the way, baby.
There are two types of parent

1. Investigates why their child has suddenly gone quiet

2. Pours another cup of coffee and hopes for the best

— DaddyGrownup ????️‍???? ???????? (@DaddyGrownup) June 17, 2019
Been there.
Welcome to parenthood. Yes, it's possible to have the worst day of your life before 6:00 AM.

— Henpecked Hal (@HenpeckedHal) June 13, 2019
Parenthood means improvising.
One night before bed my kid asked me to sing a new song, but the only one I could think of at the time was the fresh prince of bel air theme.

This is how millennial lullabies are born.

— WTFDAD (@daddydoubts) June 6, 2019
Every. Time.
Debating whether to order French fries for my 3yo or to cut out the middleman and just pour the ketchup on my shirt.

— karanbir singh (@karanbirtinna) June 29, 2019
We're all raising little sadists.
I'm just a man

Being sat on by a 3yo

Asking him to stop performing dental work on me

With a plastic fish.

— Richard Dean (@dad_on_my_feet) June 29, 2019
Ahh, the memories.
Before Pinterest I used to drink out of cups instead of various sized jars.

— James Alvarez (@ObscureGent) June 18, 2019
Brilliant.
wife: you need to do more around the house

me: can you change the subject please?

wife: yes, this house needs more work done by you

— *sigh*clops (@DadZZZasleep) June 30, 2019
Welcome to the real world, kid.
My toddler is upset because the sandcastle he's building keeps getting swept away by the tide, negating all his progress, and I'm just glad he's experiencing what it's like to parent a toddler.

— Dad and Buried (@DadandBuried) June 30, 2019
Bound to happen eventually.
I yelled so loud earlier for 3 to get his hand off his penis that I am sure the college kid next door put his pants back on and closed his browser tab.

— Anecdotal Birthcontrol (@PedersenAhmed) June 26, 2019
We all remember where we were.
I became a father the day my daughter was born but I didn't become a dad until the first time she rolled her eyes at me.

— mark (@TheCatWhisprer) June 16, 2019
Furthermore, they love riding in shopping carts.
Being a parent is like living with your own personal "Jackass" crew; a lot of pointlessly running into things, too much broken furniture, and ridiculous crotch shots.

— A Bearer Of Dad News (@HomeWithPeanut) June 10, 2019
They teach them this in Wife School.
Me:
My wife:
Me:
Wife:
Me:
Wife:
Me:
Wife:
Me: (stands up)
Wife: While you're up….

— Simon Holland (@simoncholland) June 12, 2019
No, you're crying.
i thought i share at how my dad reacted to finding out my sister is pregnant, best father's day gift ever pic.twitter.com/EaayGbB5hv

— crystal. (@ohhcrystal__) June 16, 2019
This is next-level tip calculation.
A waitress wearing distressed jeans served us breakfast. My dad added an extra dollar to the tip so she could "buy some new jeans."

— Mark Magark (@markedly) June 26, 2019
Dads. Need we say more?
My dads phone is old pic.twitter.com/GFMk75croZ

— Bridey Lee Elliott (@brideylee) June 27, 2019