Tweet Roundup: The Funniest Dad Tweets of March 2019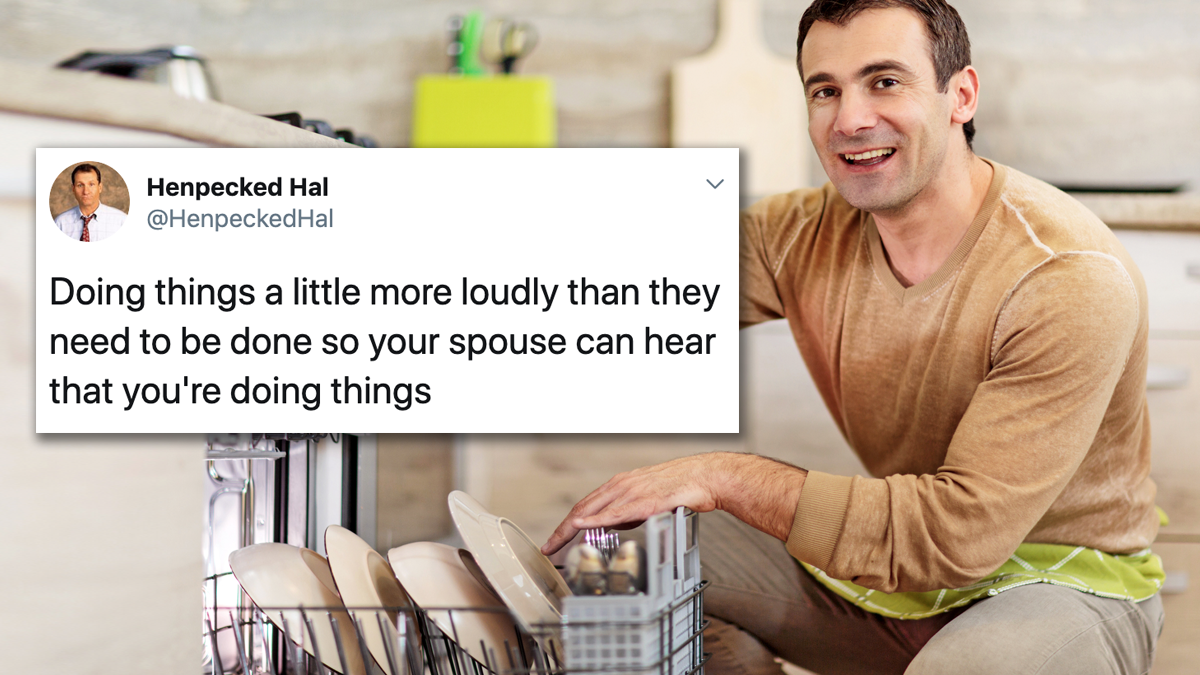 Ahh, March. Spring has sprung, brackets have busted, and somewhere they're still power-washing green puke off of a sidewalk. As a reward for your persistence through the Tuesday of months, here are some of the funniest dad tweets from it!
Simpler times.
Kids have a way of making you experience your youth all over again.

Like when I'm watching my 3 year-old take an hour to eat a banana, I think back to my younger years without kids.

— A Bearer Of Dad News (@HomeWithPeanut) March 26, 2019
The most powerful of power-naps.
Today my 4 year old was so tired she could barely keep her eyes open. Then she slept for 86 seconds in the car and will now be up forever.

— Simon Holland (@simoncholland) March 14, 2019
Never miss out on chore credit.
Doing things a little more loudly than they need to be done so your spouse can hear that you're doing things

— Henpecked Hal (@HenpeckedHal) March 28, 2019
Also, "getting the big pancake."
I have a hard time relating to non parents. They're always doing fancy things like "eating hot food " or "drinking for pleasure" or "sleeping normally."

Uppity assholes.

— WTFDAD (@daddydoubts) March 28, 2019
Give this kid an advice column.
I was getting mad in traffic earlier and my 3-year-old said "all you can do is calm down and let the cars go" and now I have a therapist.

— mark (@TheCatWhisprer) March 9, 2019
Tell your kids to just say no to advertising campaigns.
Parents, never leave kids unsupervised when they're watching YouTube. You can never tell what they're going to click through to. I left my son unattended with my phone and somehow he ended up watching the WASSUP Bud ad from 20 years ago and now he will not stop fucking saying it

— Gerry McBride (@GerryMcBride) March 22, 2019
Sometimes you just know.
I cancelled the paternity test when I heard my daughter alone at the table, "butler…butt ler…BUTT ler hahahahaha…hey dad!!"

— EdelBrice ???? (@StranDadAbroad) March 26, 2019
Sugarcoat nothing.
13 yo looks at car radio.
"What's Steely Dan?"
"It's a band."
"What does their name mean?"
"It's the name of a dildo in a book about drugs."
"Really?"
"Yes."

It's called parenting, people.

— Andy Richter (@AndyRichter) March 6, 2019
Good effort, kid.
I hate this house. One of the kids ate my wing and tried to replace that shit ???????? pic.twitter.com/djNGwjdKwl

— DOMAIN DIEGO (@DennistheBased) March 23, 2019
It truly never ends.
[Playground]
Son: Are you watching?
Me: Yes

Son: Are you watching?
Me: Yes!!

Son: Are you watching?
Me: oh my God YES!!!

[Later]
Me: Finally I can relax
Netflix: Are you watching?
Me: Jesus Christ

— Jon (@ArfMeasures) March 5, 2019
When your spouse knows you all too well.
Bank robber: This is a robbery! Nobody do anything stupid!

My wife slowly turns to face me and mouths: You are gonna die

— Ian Sausage (@stephenjmolloy) March 27, 2019
Ingenuity at its finest.
Why does my dad use this nice ass thermos TO KEEP HIS BURRITOS WARM pic.twitter.com/rB5W4j5MnN

— tit (@Iizonya) March 14, 2019
Bonus: Cat Dad of the month.
My husband is in the other room explaining to the cat that even tho we are going to bed early, he (the cat) is welcome to stay up

— Nikki Reimer (@NikkiReimer) March 5, 2019