Tweet Roundup: The Funniest Tweets About Elf on the Shelf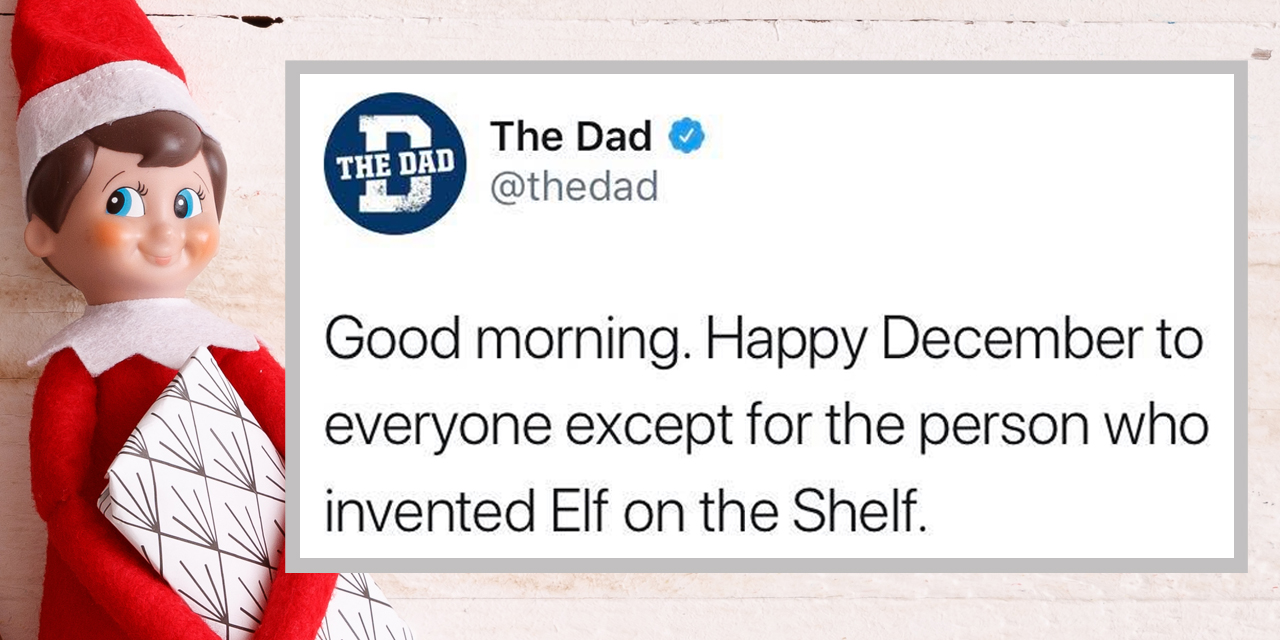 Is that "he sees you when you're sleeping" warning just no longer cutting it? Ready to cultivate an atmosphere in your home on par with a Chucky movie? Elf on the Shelf may be right for you! Just check out what these folks have to say!
A wonderful invention!
Good morning. Happy December to everyone except for the person who invented Elf on the Shelf.

— The Dad (@thedad) December 1, 2018
Fun for parents and kids alike!
I scrawl the first black X with a Sharpie on a calendar like a prisoner counting down his sentence

Elf on a Shelf, Day 1, done

— Z????CK (@Mr_Kapowski) December 1, 2016
Everyone's doing it!
5-year-old: How come Elf on the Shelf is at other people's houses but not ours?

Me: We have better locks.

— "Bare Minimum Parenting" in bookstores now (@XplodingUnicorn) November 28, 2017
Not psychologically scarring probably!
Run out of terrifying, malicious lies to tell your children? Elf On The Shelf can help.

— JennyPentland (@JennyPentland) December 4, 2013
Ethically sound!
Some people think Elf on the Shelf creates a harmful environment of fear, but I think it's a great way to teach children about the NSA.

— Aaron Fullerton (@AaronFullerton) December 18, 2015
Works great with other weird lies!
Why put an Elf on the Shelf when you can just tell your kids that Santa's wolves are under their bed & will eat them if they're bad?

— denise (@Stellacopter) November 24, 2012
Starts working before you take it out of the box!
Yeah, we do Elf on the Shelf. He's on the store shelf where he's been every other year, and he can stay there.

— Life????UɴPιɴтereѕтιɴɢ (@LifeUnPinterest) December 1, 2017
The holidays should be about paralyzing fear!
Play a fun prank with your kids by hiding a bigger Elf on the Shelf in your house each day so in a few weeks he's 10 feet tall and they're absolutely terrified of Christmas.

— Blake ???? x ∞ (@dksc4life) December 7, 2017
Christmas should feel like a George Orwell book!
Kids saw right through "Elf on the Shelf," so I installed the Unblinking Eye of the Christmas God.

— Calm Tomb (@CalmTomb) November 16, 2013
Don't forget to share a photo of yours on social media!
Parents, it's called Elf on the Shelf, not Elf on the Zipline Made of Licorice That Ends in a Punchbowl Full of Mini Marshmallows, you assholes.

— Valerie (@ValeeGrrl) December 2, 2017
Store probably after the holidays!
Elf on the Shelf Placement Ideas
• bottom of a trashcan
• inside a lit fireplace
• in a hole dug in the yard
• left unpurchased in the store

— Andy Herald (@AndyHerald) December 4, 2017