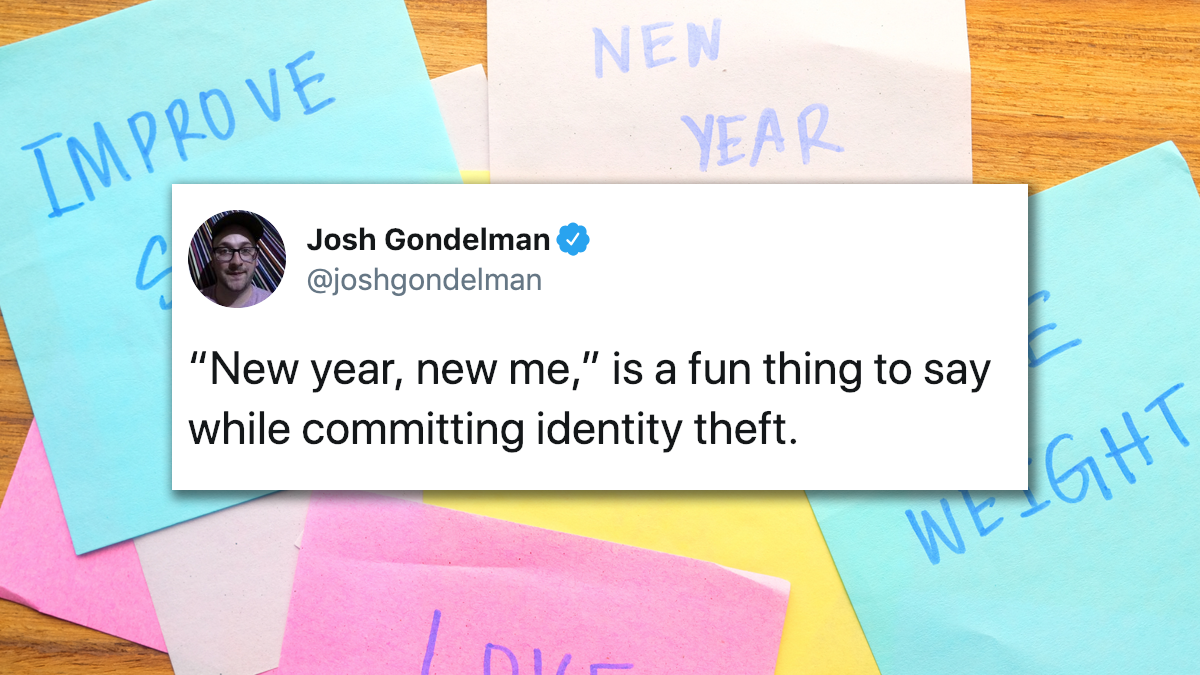 Credit: Getty/Towfiqu Photography
It's the same story every year. January: a blank planner, crisp new workout clothes, and an attitude brimming with optimism. March: you're putting ranch directly on the pizza.
So why not pop on those novelty glasses and enjoy these hilarious tweets about venturing into the New Year.
First things first, have you gotten these jokes out of the way?
"See you next year!" on New Year's Eve is the Super Bowl of Dad Jokes. Congrats to all the guys out there named Rick and Wayne today living the dream

— Mark Agee (@MarkAgee) December 31, 2017
Good. Because it's time to get serious and make some resolutions.
As a parent, my only New Year's resolution is to give less than 30% of my salary in 2016 to the Disney Corporation.

— Abe Yospe (@Cheeseboy22) January 1, 2016
Sure, you can start working on yourself any other day of the year.
I don't believe in New Year's resolutions, because you can start a healthy habit and give up three days later ANY time of year.

— Ari Scott (@ariscott) January 2, 2016
But what's more fun than new year, new you?
"New year, new me," is a fun thing to say while committing identity theft.

— Josh Gondelman (@joshgondelman) January 1, 2018
Start by making a list of important things you could work on.
My New Years resolution is to try and put less than 4 chapsticks through the washer & dryer next year.

— Shawn Booth (@Shawn_Booth) December 27, 2016
Weight loss is a popular one.
My pants are starting to fit a little tight so I think it's time I got serious about my New Year's resolution to buy bigger pants.

— Bryan Donaldson (@TheNardvark) February 7, 2013
But be sure to set realistic goals.
New year, new me *finally fixes that plate thing in the microwave so it rotates*

— mark (@TheCatWhisprer) December 31, 2017
Sharing them with others never hurts.
Telling people your New Years resolution so you'll "be accountable" is a great way to find out that no one cares about your resolution.

— Donna McCoy (@Donna_McCoy) December 29, 2016
Now that your resolutions are made, it's time to party!
New Year's Eve as a parent is mostly telling our kids to dream big while we lie unshowered and bloated on couches we fall asleep on by 9pm.

— Kim Bongiorno (@LetMeStart) December 31, 2016
Just don't get too hungover. You've got a big January planned.
Startup idea: a gym named Resolution that runs for the 1st month of the year, collects subscription fee, then converts to a bar named Regret

— Siddharth Singh (@siddharth3) December 27, 2016