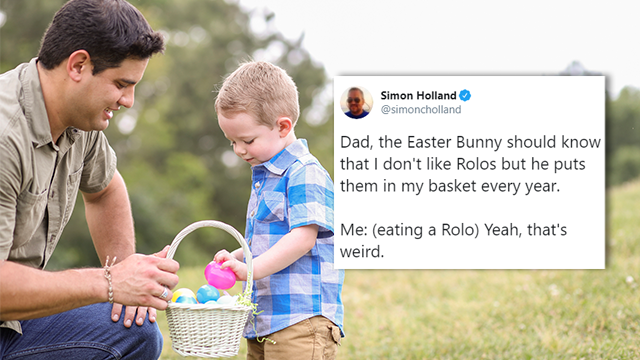 Credit: Getty/fstop123
Happy Easter! Put on your Sunday best, fill that basket with synthetic grass, and pray to the stain-gods you're just looking at chocolate, because we've got some of the funniest tweets about navigating Easter as a parent.
You can fill those little plastic eggs with anything!
An Easter egg hunt but the plastic eggs contain a list of chores and a Flintstone vitamin.

— Jack D (@sharpular) March 26, 2018
Some parents get more creative than others.
Puts all the toys my kids forgot they had in their Easter basket

— Marl (@Marlebean) March 29, 2018
But it wouldn't truly be Easter without candy.
As a kid I had no idea the Easter chocolate I received was just the tip of the iceberg & that parents actually eat like 300 pounds worth of stuff they bought for kids in the days and hours leading up to Easter morning.

I feel both cheated and redeemed now that I'm getting mine.

— Mike Reynolds (@EverydayGirlDad) April 20, 2019
That sweet, delicious candy.
Dad, the Easter Bunny should know that I don't like Rolos but he puts them in my basket every year.

Me: (eating a Rolo) Yeah, that's weird.

— Simon Holland (@simoncholland) March 28, 2016
Go ahead. Have some. Your kid can't do shit.
One of the cool things abt my son being 2 is I can hardly even feel his weak little punches as I eat his Easter candy right in front of him.

— Dad and Buried (@DadandBuried) March 31, 2013
And they'll believe any excuse you give them for where it went.
Just explained to my kids that sometimes an evil bunny comes and eats kids' Easter candy on the night of Easter.

— Jim Gaffigan (@JimGaffigan) March 28, 2016
Remember: you're the one putting eggs on the table.
Is it really stealing if your kid doesn't know you got them the Easter Egg?

— FU Tang Bunny (@FU_Dad) April 18, 2019
Just be sure there's enough left over for the hunt.
Easter egg hunts are basically parents' revenge on their kids for hiding stuff.
'Where's the egg? I dunno maybe it's with Mammy's keys.'

— TwistedDoodles (@twisteddoodles) April 13, 2017
Kid's love hunting eggs.
Easter tip: Tell your kids you hid an egg with $50 in it in the backyard but you don't remember where. Enjoy a quiet day indoors.

— Abe Yospe (@Cheeseboy22) March 24, 2017
It's every child's favorite part of the holiday.
*any other day of the year

Me:[to kids] Don't eat stuff you find on the ground.

*Easter

Me:[to kids] Go find some candy on the ground some strangers left out and don't forgot to bring me some!

— TonyL (@creativeTypeDad) April 2, 2018
They're good at it.
My kid sure is great at picking up Easter eggs for someone who suffers arm paralysis whenever I ask him to clean up his toys.

— Mommy Cusses (@mommy_cusses) April 3, 2017
Suspiciously good, even.
It's cool how my kid can find 87 pieces of plastic at this egg hunt in 10 minutes, but he can't find his shoes if they're sitting in his lap

— Salty Mermaid (@Jenn_H_Scott) April 12, 2017
So feel free to spice things up this year.
My 8 year old said that he hopes the Easter Egg Hunt is more of a challenge this year so I'm buying a bunch of mouse traps.

— Brian Hope (@Brianhopecomedy) March 17, 2016
Just don't be that parent today.
There are 2 types of parents at the Easter egg hunt:
1. Parents who help their kids hunt for the eggs.
2. Parents who hate those parents.

— Meredith (@PerfectPending) April 14, 2017
You've got a big Monday ahead of you.
I don't like who I become when Easter candy is 75% off.

— mark (@TheCatWhisprer) April 17, 2017