Tweet Roundup: The Funniest Tweets About Winter…With Children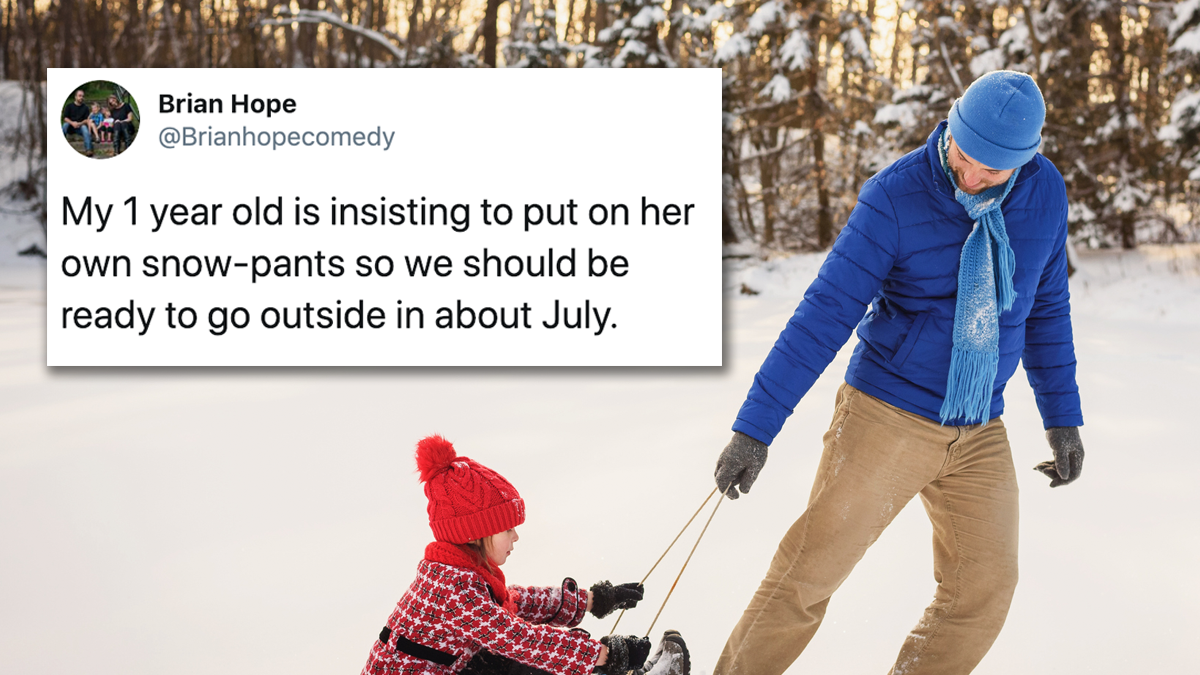 Gloves, hats, mitts, boots, snow pants, jackets and the dreaded snow day. These are just a few of the hardships people who parent in cold climates have to endure.
Here are the funniest tweets about winter…with children.
If you have kids in school, winter can be especially frustrating.
The weather is finally cold enough to require gloves & hats, because frantically searching for the lost shoe before school was just too easy.

— Stephanie Ortiz (@Six_Pack_Mom) November 7, 2018
So try to look at every snow day as a blessing.
A snow day on a Monday is the ultimate parental kick in the crotch.

— Valerie (@ValeeGrrl) December 12, 2016
Sure, you could use the weather as an excuse to be lazy inside.
Snow day, from the Latin meaning, to drink all the booze and eat all the foods.

— Simon Holland (@simoncholland) January 22, 2016
But that will quickly try your patience.
Hour 2 of this snow day and I'm prepared to go full-on Iditarod to get my kids to school tomorrow if necessary.

— SpacedMom (@copymama) January 4, 2018
So take the young'ns outside and make the most of it!
20 minutes getting them ready.
5 minutes outside.
20 minutes getting them back inside.
15 minutes hot chocolate.

1 hour down, 8 to go.

— Lady E (@cakevans) February 14, 2016
First, you gonna wanna bundle them up.
Make your child angry today by trying to protect them from hypothermia.

— Kim Bongiorno (@LetMeStart) April 2, 2018
Be sure to invest in a nice coat they'll hate.
It's so cold, my kids are willingly wearing their coats outside.

— Abe Yospe (@Cheeseboy22) January 4, 2018
Like, HATE hate.
Remind your kids to take a coat to school so the inside of their backpacks can be toasty warm all day while they freeze to death at recess.

— Domestic Goddess (@DomesticGoddss) November 7, 2017
Don't forget the mittens. They will.
Winter budget when you have young kids:

$100 – snowsuit
$65 – boots
$40 – hats & scarves
$25 – thermal leggings
$1,579,325,753 – mittens

— Carbosly (@Carbosly) January 15, 2017
Ready to head out?
My 1 year old is insisting to put on her own snow-pants so we should be ready to go outside in about July.

— Brian Hope (@Brianhopecomedy) January 26, 2013
Perfect! Time to build a snowman. Round up an old scarf, a carrot, and okay they're already bored.
[building a snowman with my kids]
Me: Ok, who wants to put the arms in?
Kids: *went inside 2 hours ago to play video games*

— Kalvin (@KalvinMacleod) February 2, 2015
Cool. Great.
"Look, a giant snowball!" is kid code for "We got bored halfway through our snowman."

— Myrrh (@ixix82) December 14, 2017
Plenty to do inside.
Me: [pulls photo from wallet]

Stranger: Adorable. Are these your kids making snow angels?

Me: No. They're playing in flour they spilled.

— The ParentNormal (@ParentNormal) April 22, 2016