Tweet Roundup: The Funniest Dad Tweets From January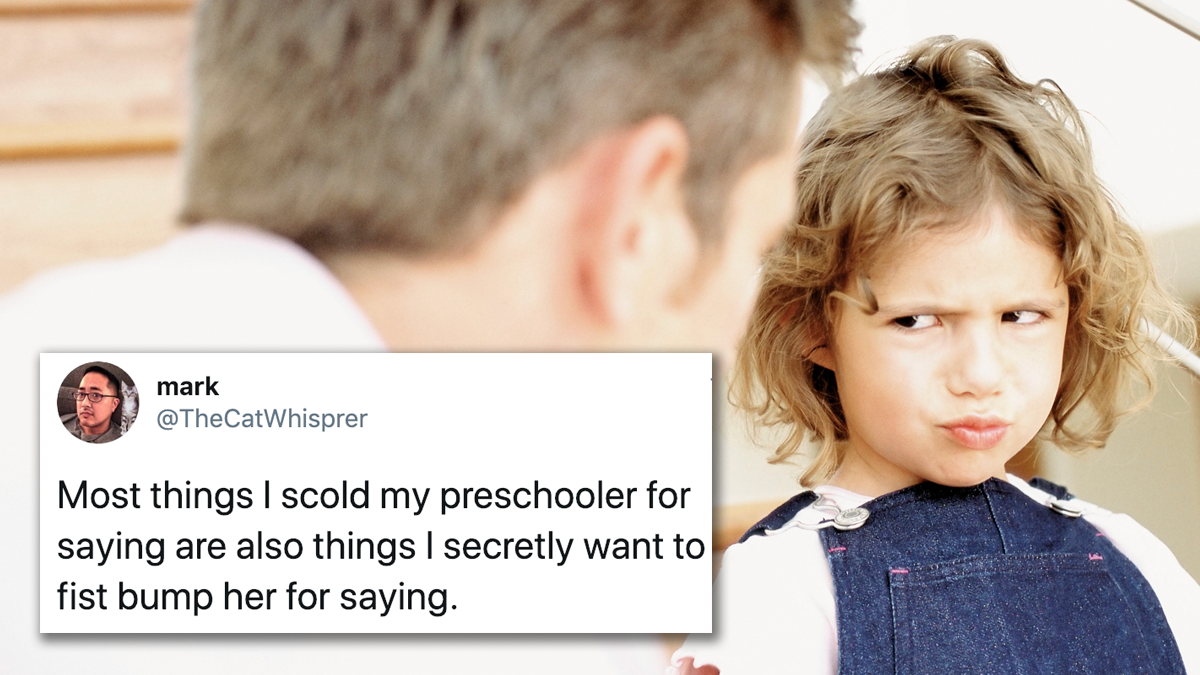 We're only a month into the new year and Twitter is already brimming with that fatherly humor we so desperately crave. Check out what these funny dads had to say about…
Sacrifices.
Welcome to parenting: You now get the bruised banana for the next 18 years

— Robert Knop (@FatherWithTwins) January 25, 2019
Object permanence.
Took our kids to a restaurant again because we never learn our lesson.

— Simon Holland (@simoncholland) January 19, 2019
Pride.
Most things I scold my preschooler for saying are also things I secretly want to fist bump her for saying.

— mark (@TheCatWhisprer) January 6, 2019
Joy.
This – for those of you who wondered – is exactly what being woken by a three-year old at 5 am is like. pic.twitter.com/BQxz8Xf8ib

— Pádraig Belton (@PadraigBelton) January 5, 2019
Solidarity.
My daughter said "daddy we are not friends with Brooklyn because she said I dress weird"

No questions asked now I got beef with a 4 y/o named Brooklyn and her father.

I dont make the rules to this gang shit. I just play my role.

— Dios es mi droga (@Lucky_Leftovers) January 5, 2019
Trust.
I used to gamble with money and now I gamble by letting a toddler feed himself yogurt. Either way I'm on a terrible losing streak.

— WTFDAD (@daddydoubts) January 23, 2019
Mindfulness.
Think you're ready for kids?

First, see how you handle doubling your grocery bill by buying a lot of snacks.

Still good? Ok, how does dumping half of them into the trash sound?

— A Bearer Of Dad News (@HomeWithPeanut) January 22, 2019
Perspective.
Betty White is still working at age 97 and I had to have a lie down after putting my socks on this morning.

— Just Bill (@WilliamAder) January 17, 2019
Listening.
My wife hates surprises, so I'm telling her tonight that she's not getting anything for Valentine's Day.

— Henpecked Hal (@HenpeckedHal) January 25, 2019
First impressions.
Wife: Please, from now on just let me introduce our kids

Me: What's wrong with how I do it?

[earlier at a party]

Me: This is my wife, Janet, and these are my seed

— The Dadvocate (@thedadvocate01) January 25, 2019
Honesty.
Accidentally told the dog she's my favorite in front of my kids again

— Josh (@iwearaonesie) January 15, 2019
And finally, keeping the spark alive.
Neighbour: I see your wife took the garbage out last night

Me: It's called date night and we had a nice time

— Jon (@ArfMeasures) January 5, 2019