Tweet Roundup: The Funniest Tweets From Parents About Back-To-School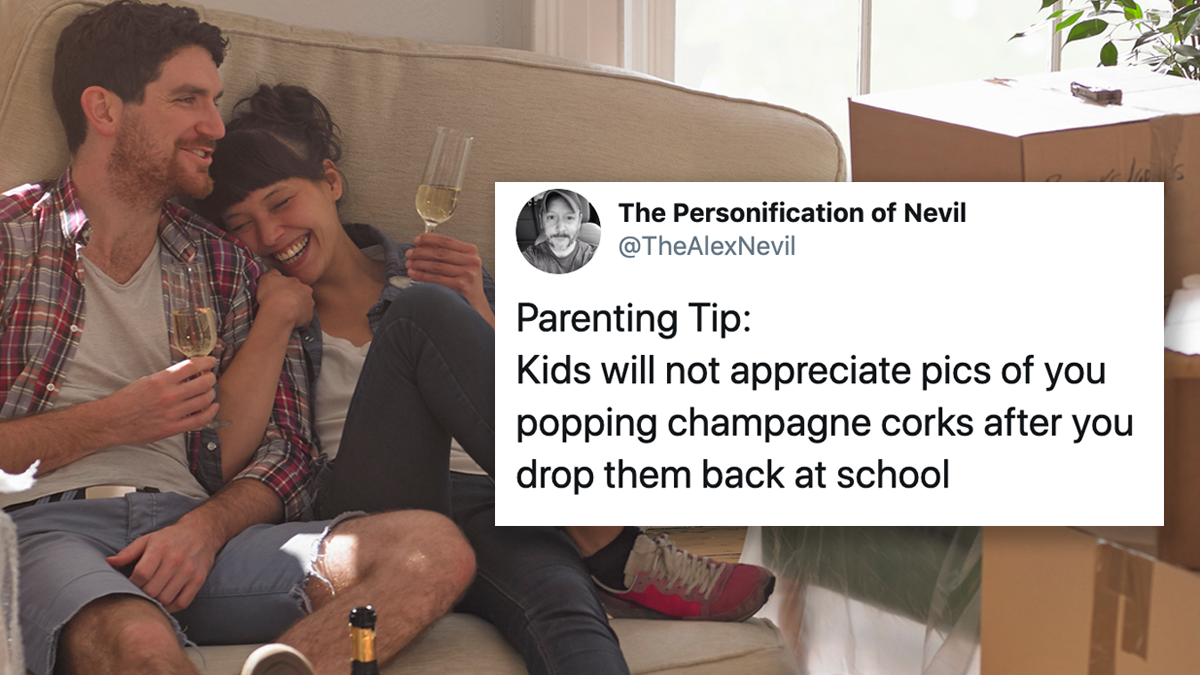 It appears summer break has once again come to an end. Bad news for your kids. Fantastic news for you and that stair banister you always find sticky. So open up that wallet and label those pencil cases, we've got some hilarious tweets from parents who can't wait for school to start back.
You've waited so, so long for this day.
Back to school next week means there will be so much whining and crying in the morning. I'll bet the kids will be tired, too.

— Amy Flory (@FunnyIsFamily) August 18, 2015
And trust us, it shows.
It's that point during summer where parents are starting to look how teachers looked at the end of the school year.

— Valerie (@ValeeGrrl) July 25, 2016
But you'll be celebrating soon enough.
Back to school shopping is kinda like Christmas shopping. It's an expensive pain in the ass but it leads to a great celebration.

— The Real American Dadass (@R_A_Dadass) August 17, 2017
So why not celebrate with a photoshoot?
Forgot to post a picture to social media of my kids on their first day of school. Do they have to repeat the year now, or what happens?

— Unfiltered Mama (@UnfilteredMama) August 28, 2018
Just don't make your enthusiasm too obvious.
Parenting Tip:
Kids will not appreciate pics of you popping champagne corks after you drop them back at school

— The Personification of Nevil (@TheAlexNevil) August 24, 2016
So first thing's first, get those kids out of bed.
My kids go back to school on Monday so of course they just figured out how to sleep in.

— Simon Holland (@simoncholland) July 28, 2016
Do a trial run the night before if necessary.
Practicing for the first day of school by muttering "we're late," throwing cereal on the floor & making sure every outfit is the wrong one.

— Mike Reynolds (@EverydayGirlDad) August 19, 2016
And boost that immune system to the best of your abilities.
You get the stomach virus. You get the stomach virus. Everyone gets the stomach virus. #BackToSchoolComplaints pic.twitter.com/iuCCgx7UpQ

— Chew (@nolansdad55) August 22, 2017
All good? Okay. It's finally here. The first day of school.
Son: I hate school.

Me: I know, but you need to go to school to someday get a job that you'll also hate.

— Rodney Lacroix (@moooooog35) December 1, 2016
A few precautions need to be taken.
PARENTS, take a photo of your child on their first day of school so you can remember which child to take home at the end of the day.

— Ruthe Ruiner (@RuthePhoenix) August 29, 2017
Be sure to pack a snack!
Me: *buys a year's worth of snacks* OK kids, remember, these are for school.
Kids: *have already eaten all the snacks*

— Lurkin' Mom (@LurkAtHomeMom) September 3, 2015
Hell, pack one for yourself.
In the fifth realm of hell right now…or as you may know it, the school parking lot on the first day. #parenting

— It'sReally10Months (@really10months) August 18, 2016
The most important thing is punctuality.
Sorry I'm late. My kid was walking from the door to the car.

— Walking Outside In Slippers (@WalkingOutside) June 22, 2018
Once your kid's at school, let the longing begin.
Everybody wants their kids to go back to school, until they're stranded on the toilet without toilet paper and no one's around to grab a new roll.

— The Real American Dadass (@R_A_Dadass) August 17, 2018
Don't worry, they'll be back home before you know it.
School started today so I'm pretty sure the new shoes I bought my kids for school are probably worn out by now.

— Abe Yospe (@Cheeseboy22) August 18, 2015
At which point you become just another teacher.
My son is upset cos I wouldn't help him with his homework. Like what part of "Daddy already had 13 years of that shit" doesn't he understand. #BackToSchool

— The Cork Coypu (Blue Tick) (@CorkCoypu) August 30, 2018