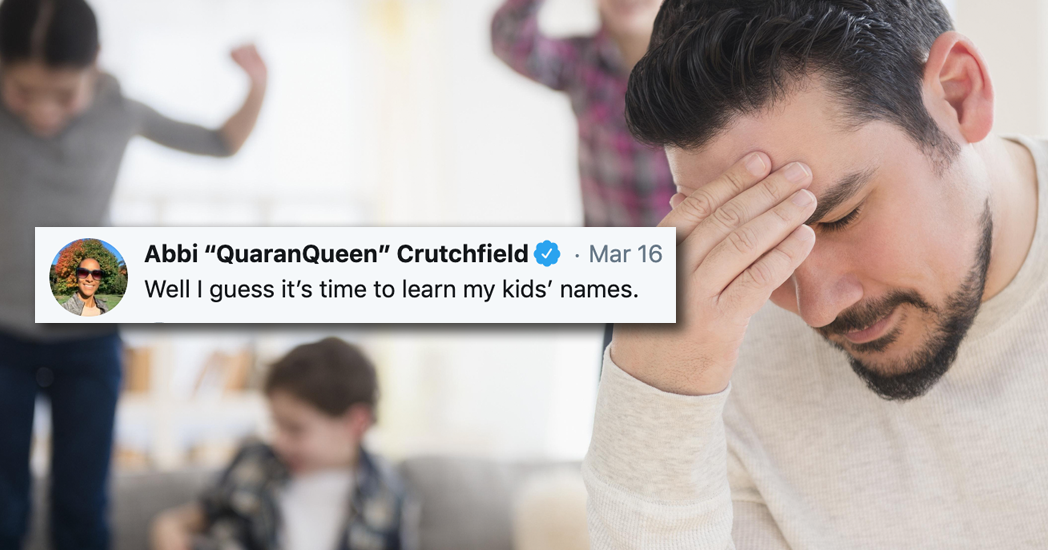 Credit: Getty/JGI/Jamie Grill
As parents and kids across the world settle into their new, suddenly sequestered lifestyles, many are committed to finding the humor in it all. You gotta laugh. To help, we've dug up 15 hilarious tweets about what it's like to be quarantined with your kids.
First, get acquainted with your new students.
Well I guess it's time to learn my kids' names.

— Abbi "QuaranQueen" Crutchfield (@curlycomedy) March 16, 2020
Don't worry, you're in good company!
Don't underestimate a child's ability to grasp what's happening right now. I've discussed the pandemic and social distancing with my 4-year-old and she's decided to speak 3 inches from my face instead of the normal 1 inch.

— mark (@TheCatWhisprer) March 16, 2020
There's much to be learned!
Our homeschooling curriculum includes: Honors Laundry and AP Vaccumming.

— The Next Martha (@TheNextMartha) March 16, 2020
It'll take some time to adjust…
Hard to imagine how my kids were ever able to survive regular school days without 23 snacks.

— Simon Holland (@simoncholland) March 20, 2020
But you'll learn so much from each other!
I've homeschooled my kids for 1 day and I've already learned so much, like their teachers need a huge raise and also I should never ever be a teacher.

— Mommy Owl (@Lhlodder) March 16, 2020
So be sure to engage engage engage.
The first hour of homeschooling started out strong, with some great reading comprehension exercises, and concluded with an epic tantrum over the fact that she can't watch Frozen 3 because it does not exist.

— Jeff Kosseff (@jkosseff) March 16, 2020
As a parent and teacher, you'll get double the respect!
telling my 6 year old about homeschooling for the next couple months and he asked if i had to do that when i was a kid and i said no and then he asked if chairs were even invented yet, so i think the first thing we'll study is his fucking attitude.

— my name is no. (@om_eye_goodness) March 16, 2020
Recreate the experience of school to the best of your abilities.
I'm homeschooling my kids.
It's tough, especially having to take their lunch money off them & throwing their schoolbags over the hedge but we're getting there

— joe heenan (@joeheenan) March 13, 2020
Don't forget to encourage good hygiene.
me: you need to go wash your hands

son: because of the virus?

me: your hands are literally wedged inside your own butt right now

— Henpecked Hal (@HenpeckedHal) March 17, 2020
Just don't give up!
Homeschooling day 1: trying to get this kid transferred out of my class.

— OutnumberedMother (@OutNumbMother) March 17, 2020
Be sure to keep in shape for yourself.
QUARANTINE = NO GYM!! 🏋🏼‍♂️
((Use Your Kids!!)) 💪🏻 pic.twitter.com/pN666PLw9r

— Arron Crascall (@arron_crascall) March 22, 2020
And remember to stock up on fun activities.
Just saw a dad walk out of Barnes and & Noble with half a dozen family board games. In a few days he won't know if his throat is sore from Coronavirus or Monopoly.

— Dad and Buried (@DadandBuried) March 14, 2020
Know that if you're raising teens, it's a whole other ballgame.
I'm double quarantined. Quarantined in the house away from COVID, quarantined in my bedroom away from my son's Tik Tok shoots.

— Laurie Kilmartin (@anylaurie16) March 19, 2020
And if you can't go out, bring the out in.
Day 13 of Quarantine: Since all clubs closed I used my couch as a section and my kids was workers 😂🤷🏾‍♂️ #QuarantineLife pic.twitter.com/6HuKorVGSG

— Ronaronarona (@Quarantinarona) March 22, 2020
Just keep in mind there is in fact light at the end of the tunnel.
The one thing that sustains me is the hope that when this is all over and the dust has settled, I'll be able to pay someone to watch my kids again.

— Julius Sharpe (@juliussharpe) March 22, 2020