Twitter Is Not Happy About Going Back to Work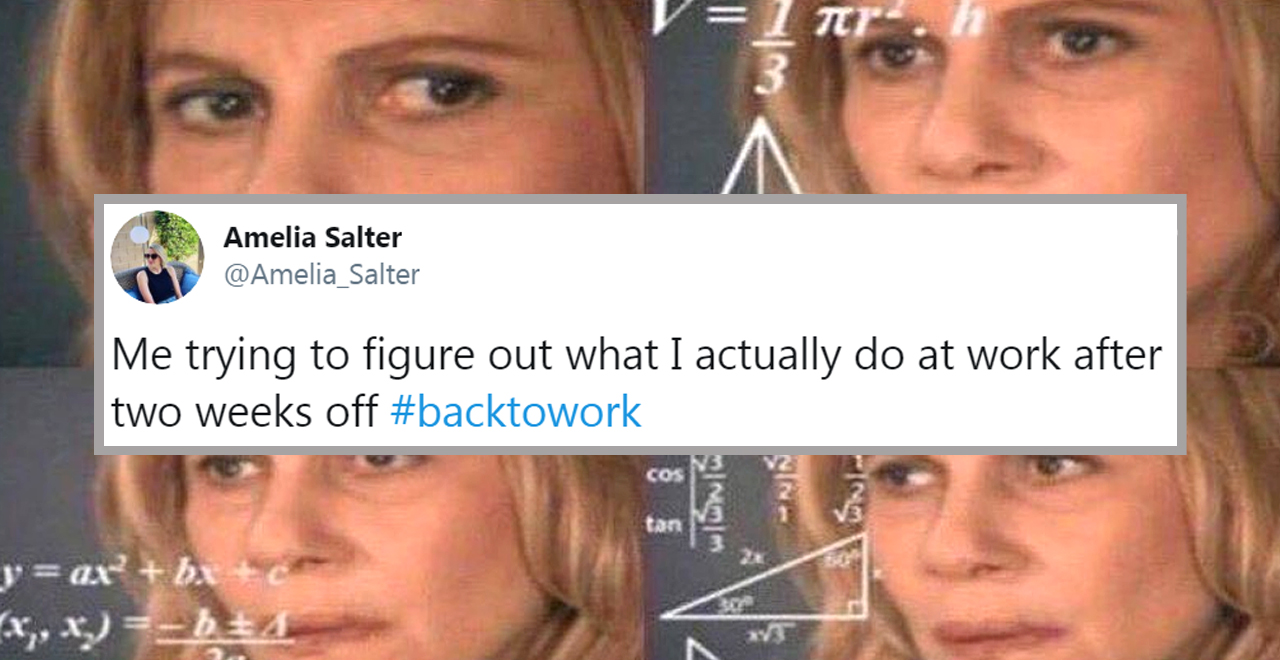 2019 is over, which is fine. It… wasn't the best. 2020 is here, and we are hopeful, but making the transition into a new year, and into a new decade, is not without its bumps.
Especially when those bumps include the end of the holiday break and going back to work.
No more eating your ass off and lying around watching Netflix. No more going out and meeting up with old friends who are rarely in town. No more resting your phone on your belly while you stare out into the void and try to remember what day it is. No, it's back to the grind, and nobody is happy about it.
Least of all Twitter.
Folks took to the platform to share their disappointment with the end of the holidays and their struggle to get back into the work routine.
Some steeled themselves for it:
*takes deep breath* Today … today I will be turning on … *gulps* … the laptop. #backtowork

— Kate Foster, The (@kfosterauthor) January 1, 2020
Others struggled to remember what it is they're even supposed to be doing:
Me trying to figure out what I actually do at work after two weeks off #backtowork pic.twitter.com/PcRKR77ihH

— Amelia Salter (@Amelia_Salter) January 2, 2020
Can anyone still remember what is they actually do?

Or their work password?#backtowork

— It's all about Steve (@1StevieKilner) January 2, 2020
first day back to work since mid December 🥴 pic.twitter.com/gv53XixSYn

— juanona ryder (@juanrod) January 2, 2020
All right! Back to work. Now I, uh … hmmm, need to remember exactly what I was doing 2 weeks ago. pic.twitter.com/uMHK6tRdLy

— Viewtiful Jay (@Viewtifuljay83) January 2, 2020
Or to remember their password:
Forgot my password 😳 #backtowork pic.twitter.com/3HzHHYJJmd

— Karen (@karenwales66) January 2, 2020
Or to remember the date:
I've already written 2019 in 3 emails and spent the last 20 minutes wondering why my calendar for Monday was so empty. Fab. #backtowork

— Ryan (@ryantayloro) January 2, 2020
One enterprising English person made a dispiriting Bingo card out of it:
Happy back to work day 😐 #backtowork #newyear pic.twitter.com/LBVUHvO6sw

— Rebecca Keegan (@Rebecca_Keegan) January 2, 2020
And then there are those who have no sympathy because they didn't get a break so STFU!
y'all tweeting bout #backtowork, some of us never left 😈

— gabsmashh (@gabsmashh) January 2, 2020