Tyler Durden is a Dad in Fight Club 3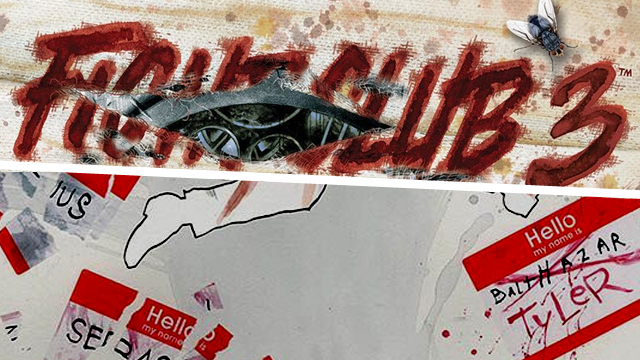 Tyler Durden is everyone's favorite anarchist. Lest we forget his humble beginnings as the scrappy founder of Fight Club. Then he focused on conceiving Project Mayhem, which was groundbreaking to say the least. Well, now, he's going to be an actual father to a flesh-and-blood child. At least in the comic books, that is.
According to Entertainment Weekly, Chuck Palahniuk's second sequel to the novel that David Fincher, Brad Pitt, and Edward Norton turned into a late-nineties sensation will take place entirely inside the pages of a comic book.
This is both the second sequel to Fight Club and the second sequel comic. The first "sequel" to the novel was published by Dark Horse comics as a ten-part series. This one will consist of twelve comics, set to hit stores on January 30, 2019 and features Palahniuk teaming up once more with artist Cameron Stewart for the series.
The story will open with Tyler's girlfriend, Marla (played by Helena Bonham Carter in the movie) who is carrying his child – and living in a sketchy motel with her first kid, from a different father. All this while Tyler is faced with a new enemy, a group bent on "fine-tuning" mankind, whatever that means. Tyler is forced to team up with the series' unnamed narrator, now known as Balthazar (he went by "Sebastian" in Fight Club 2).
"Fight Club 3 is about what happens when you need to team up with your enemy," Palahniuk said in a statement. "And the situation is even more complicated here, given Tyler Durden and Balthazar's unique relationship."
Sounds like Tyler has a lot on his plate, but as formidable as these new enemies may be, they're nothing compared to a newborn. Plus, kids tend to soften even the most hard-edged among us.
If "fight club" happens to be among his child's first words, we're betting he/she will be allowed to talk about it.