Tyler Perry Surprises Thousands of Seniors by Paying Their Grocery Bills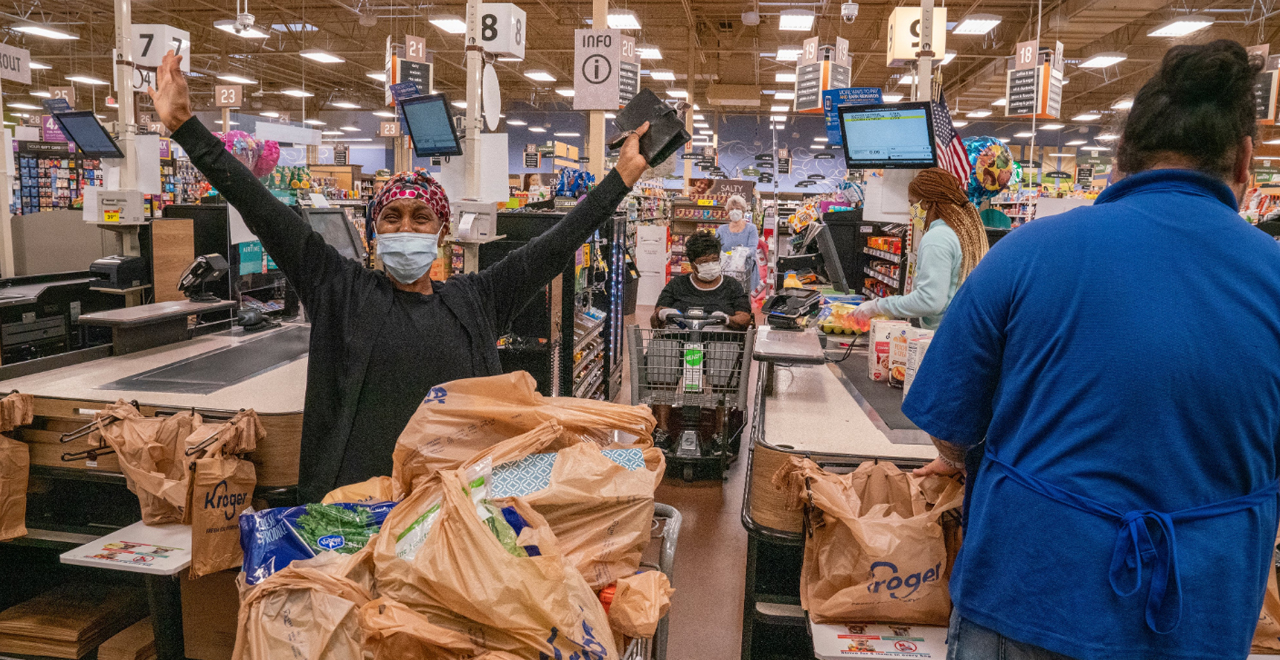 These days, good news stories are essential to provide hope, and, well, maintain your sanity. Finding stories of compassion and good people doing good things can lift your spirits. And if that's where you are now, you've come to the right place.
Enter: Tyler Perry.
He's the engineer behind the latest feel-good story. As COVID-19 spreads across the nation, the elderly, and the immunocompromised are most at risk. To help make things easier for our nation's elderly citizens, many grocery stores open an hour early for them to shop alone. They don't have to worry about crowds of shoppers increasing their chance of catching the virus. They don't have to worry about a soccer mom boxing them out for the last roll of paper towels. It's great how stores are accomodating them.
Tyler Perry, the actor/filmmaker, decided to send some additional grocery kindness their way when he paid the bill for seniors at more than 40 Kroger stores in Atlanta. The senior citizen shoppers were presented with a slip of paper that said "random act of kindness, present to cashier before 8 a.m." Upon handing in their paper, they learned their entire grocery bill was paid for by Perry.
He did the same for nearly 30 stores outside New Orleans, where he was born. You can imagine the shock on shoppers' faces when they learned their groceries would be free. Their lives have an added layer of stress now (even more than the rest of us), so an act of kindness like that can go a long way to put some light in their lives. Kroger thanked Perry on Twitter for picking up the bill for almost 3,000 shoppers.
👏 @tylerperry paid it forward and purchased groceries for nearly 3,000 senior shoppers today at Kroger stores across Atlanta. You can see how much this means by the look on their faces. Thank you, Tyler, for your generosity! 💙 pic.twitter.com/L57nfNqm3g

— Kroger (@kroger) April 8, 2020
CONFIRMED: @tylerperry paid for all groceries during Seniors Hour at 44 Atlanta-area @Kroger stores. Look at these faces — you can see the smiles and tears through the masks! pic.twitter.com/MIm7F5Hssr

— Brendan Keefe (@BrendanKeefe) April 8, 2020
Some shoppers were reduced to tears by the generous act, which Perry said he was moved to do because of the struggles many in our nation currently face.
"There are a lot of people who are really, really struggling right now, and underprivileged," he said to CBS. "I wanted to go to the heart of where we are and what we need. And this was my way."
"There are a lot of people who are really, really struggling right now & underprivileged & I wanted to go to the heart of where we are & what we need." — @TylerPerry tells @GayleKing after paying grocery bills for shoppers at 73 stores in Atlanta & New Orleans.

Only @CBS Friday. pic.twitter.com/4QTrfWpQGA

— CBS This Morning (@CBSThisMorning) April 9, 2020
Perry has long been known for his charitable giving, including cases like this where he goes directly to the people. And food insecurity is one of the major stressors people are feeling in light of the pandemic and the ensuing gut-punch to the economy.
I hope this gesture gives the haters some pause the next time they want to make fun of a Madea movie. Even they're not for you – those movies may have indirectly helped a senior feel a little safer and a little more comfortable at home.