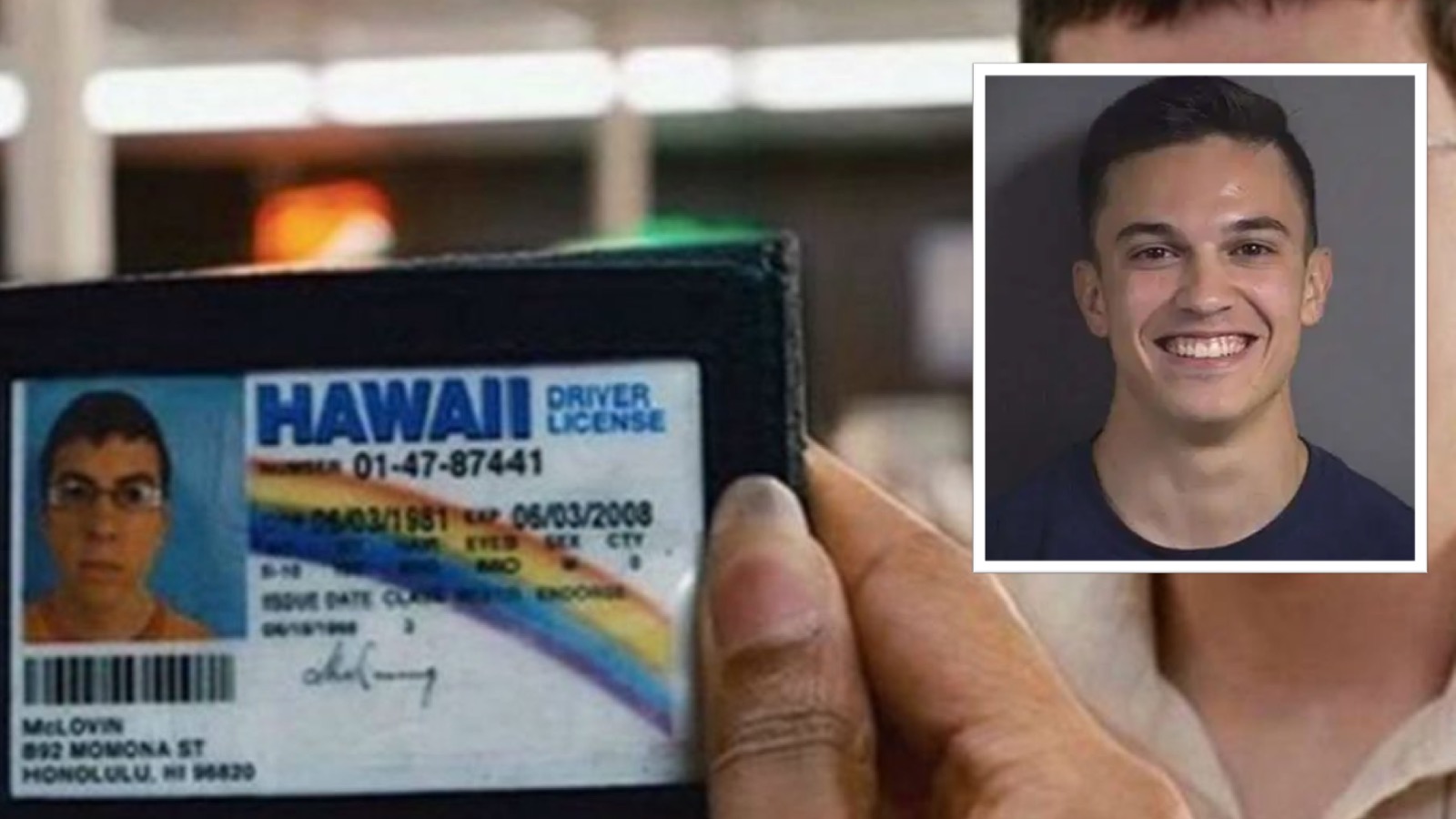 Credit: Johnson County Sheriff's Office
You always wonder if the movies you loved when you were younger will translate with the next generation. And then someone in Iowa gets arrested for having a fake "McLovin" ID and you find your answer in the ensuing onslaught of Superbad headline puns from boring newspaper editors.
The details seem fuzzy, as he was approached by police officers after he was already in the bar, when they asked to see his ID. He refused at first, and then he pulled out his wallet, bearing the straight-from-the-plotline fake ID. And, honestly, based on his mugshot, he doesn't seem all that mad about the legal situation he finds himself in.
Police said the 20-year-old pulled out his wallet and as he searched through it, officers could see the fake Hawaii ID card with the name "McLovin" and a birthdate of June 3, 1981. https://t.co/qPhzSMsKVN

— WSVN 7 News (@wsvn) October 15, 2019
It's been more than 12 years since the comedy was released, making this guy around first or second grade when the movie hit theaters. The McLovin IDs are on sale on Amazon, though boring narcs will remind you that possessing a fake ID is illegal.
But, fake IDs are also something some dads are willing to overlook (or even take pride in).
That Proud Dad Moment when you go to the Liquor Store and Find Your Sons Confiscated Fake ID Displayed on the Wall of Shame pic.twitter.com/V6SbzuUfDh

— Wade Grundmeyer (@coachswaz) October 21, 2017
And sure, the Iowa kid has to deal with some legal fallout, but he can take some solace in the film's writer and one of its stars acknowledging him on Twitter. Seth Rogen saw the link to the story, and simply responded, "My work here is done."
My work here is done. https://t.co/OxlR08Re8u

— Seth Rogen (@Sethrogen) October 16, 2019