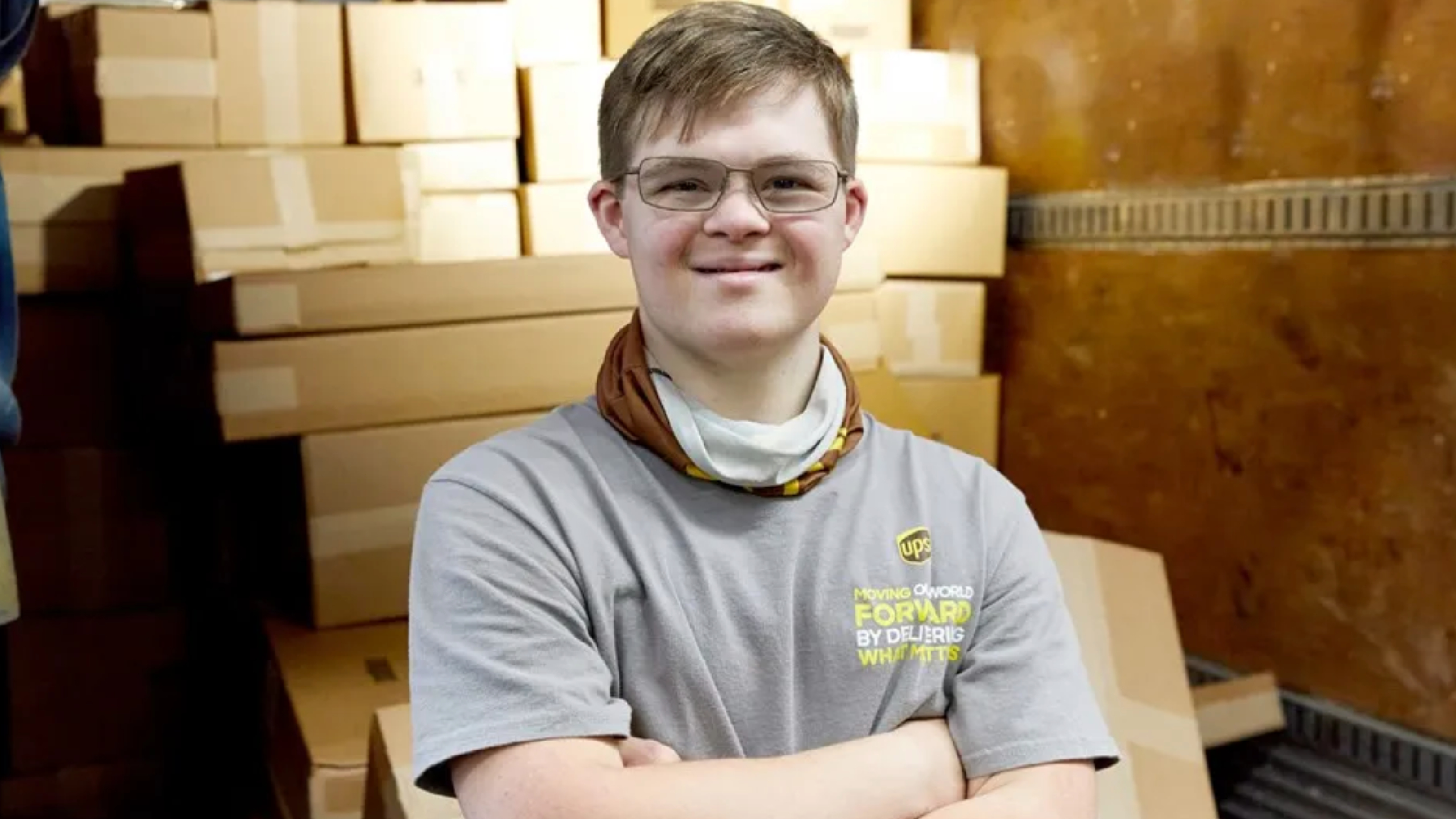 Credit: YouTube/UPS
Jake Pratt from Alabama is an inspirational 22-year-old with Down syndrome who landed a permanent job with UPS.
Pratt went viral in December when his sister posted about how proud she was of him for getting a temporary gig with UPS.
Thank you @UPS for giving my brother a chance & promoting inclusion in the workforce. Jake has Down Syndrome but that doesn't stop him! He loves his new job running packages up to 8 hours per day. That's after working 6-10 am every morning at the golf course. I'm so proud of him! pic.twitter.com/mvlZ1ry8JW

— Amy Hyde (@Amy_Lissa) December 1, 2020
And now, UPS has given him a permanent position, as his story of hard work and achievement continues to inspire and promote inclusion for people with disabilities. His sister said once he sets a goal, he accomplishes it. Like scoring a touchdown in a high school football game.
My brother, Jake, is 18 & a senior at Vestavia. He also happens to have Down Syndrome. Tonight 2 teams helped to make his dream come true! pic.twitter.com/uLoP3KH8KR

— Amy Hyde (@Amy_Lissa) August 26, 2017
Another goal was finishing college, which he did through a specialized program at Clemson. And now, UPS has made a $25,000 donation to help fund a scholarship in Jake's name for other kids with Down syndrome who share Jake's dream of higher education.
The expense of specialized programs can be a huge burden to families who didn't imagine educational opportunities beyond high school, his sister told People.
"Knowing that part of Jake's legacy will include helping those individuals and families brings us more joy than I can explain," she said.
"Jake has worked so hard for every achievement, he hasn't been given anything," said Kelly Peoples, Executive Director of Down Syndrome Alabama, in a video produced by UPS. One of Jake's coworkers said Pratt changed his life and that "Jake can motivate me any day."
His sister said the entire family is so proud of the role model he's become for everyone.
"He has achieved so much, but none of it would be possible without people embracing him and giving him a chance," she said. "Jake is so worthy and capable, so it's just awesome for others to be able to see that."