Insanely Brutal Stat Correction Costs Fantasy Football Player $1 Million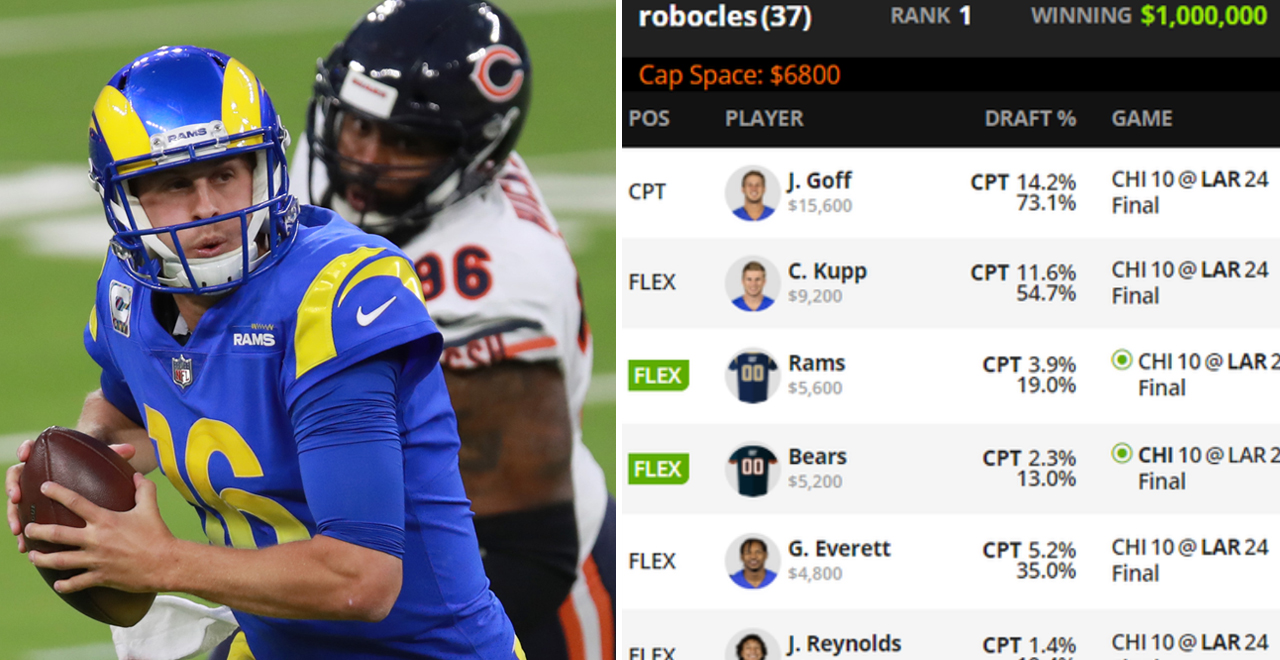 The NFL isn't the most fun sport to watch, but it is one of the most fun to follow, and we have gambling to thank for that. Fantasy Football started as a cottage industry and is BOOMING now, and has been a boost to the sport's bottom line for years. So much to the point that players now hate getting bothered on social media about their fantasy football output. And with most states approving online sports gambling, daily games have made the NFL even more appealing.
But with the rise of games like that, you see some truly heart-breaking, crushing bad beats, and boy did Monday Night Football include perhaps the worst in sports and gambling history. A DraftKings player had participated in a contest with a lineup that included, among others, Jared Goff and the Chicago Bears defense.
At the end of the game, it appeared that player had won the contest and won the $1 million prize that goes with it. As epic of a fantasy football win as you can have in a lifetime. And then…the dreaded, brutal stat correction.
First, stat corrections are the bane of fantasy football. Like an ump that makes a mistake, they should be left untouched, allowing for a smidge of human error to influence our games, for worse or in this case for much, much better.
The way it played out was a sack previously credited to the Bears defense was taken away, and instead turned into a negative rushing attempt for Goff, so it slightly hurt both players. And it hurt the fantasy football player the most, taking his $1 million prize away, and moving him to sixth place, for a paltry $3,000 winnings.
Sometimes one play makes all the difference in the world…@DraftKings player robocles lost out on the $1 million prize after a post-game stat correction took a sack away from the Bears defense 🤮

(via @RotoGut | @DraftKings) pic.twitter.com/c06vElkett

— The Action Network (@ActionNetworkHQ) October 27, 2020
I believe this to be the non-sack that cost a dude $997k as a stat correction. What say you? pic.twitter.com/4NreJRY9k7

— Justin Freeman (@JustinFreeman18) October 27, 2020

When it comes to fantasy football, you will not find a crueler break than that. No pain, no game, or something like that, sure. But dang, dude, that is a hard way to lose a million dollars.