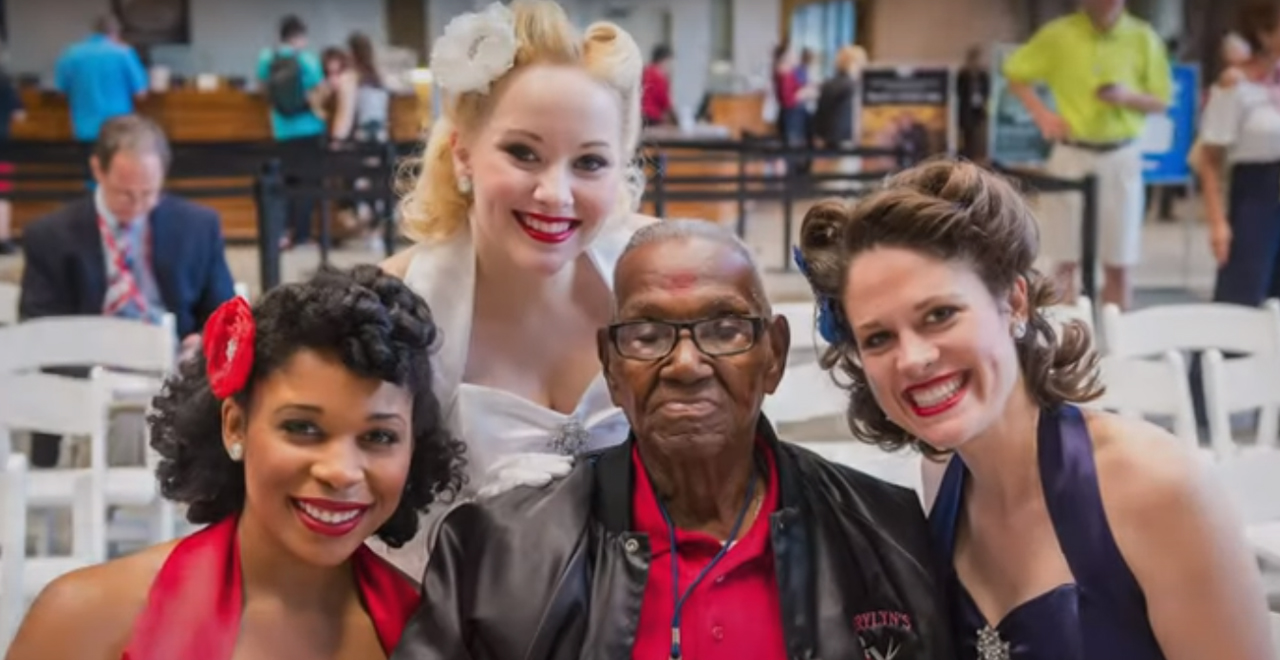 Credit: YouTube/The National WWII Museum
As people who have the privilege of enjoying the freedom and safety of life in the US, we owe a huge amount of gratitude to veterans. Veterans sacrifice their own safety, time with their families, and sometimes their lives to ensure that we are able to live our own lives in relative safety.
Veterans are essential to the sense of security we have living in the US, and we do what we can to show how much we appreciate them. Actor Gary Sinise created a foundation to support veterans and their families in 2011 and continues to provide assistance nearly a decade later. Earlier this year, a 104-year-old veteran received over 70,000 Valentine's Day cards, from people around the country who wanted to make his day a bit brighter. Now, the world's oldest World War II veteran is getting the birthday celebration he deserves.
Lawrence Brooks, a veteran who served during World War II in the 91st Engineer Battalion, has been celebrating his birthday at the National World War II Museum in New Orleans since he turned 105. Due to the pandemic (what else is new), the museum had to put together a safe and socially-distanced celebration – and they absolutely did not disappoint.
According to a post they shared on Instagram, the museum arranged a performance by a vocal trio called The Victory Belles, a military flyover, a birthday cake, and nearly 10,000 birthday cards they collected from a national card drive.

The museum's vice president, Peter Crean, told FOX News after last year's celebration, "We absolutely love Mr. Brooks. We've told him, 'As long as you keep having birthdays, we are going to keep having birthday parties for you here.'"
Though circumstances didn't allow for Brooks to celebrate at the museum itself this year, Crean kept his promise by bringing the celebration to Brooks's home. The 111-year-old smiled from his porch, surrounded by balloons, a birthday banner, and everyone who came to celebrate with him (from a safe distance). Though Brooks lost his wife Leona in 2005 to Hurricane Katrina, he is surrounded by the love of his five children, 13 grandchildren, and 22 great grandchildren.
Brooks told FOX, "I've started to think about not having many birthdays left. But I'm not worried about it, because God has let me live this long already. I think it's because I've always liked people so much. Oh yes, I do."
Let us throw our birthday greeting onto the ever-growing pile – happiest of birthdays Mr. Brooks, and thank you for your service.