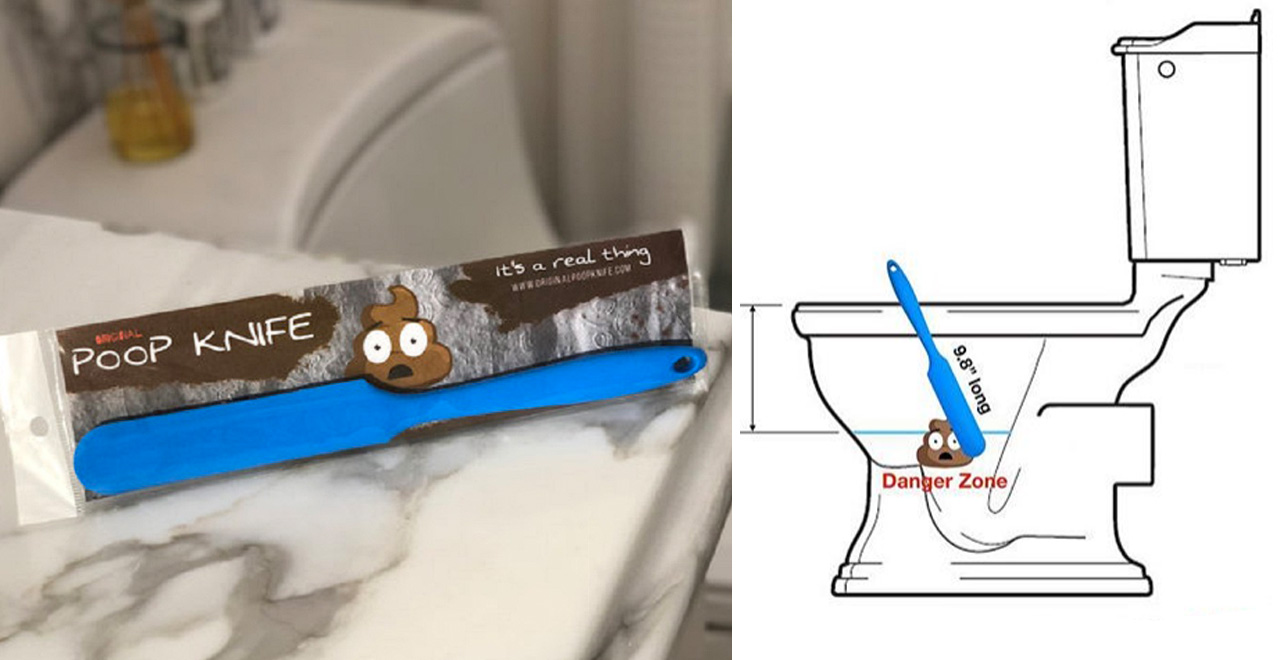 Credit: Original Poop Knife
Still scrambling to finish your Christmas shopping? Need a last-minute stocking stuffer? Something for your office's secret Santa exchange? Allow me to suggest an item that you should completely and totally ignore because no good can come from gifting this abomination to another person.
It's The Original Poop Knife, and if you don't know what a poop knife is, I apologize for what you're about to learn.
You see, I was once like you, living my life, happily, blissfully ignorant of the existence of such a thing as a poop knife. And then I discovered a Reddit thread about it. And my life was never the same. I beg of you, if you wish to remain unsullied, if you believe in a place called hope and want to continue to believe, turn away now.
That Reddit post, which I explored in detail for Scary Mommy, detailed one person's family poop knife. A poop knife is a bathroom utensil that is used to help break up particularly large BMs so as to make their passage through your plumbing less problematic.
Other Reddit users chimed in, many out of horror, but an alarming number of them in solidarity with the original poster, for their family also utilized a poop knife, or – and it gives me no pleasure to tell you this – a spatula, or even scissors, for the same purpose.
The new Original Poop Knife that I really hope you don't buy for a loved one was actually inspired by that Reddit post and created by someone who stumbled across it just as I did.
Their website admits as much:
Inspired by the viral reddit™ confessions post, Original Poop Knife™ will chop the most compacted of brownies, the most seasoned of logs, can handle the hardwood of butt logs 🍑, the longest of sewer snakes 🐍, the most ferocious of bog crocodiles 🐊, and the fattest heaved Havanas.
But now you don't need to sully an existing utensil with your bodily excretions, for The Original Poop Knife – gotta love the "original," as if any knock-off knives used to slice shit-logs in half are somehow not of high enough quality for the job – now exists, and you can go online to buy it.
It will run you fifteen bucks, and according to the product description, it's worth every penny.
Never to be mistaken for a box opener again 📦, this poop knife is one of a kind – made from metal reinforced silicone it is strong, hygienic, and easy to clean. 💦* Guaranteed not to turn into a rusty punji stick. Be a samurai of the porcelain poo poo platter. ⚔️
The best worst part? It's dishwasher safe. Please, and I can not stress this enough, please DO NOT PUT THE POOP KNIFE IN YOUR DISHWASHER.
Now if you'll excuse me, I'm going to take a three-hour shower.
You can buy one on Amazon for $14.95.