Credit: Facebook/Alex Bowen
Sometimes you have to take waffles into your own hands
Every man wonders if they have what it takes. Every man wonders how they'll respond when the shit hits the fan. When it's fight or flight time, which one will they choose?
Alex Bowen doesn't have to wonder. Because when he came face to face with disaster, he responded valiantly. He didn't panic, he didn't run, he just rolled up his sleeves and got the job done. The delicious job. Because in this case, the job was making his very own Texas bacon cheesemelt behind the grill at Waffle House, because no one was awake to cook for him.
The tale will be told for years: Alex Bowen was out drinking when he got a craving for Waffle House. So he ambled over to his local, West Columbia South Carolina restaurant. After ten minutes standing at the register waiting to be helped, he noticed the sole staff member dozing in a corner booth. So Alex took matters into his own hands.
"[The employee] didn't wake up the entire time. And no one came inside the restaurant," Alex told ABC News. Should he encounter a sleeping restaurant again, Alex said, "I'd know what to do." BOOM.
To quote The Simpsons: I don't use the word hero very often, but Alex is the greatest hero in American history.
Twitter agrees.
Just when you think there are no more heroes.

— BEATNGU (@WillRollon) December 4, 2017
tbh, as long as you washed your dishes I'd be okay.

— Sammeh🏳️‍🌈 (@EastTillman) December 4, 2017
Later, Alex returned, because a waffle-maker always pays his debts.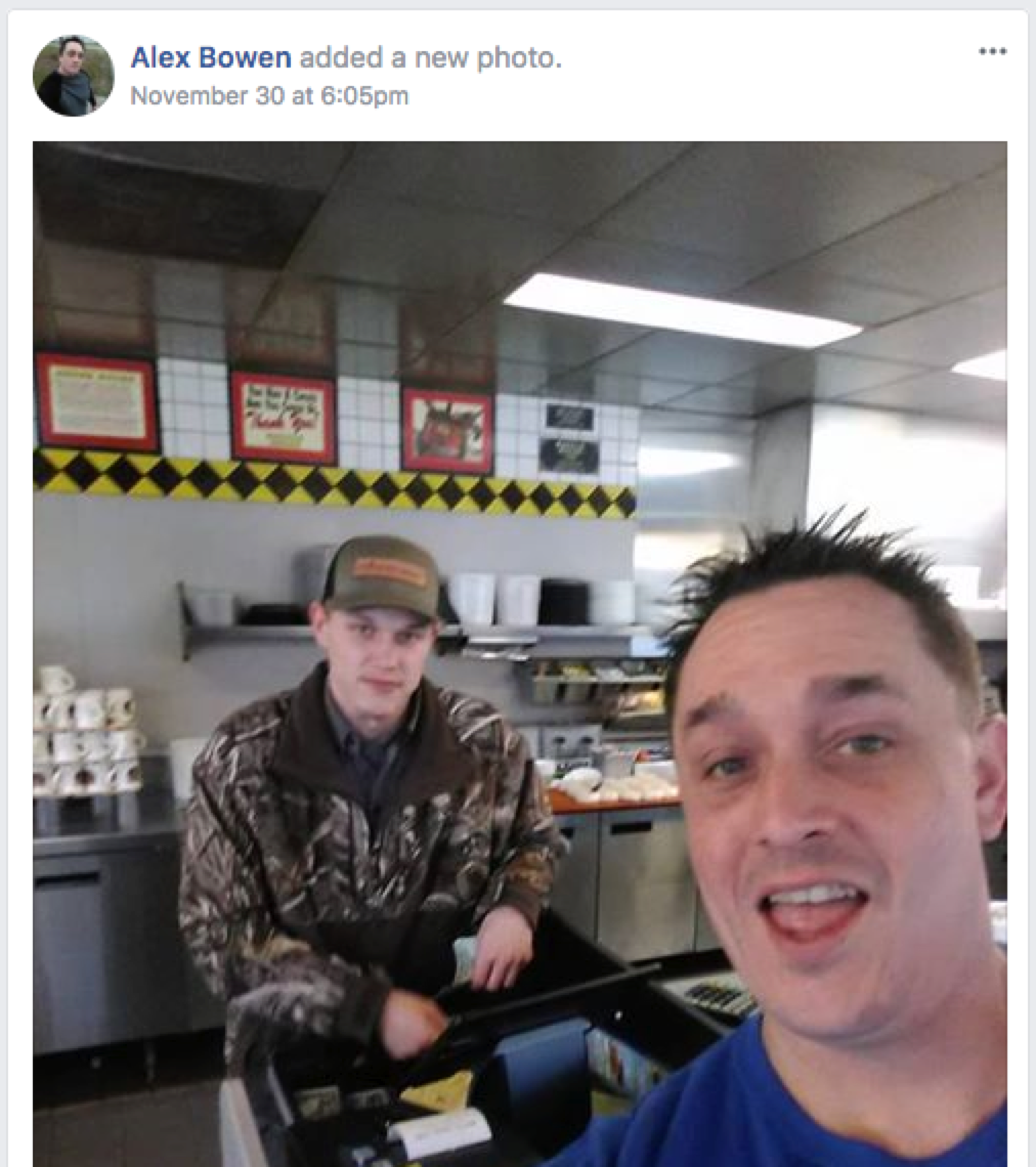 To the Waffle House's credit, they didn't get mad. Someone in the head office realized the power of good press, and instead of coming down on Alex for potentially injuring himself and/or burning the restaurant down during his bout of drunken cookery, they instead came down hard on their sleeping employee and suspended him.
As for Alex? He's getting a reward!
They asked Alex to be a Waffle House secret shopper. Judging by the fact that he not-so-secretly shared his Texas bacon cheesesteak melt transgression all over social media – and went viral for his exploits – I'm not sure how well that will work out.
At any rate, one thing is for certain:
This is the most Waffle House shit ever. https://t.co/vMJnX07the

— BIGNOAH 👨🏽‍💻 (@BIGNOAH256) December 2, 2017