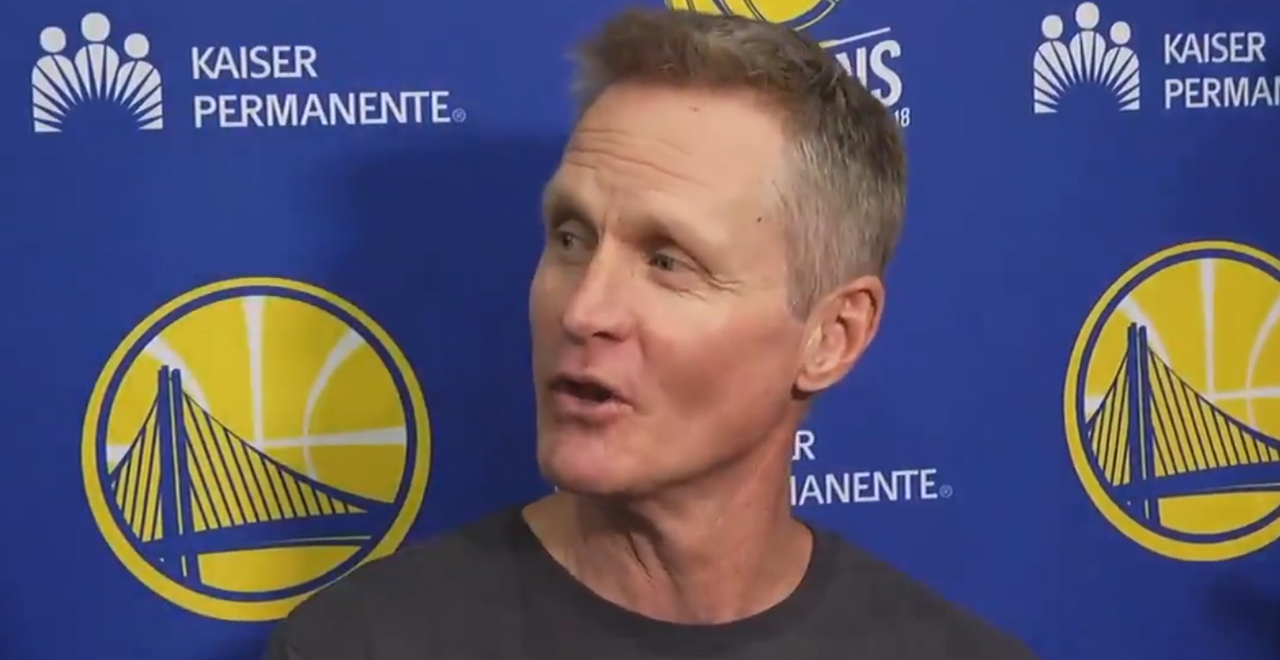 Credit: Twitter/espn
Just because a third straight NBA Finals is on the line doesn't mean you can turn off your dadness.
Steve Kerr is an NBA legend as both a player on MJ's Bulls and as the head coach of the team of the decade, the Golden State Warriors. His team has the chance to pull off a three-peat starting on Thursday, when they face off against the Toronto Raptors, superstar Kawhi Leonard, all of Canada, and pop icon Drake.
Drake is the Raptors' most well-known fan, Toronto's answer to LA's Jack Nicholson or NYC's Spike Lee, and he likes to mix it up with the players. The hip-hop artist can be seen prowling the sidelines at games, pumping up the crowd and trash-talking opposing players. His energy will be on full display for the Raptors' first ever finals appearance, and the press wants to know how Golden State's head coach will handle it.
He doesn't seem overly concerned, at least not judging by his response to the question, which featured a corny reference to one of Drake's biggest hits.
The coach pulled out a lyric to "Hotline Bling" to deflect the reporter's question about Drake's trash talk, saying he "called him on his cell phone" earlier, and then immediately apologized for making such a "dad joke."
Steve Kerr is ready for Drake, he already made a call to him ???? pic.twitter.com/hA67KuTG2b

— ESPN (@espn) May 27, 2019
None of the reporters seemed to mind, as everyone got a good chuckle out of the joke and the coach's awareness of how cringey it was. Something tells me his daughter wasn't laughing when she saw it. We'll find out soon enough how funny Drake and the Raptors find this whole thing when they attempt to stave off the Warriors quest for a 4th ring in 5 seasons, starting Thursday night.
I'm not a betting man, but I'm gonna guess Canada is gonna be all up in their feelings in about a week or two.