Weatherman Accidentally Sports Multiple Facebook Filters During Live Report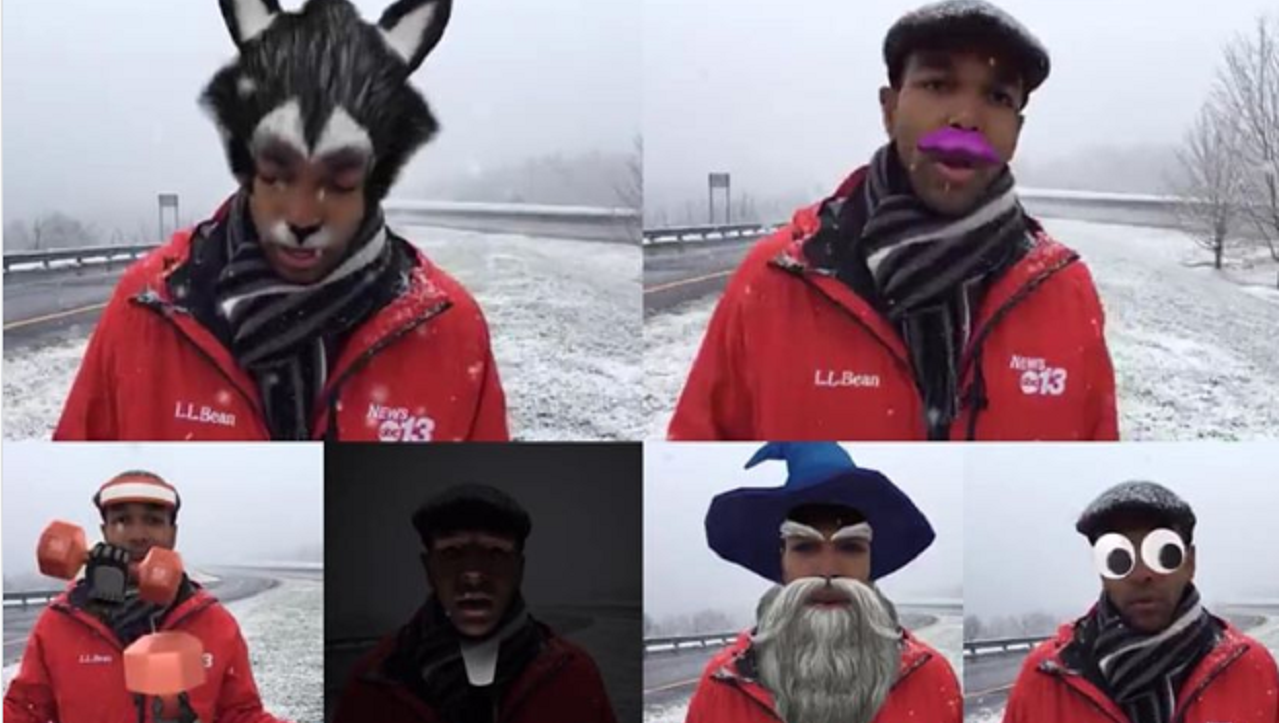 Technology and social media can be treacherous for adults these days, especially when it intersects with their professional lives. An old tweet that costs you a potential job opportunity, an IG that bares a little too much skin, a blog post that stirs up controversy; anything can happen, and it can really mess with your life.
Sometimes, though, instead of getting canceled, you just go viral.
That's what happened to meteorologist Justin Hinton, who was covering the snowy weather conditions in Madison, North Carolina last week. Already a tough situation in which to remain dignified – standing at the side of the road, staying composed on-air while dealing with wind and precipitation is never easy – Justin and his cameraman had a little snafu. They launched a Facebook Live via which to share a real-time update on the conditions when something went wrong. Hilariously wrong.
Apparently, during filming, the cameraman accidentally tapped a filter button.
"The photog I was working with said something about the screen having weird faces," Justin said in a Facebook post. "He didn't elaborate, so I said it would probably go away. Needless to say, it did not go away."
The ensuing broadcast featured filter after filter – googly eyes, barbells, a wizard outfit, a wolfhead – appearing on Justin's face and body, to hilarious effect.
Viewers got a big kick out of it, with the Live generating 327 comments. But Justin had no idea it was even happening!
"I didn't realize it until I stepped off camera and saw the comments where people were talking about the faces. My bosses, coworkers, friends, PIOs and more called/texted saying how funny it was," he wrote in a Facebook post afterward.
He even made the national news, with the clip appearing on the TODAY show. Much to Justin's delight.
It looks like it isn't just WNC laughing this morning. 🤣 I'm glad I could bring a smile to your faces @PeterAlexander and @kwelkernbc. Here's the greatest hits compilation @WLOS_13 put together: https://t.co/YsU72AyUNb Remember to laugh and smile today. pic.twitter.com/Tqelma7GMb

— Justin Hinton (@JustinWLOS) February 22, 2020
Good for him, and his bosses, for taking it all in stride. When it comes to technology, accidents tend to happen. Not everyone needs to be canceled when they do! Especially when they're this funny!