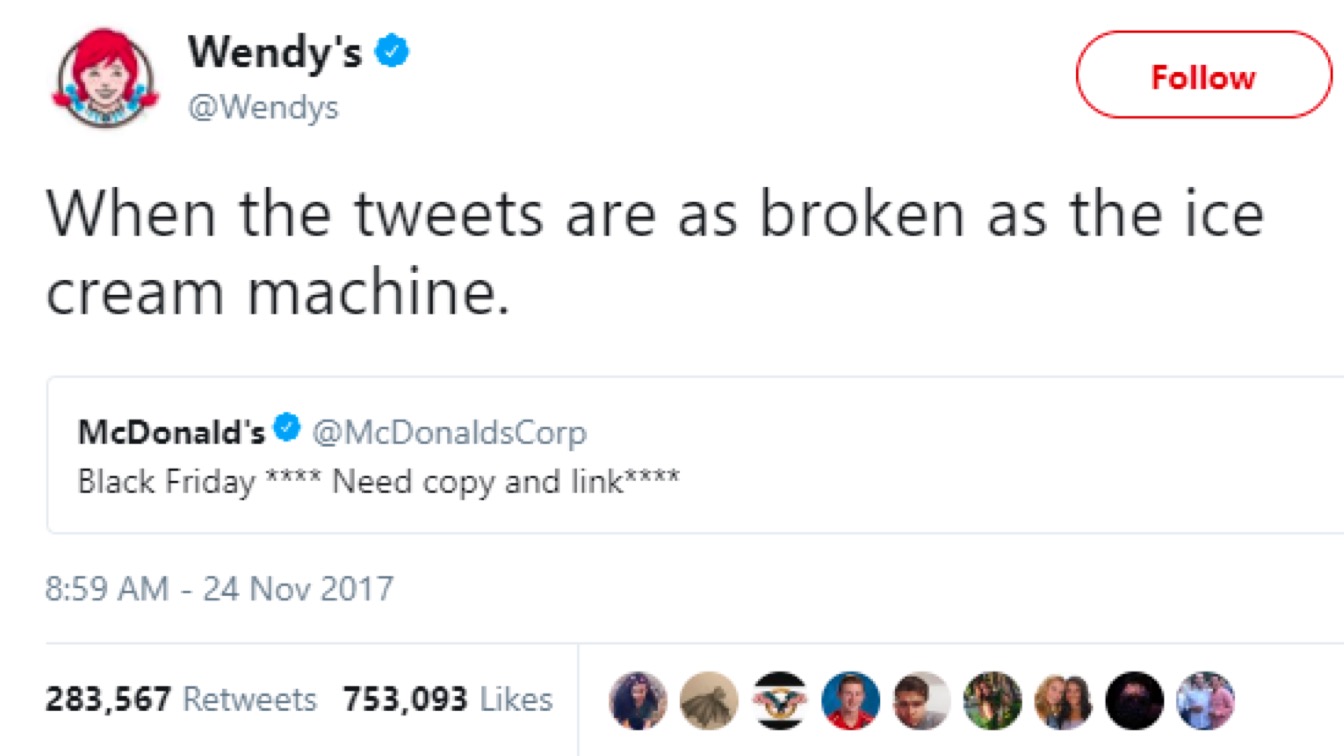 Credit: Twitter/wendys
Don't poke the braids
You'd think everyone would have learned one of life's purest lessons by now: you don't mess with redheads. Especially when they have a reputation for killer social media takedowns.
Burger King apparently hasn't, because they made the mistake of taking a shot at their rival fast-food chain on Twitter, and, like many before them, they paid the price.
Twitter user Golden_Armonia started the whole thing when they laid the bait with a tweet to Burger King in which they dissed Wendy's.
https://twitter.com/Golden_Armonia/status/943249546947256320
Burger King, like so many failed monarchs before them, couldn't resist, and their response sealed their doom.
treat her like the princess she deserves to be.

— Burger King (@BurgerKing) December 19, 2017
You may remember a Twitter exchange earlier this year, in January, that went viral when Wendy's utterly owned someone for their inexplicable ignorance of one of the kitchen's primary appliances. The fast food queen so destroyed the poor guy, he ended up deleting his Twitter account.
No worries though, Twitter user @ParkerMolloy saved the entire exchange for posterity.
https://twitter.com/ParkerMolloy/status/816082588137881600
There were several others that you can revisit at the bottom of this Someecards post. Wendy's is not to be trifled with online, and this is just the latest example.
This time around, Wendy's was back at it, once again throwing shade on their competitor's frozen-food methods, even including a nicely seasonal reference to a recent Disney classic.
If you're looking for a princess, you might want to let it go. Not interested in the frozen beef kingdom https://t.co/4VMYRuL2oc

— Wendy's (@Wendys) December 20, 2017
Twitter was quick to declare Wendy's the defending champion of social media burns, with one user comparing Burger King to an image of one of Game of Thrones's icy white walkers.
Pictured here:
Burger King pic.twitter.com/MGvqpnHQtJ

— Jay Hendo Huber (@jhendoh) December 20, 2017
But Wendy's wasn't done.
Missing the paper crown

— Wendy's (@Wendys) December 20, 2017
Ouch. BabyZicova knows what Burger King forgot.
Wendy's is coming for everybody 😭😭

— Meg (@BabyZicova) December 20, 2017
Be careful out there.