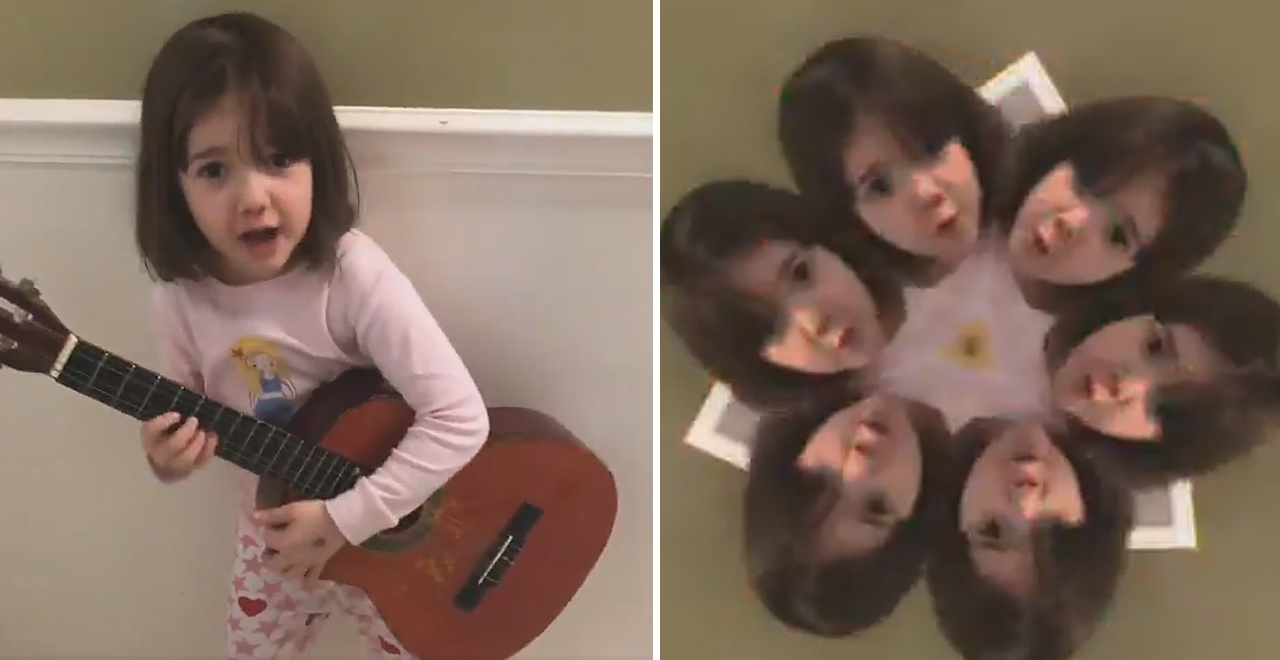 Credit: Twitter/LisaRieffel/zacharycarlsen
Quarantine is boring, even for kids.
They've got no playdates, no recess, no trips to the playground, or the movies. Mine are even starting to miss school! They're being forced to fill their time in other ways. Kids being kids, some of these ways involve whining and fighting with their siblings, but some kids are getting creative.
One little girl took advantage of her boredom to craft some new content we can all get behind. No pun intended.
Twitter user and author Lisa Rieffel posted a video of her adorable daughter playing an original song on her guitar, and it's taken the internet by storm. And rightfully so. As Lisa said in her tweet: Quite honestly, it slaps.
Did I mention it's called "I wonder what's inside your butthole"
My kid wrote a song called,
"I Wonder What's Inside your Butthole" Quite honestly, it slaps. pic.twitter.com/A65m6XeZ2r

— Lisa Shmeesa 🦎🦎🦎 (@LisaRieffel) May 2, 2020
With speculation about astronauts and aliens, and lyrics like, "what's inside your butthole, I always wanna know!", the power of the song is undeniable. It's catchy, it rocks, and it's delivered with panache.
Obviously, the internet agrees! The video has been liked 327,000 times and retweeted by almost 75,000 people since it was posted on Saturday.
It's the song of the summer:
You realize I'm going to be singing this.
By myself.
In quarantine.
For days.

— Joe Bel Bruno (@JoeBelBruno) May 2, 2020
A doctor weighed in to help answer the song's question:
Physician here. It's not astronauts or aliens.

— Chad Hayes, MD 😷 (@chadhayesmd) May 2, 2020
A scientist offered resources to help:
If she wants more information on
1) Buttholes
2) Astronauts
3) Life in the Universe

We've got her covered. You can get your family matched with a scientist for free at https://t.co/Cn1rY1DZIM 😂

— Skype A Scientist (@SkypeScientist) May 2, 2020
And many people created their own versions, from remixes:
🎵 I remixed it 🎵

My 6 year old and I watched the original like 50 times in a row. https://t.co/tKUhmLuVpw pic.twitter.com/BpGvSX9OIZ

— Jonathan Mann (@songadaymann) May 2, 2020
remix pic.twitter.com/GLUW9gX2NM

— Zachary Carlsen (@zacharycarlsen) May 2, 2020
To covers:
My friend gave it the soft piano treatment pic.twitter.com/NMY9EAM44C

— Matt DeGroot (@mattdegroot) May 3, 2020
This had to be done- sorry, we didn't know how to credit the artist -but we're not receiving any royalties. pic.twitter.com/Vn8lIxAvOn

— Laurie Penny (@PennyRed) May 3, 2020
It's safe to say that this little girl's song has taken the nation by storm and one can only hope that when the quarantine lifts and things are back to normal, she performs it at the Super Bowl.
Once she clears up this copyright issue with Blink 182, of course:
This is an early @blink182 song. She owes us money. https://t.co/GBKppX0qTc

— Tom DeLonge (@tomdelonge) May 3, 2020