What's New for Dads On Netflix and Amazon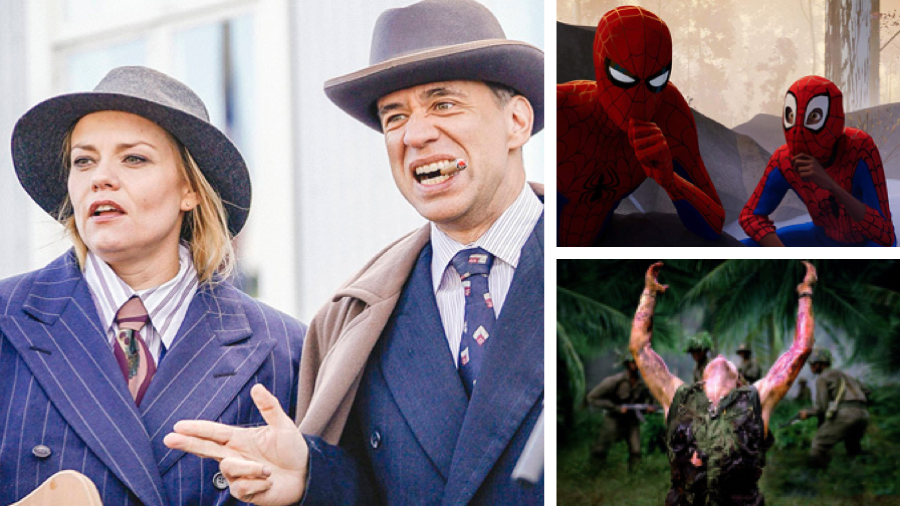 Summer is here and movie season is in full swing. But while Godzilla stomps and John Wick shoots their way through cinemas, there is plenty to be excited about for dads who like to stay in for the night. We've gone through the new releases coming to our favorite streaming platforms and are presenting our picks for the must-watch movies and shows for dads and their families.
Netflix:
Netfix is pulling out the big guns right out the gate with Batman Begins and The Dark Knight. Well, okay, not the big guns, cause Bale Batman doesn't shoot people or rip their faces off with a bat-tire, but you get what I'm saying. With all the Avengers excitement this past year or so, it's fun going back to the "Distinguished Competition" for super heroics with a little less banter and a little more Krav Maga. The Nolan Batman movies started streaming on the 1st.
Though if you're understandably a little tired of capes and cowls, there are some classic dad movies like Oliver Stone's Platoon or Sidney Lument's Network that are perfect for kicking everyone out of the living room and enjoying. Bonus points if you can pull off yelling every half hour or so about how they don't make "pictures" like that anymore. 
If you need a family movie night, two of last years best movies are available this month, and they happen to be kid friendly! Starting June 11th you can catch Ralph Breaks the Internet, and Spider-Man: Into The Spiderverse drops on the 26th. Both were nominated for Best Animated Picture, with Spiderverse winning in the end, although to be fair, it was actually the best movie of last year, animated or otherwise.
Also for the kids, Dr. Seuss' The Grinch arrives June 5th. Why anyone would want to watch a Christmas movie in June is beyond me, but I made my parents watch the Babar Christmas special like five thousand times when I was a kid, so hey, tis the season.
As far as binge-worthy shows go, June's got you covered with the third season of Documentary Now! on June 3rd. If you haven't watched this show, you are missing out on the funniest freaking thing on television. Bill Hader and Fred Armison, along with Seth Myers and just about every other funny person in the country have come together to produce parodies of the most prestigious documentaries ever produced. It's just fantastic.
Then on June 5th we get a new season of Black Mirror. Following the success of the Bendersnatch choose-your-own-adventure, this 5th season of the techno-nightmare anthology is going back to basics with three new episodes. This season Miley Cyrus was cast in one of the episodes, which makes as much sense as anything else on the show, I suppose.  
Finally, it's the end of an era with the final season of Jessica Jones on June 14th. This will be the last we see of the Marvel Defenders characters on Netflix, and while the franchise had its ups and downs, Krysten Ritter's Jones was always a standout. While the show's second season suffered from a lack of David Tennent, here's hoping the final season goes out with a bang. Also, geez, we really do a lot of superhero stuff these days, huh?
You can check out all of the Netflix titles available this month here.
Amazon:
Amazon tends to release the bulk of their new content at the end of the month, so rather than tell you about the June releases coming three weeks from now, here are the movies and shows that are newly available. 
Good Omens, a limited series adaptation of the Neil Gaiman and Terry Prachett novel, follows David Tennent as a demon and Michael Sheen as an angel who are best friends trying to stop the apocalypse. Like Gaiman and Pratchett, it's funny, weird and just incredibly British.

Fleabag Season 2 is perfect for a night after the kids go to sleep. The sometimes sad but always hilarious series from Pheobe Waller-Bridge (Solo: A Star Wars Story) is a great date night binge watch that's romantic but not sappy, snide but not cynical.
As far as movies go, you can't do much better than Friday Night Lights. Even if you don't care about football, it's hard not to love this story of a Texas high school team. Sure, FNL went on to become an arguably even better TV show, but Billy Bob Thorton's Coach Gains walked so Coach Taylor could run.
And finally, get ready for Quentin Tarantino's new movie by going back to the beginning with the as-good-as-you-remember Reservoir Dogs.