Most people have vivid moments of cultural consumption in their teenage years – an hour watching some movie or hearing some band for the first time – that shake your brainbox upside down and change the world forever. Mine was reading Kerouac's On The Road, listening to Harvest by Neil Young and even more memorably, watching Apocalypse Now! with my dad.
I was fourteen, sitting on our living room floor, when a denim-clad rockabilly film critic with a greased up duck's arse hairdo (that's an actual haircut, and the critic was Mark Kermode, and he still has that haircut) came on the telly, looked at the camera, and said, "You're about to watch the most indulgent, extravagant and exciting film ever made."
I put down my Gameboy.
The ominous shimmering opening of The Doors "The End" faded up through our wood-paneled television as a ceiling fan swooshed over Martin Sheen's harrowing face – woosh woosh WoooOOOOSH – suddenly the ceiling fan was a Chinook helicopter blade whirring ominously over swathes of pristine Vietnamese jungle.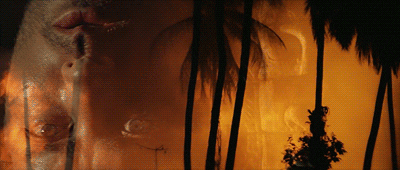 source – giphy
At this moment my dad shuffled in his reclining chair, looked a bit excited, and said, "Oh, you should watch this, watch the beginning, then watch it all."
Seemed like a logical progression for movie watching. But why was Dad so roused? The last time he had been excited about a film on TV was when Channel Four showed Showgirls.
I dragged my arse over the shagpile carpet towards the TV and stared. Jim Morrison screamed, "Mother I Want To Rape You!!!" as the pristine jungle erupted in a fiery napalm hell. I could almost smell the gasoline. I was scared of this movie.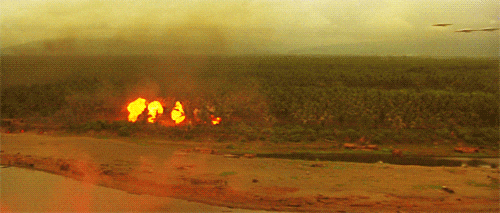 source – giphy
The next two hours were the greatest movie watching experience of my life.
Here are some of the reasons why it's insane that you haven't seen this movie yet. I mean really, it's right there on your big shiny smart tv. It's like two fat thumb clicks away. Turn the lights down and turn it up (actually finish this article first).
The production of Apocalypse Now was more than making a movie, it was literal war. Francis Ford Coppola hired the Philippines army helicopter pilots to shoot the famous Valkyrie beach attack, as they were embroiled in a real civil war a hundred miles away. They would often have to stop shooting so the pilots could fly south to actually engage some insurgents.

source – giphy
Laurence Fishburne played seventeen-year-old Clean when he was only fourteen because he was just that good, which is weird as these days thirty-year-olds play seventeen-year-olds.
source – giphy
Marlon Brando demanded a million dollars, shaved his head and made up all his lines for his iconic role as Colonel Kurtz. He's on-another-planet mesmerizing, muttering about snails crawling along razorblades and "making a friend of horror." Sometimes I have nightmares about Marlon and his shiny blood-splattered dome lying next to me in bed whispering…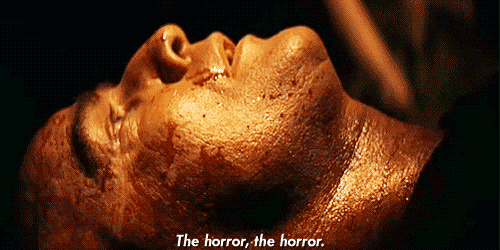 source – giphy
There's a scene before Martin Sheen gets his mission where he smashes a glass mirror with his fist, drunk and half naked in a Saigon hotel room. That's a real mirror, Sheen was really drunk and that's his real blood. Sheen later had a breakdown and heart attack on set.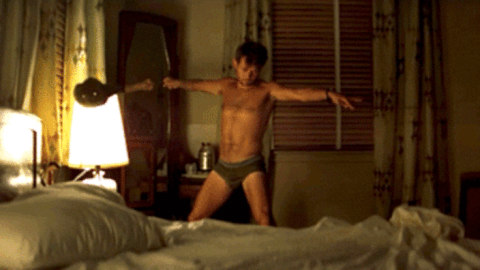 source – giphy
It's cool. I mean it's maybe the coolest movie ever made. You can be cool too, by watching it. When I was young I smoked cigarettes because I was cool. There are a lot of cigarettes smoked in Apocalypse Now, and the power of suggestion was strong in me. When I was 18 I got the opportunity to see it in 35mm on the big screen, I went to Leicester Square with my mate Tom to watch the premier of the new Director's Cut. It's nearly four hours long. This version included playbunnies making out in crashed helicopters, a bizarre colonial french family and even more surfing. When we stepped out into Leicester Square, our minds blown, Tom lit me a Lucky Strike. "This is the best cigarette you'll ever smoke." he said. He was right.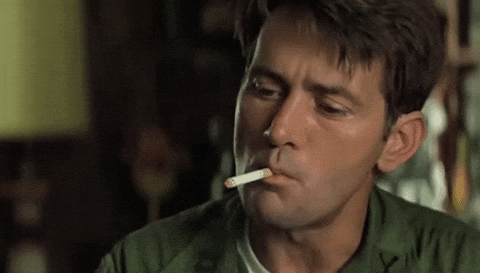 source – giphy
The film also led to the greatest movie documentary ever made, Hearts of Darkness: A Filmmaker's Apocalypse, in which Eleanor Coppola documents her husband's descent into movie making hell.
There are so many other reasons to watch Apocalypse Now and I'd happily tell you them all, but for now take my dad's sage advice: watch it, watch the beginning, then watch it all. You won't regret it.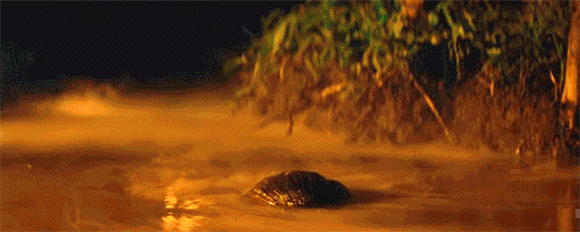 source – giphy